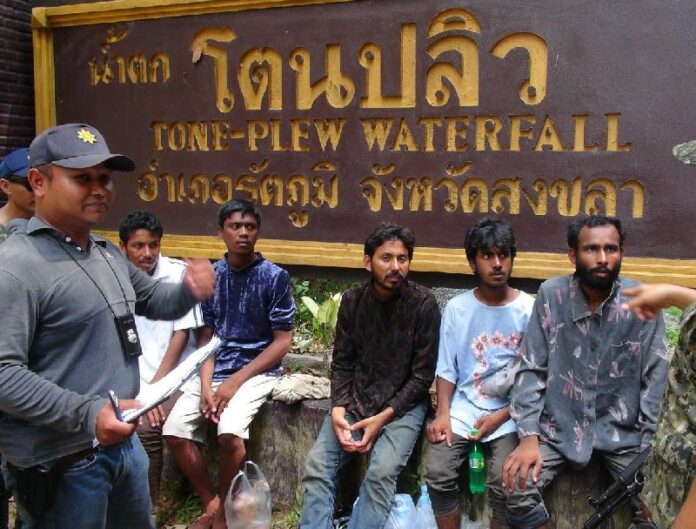 BANGKOK — In a sweep of Songkhla province this past week, Thai police have discovered a total of four vacated jungle camps they suspect were used by human traffickers to detain Rohingya refugees headed for Malaysia.
Thirty-three corpses were also uncovered near the sites, and 114 abandoned refugees were rescued in the area, according to police. The refugees include 24 Rohingyas, 69 Bangladeshis, and 16 people whose nationalities have not been verified.

Police found 54 abandoned Bangladeshi men in Songkhla on 8 May 2015.
A total of 29 arrests warrants have been issued in connection with the discovery of the camp sites, including 11 arrest warrants that were freshly approved by the court today, said Pol.Maj.Gen. Phuttichart Ekkachan, deputy commander of Ninth Region Police.
Seven people, including a local mayor and other Thai officials, have been arrested and charged with human trafficking and other offenses. At least 50 police officers also under investigation for their connection to the camps.
Police said no more suspected trafficking camps or bodies were found today, though the search is ongoing.
The four camps consisted of a total of 51 wooden shelters, which police believe were used to house hundreds of Rohingyas while traffickers secured ransom money from their relatives. Police believe the corpses belonged to Rohingyas who died of illness or malnourishment.
Several grave sites were discovered near the camps, though not all of them contained bodies.
The Rohingya are a Muslim minority that hail from western Myanmar, where they face violent persecution from a Buddhist population and severe discrimination from the state, which denies them citizenship. Around 300,000 stateless Rohingya are estimated to live in camps in bordering Bangladesh.
Since 2012, tens of thousands of Rohingyas have illegally entered Thai territories, often en route to Muslim-majority Malaysia. Many refugees have been exploited by human smugglers in Thailand, who detain them in the jungle camps for ransom, or sell them as slaves. For years, Thai authorities have largely turned a blind eye.
Last June, the United States government downgraded Thailand to the lowest rank in its annual Trafficking In Persons (TIP) report for failing to meet the minimum standards to combat trafficking.
Thailand's military government, which came to power in a coup d'etat a month prior to the downgrade, says that eradicating human trafficking is a national priority. Junta chairman and Prime Minister Prayuth Chan-ocha has given local authorities 10 days to ensure clear any detention camps in their jurisdictions.