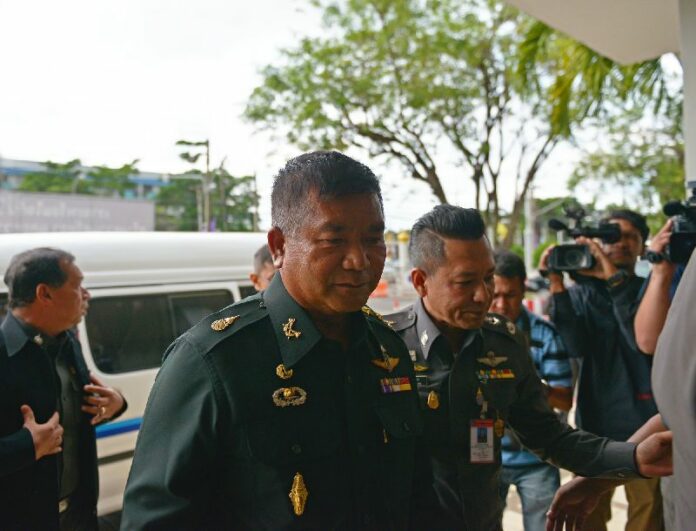 SONGKHLA — The army general accused of running a human trafficking operation in southern Thailand has been charged with 13 different offenses after eight hours of police interrogation last night.
Lt.Gen. Manas Kongpaen, who is listed as a "special senior adviser" to the Royal Thai Army, surrendered to police in Bangkok yesterday after he was charged with human trafficking, illegal detention, assisting aliens in illegal entry to the Kingdom, and holding individuals for ransom.
Yet after eight hours interrogation at a police station in Songkhla province last night, police decided to charge him with nine more offenses, including concealment of dead bodies, physical assault, and conspiring in a transnational crime, police say. Lt.Gen. Manas reportedly denied all charges.
Officers from Staff Judge Advocate corps – the military branch that operates martial courts – accompanied Lt.Gen Manas throughout the interrogation.
Thai police launched a crackdown on long-running smuggling operations in the south after discovering an abandoned jungle prison used to detain migrants and demand ransom from their relatives on 1 May. Scores of shallow graves – presumably containing the corpses of those who did not survive the grim conditions of the camps or were unable to secure ransom funds – were found nearby along the Thai-Malaysian border. Most of the migrants, who arrive in Thailand by boat from the Bay of Bengal, are Rohingyas and Bangladeshis seeking to live in Muslim-majority Malaysia.
According to police, Lt.Gen. Manas will be taken to court in Songkhla today, where police will ask for permission to detain him in a remand prison while he awaits trial. Public prosecutors will contest any bail request, police said.
A total of 84 arrest warrants have been issued in connection with human trafficking operation since crackdown was launched. Fifty-two people, including local police and politicians, have been arrested so far. Lt.Gen. Manas is the first army officer to be implicated in the criminal network.
According to his military records, Maj.Gen. Manas has commanded several units in his career, including the 25th Infantry Regiment in 2005-2006, a counter-insurgency force in southern Thailand in 2007, and the 42nd Army District in 2008-2009.