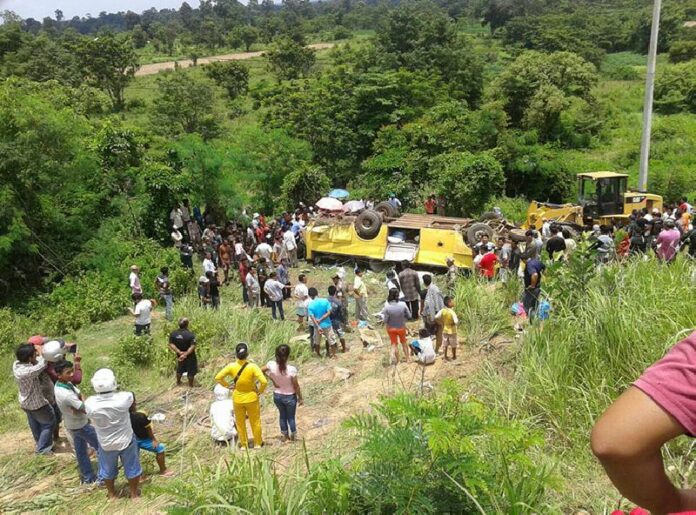 SI SAKET — Sixteen people were killed when a tour bus traveling between Thailand and Cambodia fell into a ravine near the border yesterday.
The bus was carrying Cambodian tourists home after a sightseeing and shopping trip to a market in Si Saket province, according to an officer at the Si Saket border checkpoint, when it left the road near San Yai Mao Hill at about 11 am and plunged into a gulley about 3 kilometers inside Cambodia.
"This area is quite dangerous. Motorists who travel through the area of San Yai Mao Hill should exercise extreme caution," Police Lt.Col. Setthapat said.
Police Lt. Col. Setthapat Na Songkhla told reporters the bus had left the market on the Thai side of the border and was making its way back to Phnom Penh when the accident happened, killing 16 people who died at the scene and seriously injuring 23 other passengers.
Some of the wounded were reportedly being treated in hospitals on the Thai side of the border.
Setthapat said another bus crash took place in the same area earlier this year, killing the deputy commander of the Cambodian Fourth Region Army and his assistant.
To reach us about this article or another matter, please contact us by e-mail at: [email protected].