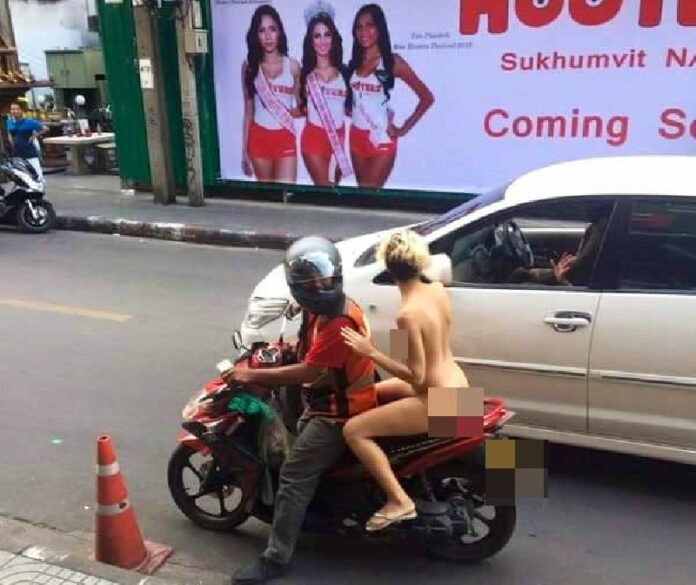 BANGKOK — Cheers can be heard erupting from onlookers in footage of a naked farang out for a Sunday stroll in the capital city wearing nothing but her birthday suit.
Two days after footage of the puzzling incident went viral online, police said today the woman is in police custody and faces immigration and obscenity charges for walking completely naked along Soi Nana, a red light district popular with foreigners, in broad daylight.
After several clips and photos emerged Sunday, Lumpini police said today they arrested the woman last night, as she was still around around the Nana area – clothed this time. He said she seemed unable to communicate properly.
The chief of Lumpini station said officers received no call about the incident – they just saw the same clips online, shared on social media and posted to video sharing sites such as LiveLeak.
"We went there after seeing the clips last night ourselves. She didn't try to escape when we arrested her," Police. Col. Pornchai Chalordech told Khaosod English.
He identified her as a 20-year-old woman from Morocco. The unnamed woman will be charged with obscenity and illegal immigration, as she had no passport.
In the clips shared online, the woman is seen walking along the soi, and at one point, hopping onto the back of a motorcycle taxi on Soi Sukhumvit 4, waving politely to a crowd gathered to either cheer or stare or take photos.