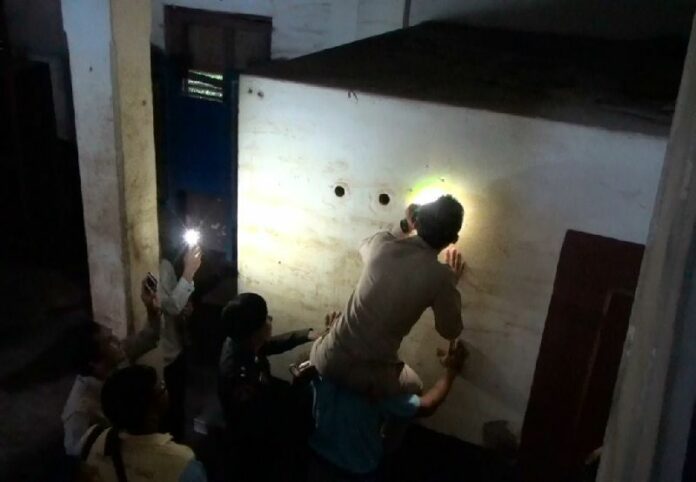 NAKHON SI THAMMARAT — The mysteries of an antique and extremely well-locked vault will soon be divulged now that municipal and railway officials have agreed on a course of action.
Nearly two weeks after the discovery of a safe room beneath a century-old building in the Thung Song district of Nakhon Si Thammarat was discovered and the state railway ordered efforts to open it halted, a local official said today that three options were approved to cracking the safe.
---
Fever for Hidden Japanese Gold Fuels Imaginations
---
First, workers will insert a camera through one of several small holes in the wall of the vault, which is located beneath a 108-year-old building believed to have once been a Siam Commercial Bank branch. If they see nothing inside the vault; case closed. No further attempts to open its thrice-locked door will be made, according to district public works director Anucha Thanawut.
"I have informed [Mayor Songchai Wongwatcharadumrong], who has been in Bangkok since Monday," Anucha said. "The team to conduct the camera insertion will be discussed and finalized as soon as he gets back in town."
Since it was discovered Nov. 22, the vault's complicated and rusted locks thwarted efforts to gain entry. Given its location along railroad tracks, some locals' imaginations took hold of the idea it could be filled with gold hidden by fleeing Japanese Imperial occupation forces near the end of World War II, according to Mayor Songchai. He believes it's most probably empty.
Should a tele-operated look inside the vault find anything inside, master locksmiths will be contracted to take charge of efforts to crack it, Anucha said.
Predicting their efforts would be in vain, Anucha laid out the last alternative: Mechanical engineers with the state railway will do whatever it takes to get through the door.
Songchai had previously forbade the use of explosives and ordered workers to not unduly damage the door, as he wanted to preserve the historic structure.
Anucha said the next step being discussed by officials is finding the best team to carry out the photographic investigation.
Related news
Lust for Riches Fuels Bid to Crack Antique Vault
Vault Watch: Locksmith Promises to Crack Mystery Vault by Sunday
Vault Watch: Work Suspended as Railway Gets Involved
Vault Watch: Fever for Hidden Japanese Gold Fuels Imaginations
To reach us about this article or another matter, please contact us by e-mail at: [email protected].