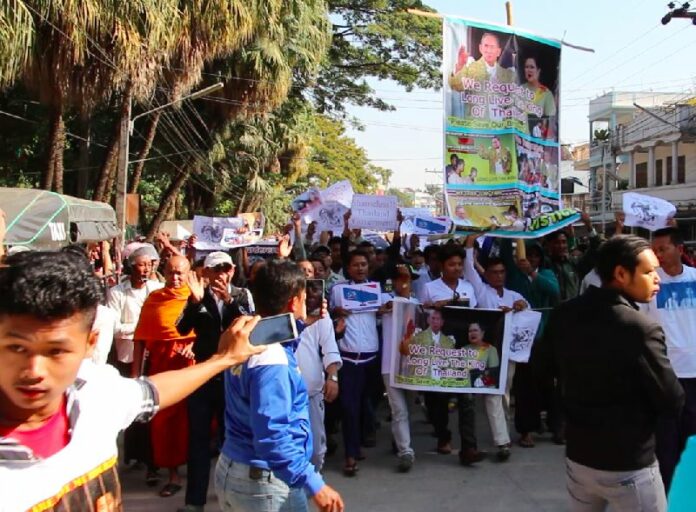 CHIANG RAI — Hundreds of Myanmar citizens marched near the Thai – Myanmar border today to vent their anger at the recent death penalty handed to two Myanmar men found guilty of murders in southern Thailand last year.
The protest took place on the Myanmar side of the Tachilek border crossing in Chiang Rai province. Around 2,000 people are believed to have joined the demonstration, which prompted Thai authorities to stop vehicles coming and leaving at the checkpoint for several hours.
Banners held by the protesters demand the release of Zaw Lin and Wai Phyo, two Myanmar migrant workers sentenced to death by a Thai court Thursday for allegedly killing British backpackers David Miller and Hannah Witheridge on Tao island in September 2014.
The demonstrators believe Zaw Lin and Wai Phyo are innocent. Many banners made a plea for His Majesty the King to grant the two men a royal pardon.
"We request to Long Live the King of Thailand. Please save our brothers," one banner reads.
A pair of protesters was also seen 'cosplaying' as Zaw Lin and Wai Phyo when they were paraded to reporters by Thai police in October 2014.
No vehicle was allowed to enter or leave the Thai border checkpoint during the protest, but there was no other disruption to the border crossing.
The demonstration eventually came to a peaceful end in the afternoon after two Thai officials met with the protest leaders and received their open letter calling on the Thai court to dismiss the case. The Thai officials promised they would deliver the letter to the judicial authorities.
Similar protests were also reported outside the Thai Embassy in Myanmar today and and outside the Thai Embassy in Japan yesterday.
Related news:
Koh Tao Murders: Court Says DNA Trumps Other Flaws in Case
Koh Tao Murders: Myanmar Journalists Urge Thai Press to 'Reveal the Truth'
Koh Tao Murders: Rights Group Demands Fresh Investigation Into Torture Claims
To reach us about this article or another matter, please contact us by e-mail at: [email protected].