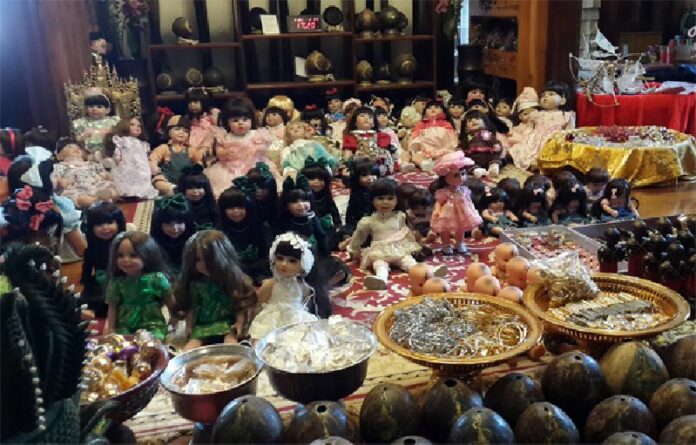 BANGKOK — On Wednesday, professor Pitak Sirawong made a deal with his students. He told them they could bring their trendy haunted spirit dolls into his research project classroom on one condition: The Luk Thep, believed to contain the spirit of a child, must do the same work as the students.
"If students are lonely and want something to lean on, they can bring it," said Pitak, who teaches at Silpakorn University Phetchaburi IT Campus. "So I need to set the rule."
As quickly as business and media embraced the opportunity to profit from the sudden trend, the inevitable backlash to the superstitious dolls has already begun from those who feel the whole thing has already gone too far.
Read: Police Seize Contraband Child Spirit Dolls 
Luk Thep were a fading, 2015 cultural blip when they suddenly became the talk of the town this past weekend because Thai Smile Airways announced the dolls could fly as passengers.
On Wednesday, buzzkill aviation officials announced Thai Smile's decision to qualify Luk Thep dolls as passengers – and require they wear lap belts – was against international standards, which dictate a passenger can only be a human being.
"Passengers can buy an extra seat to place a Luk Thep, but it needs to be kept properly," said the Civil Aviation Authority's Chula Sukmanop. "But if passengers don't buy an extra seat ticket, it must be kept inside the overhead baggage container or under the seat during takeoff and landing."
Chula warned passengers they risk a year in prison or a 40,000 baht fine under 2015's new air safety laws for failing to stow their haunted child doll.
The backlash started with those who think affording rights and privileges to the doll is too absurd  and those worried it could affect their business.
In a widely shared announcement, The Country Farm Resort and Homestay in Sakon Nakhon province warned guests to leave their haunted dolls at home. The resort said it would not allow them for the sake of other guests.
After a doll-cum-drug mule was discovered at Chiang Mai Airport, crackdown-happy police have already launched a crackdown on Luk Thep, going after tax-dodgers who smuggled them in illegally. At least 150 dolls have already been seized in coordinated raids.
Religious authorities are fed up too. The National Office of Buddhism on Wednesday warned monks that performing the ritual to invite a child's soul to possess the dolls for money ran counter to religious teachings.
The No. 2 monk at Bangkok's Wat Saket, Phra Wijitthammaporn, said he's concerned about what will happen when the fad is over. Given the dolls' sacred association, he worries people will dump them all at temples, just like all the unwanted cats and dogs they accumulate.
Related stories:
Police Seize Contraband Child Spirit Dolls
'Luk Thep' Drug Mule Busted at Chiang Mai Airport