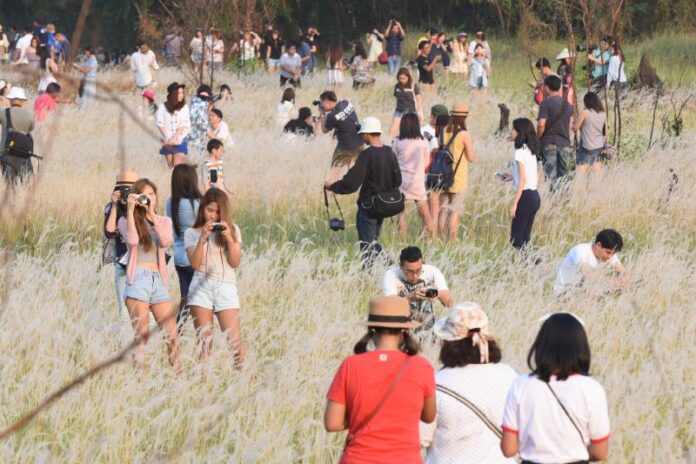 BANGKOK — It took only one weekend to transform a lovely field of rolling foxtails in the capital's Lat Phrao district into a wasteland.
The empty field located on Kaset-Nawamin Road went viral online twice during the weekend: first when it was "discovered" and again after it fell victim to its sudden popularity.
It began Friday when someone on Pantip posted about driving past the field to find it was blooming with flowers and a hot spot for shots after reportedly being burned last month.
"If you love taking pictures, please come before the flowers are blown away by the wind. The field is located behind the mall called Nawamin City Avenue," Pantip user 2134791 wrote.
That led the grassland to being featured in the mass media and spreading on social networks over the weekend, prompting an outpouring of Bangkokians, and even visitors from nearby provinces, to pay a visit.
While many left with cameras full of photos, they also left some things behind, such as plastic cups and plastic bags.
That caused the field to go viral again Sunday evening, this time with netizens criticizing those who ruined the site with litter.
"No one wants to come to this field to take a selfie with trash. Please preserve this field to stay with us," photographer Sasidit Sasisakulporn, who had visited the field, wrote on Facebook.
Photo: Sasidit Sasisakulporn / Facebook
Someone also reportedly damaged the field by driving a vehicle atop it.
"I went there on Sunday and left within 10 minutes because it wasn't pretty anymore. I even saw someone taking a motorbike in to take a picture," Pantip user Lussuria Rei wrote.

Photo: Lussuria Rei / Pantip