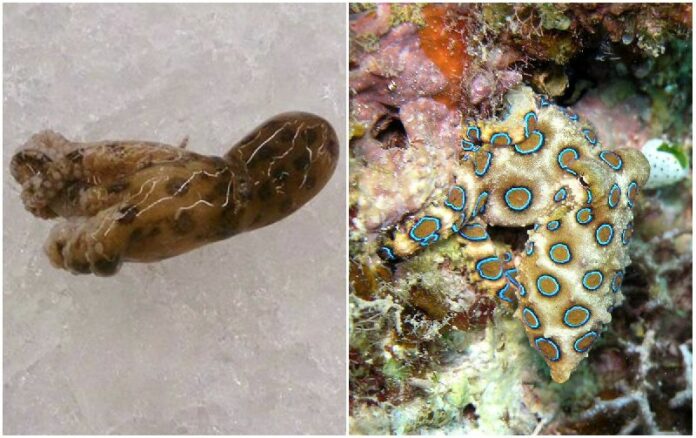 RANONG — A family had sliced up the octopus and was about to cook it for dinner when they noticed blue spots on the meat.
Fortunately one of them was familiar with the poisonous and deadly seafood featured in recent news as a blue-ringed octopus due to the strange blue blemishes.
Supanon Suksai said she bought the cephalopod from a vendor at the Tung Maprao market in Ranong province on Sunday and her family would have eaten it for dinner had her sister not warned that the meat looked like a venomous octopus show in the news.
Supanon immediately called fishery officers.
Montri Sumonta, a biologist at the Ranong Sea Fishery Station, said that the octopus Supanon bought was a blue-ringed octopus, which is found in the Gulf of Thailand and Andaman Sea. The species is known as one of the most toxic marine animals. A single bite can be fatal within minutes.
Montri said that even if the blue-ringed octopus is cooked at high temperature, its poison remains toxic. Consuming it can cause serious poisoning or death.
The octopus has found its way onto store shelves as well.
Yesterday a Makro store in Yasothon province announced it had determined a suspicious octopus found there Feb. 22 turned out to be a blue-ringed octopus. The wholesale retailer has checked back through the supply chain, Makro said Monday, and canceled business with the partner who sold the octopuses.
Chayanit Itthipongmaetee can be reached at[email protected] and @chayaniti92.