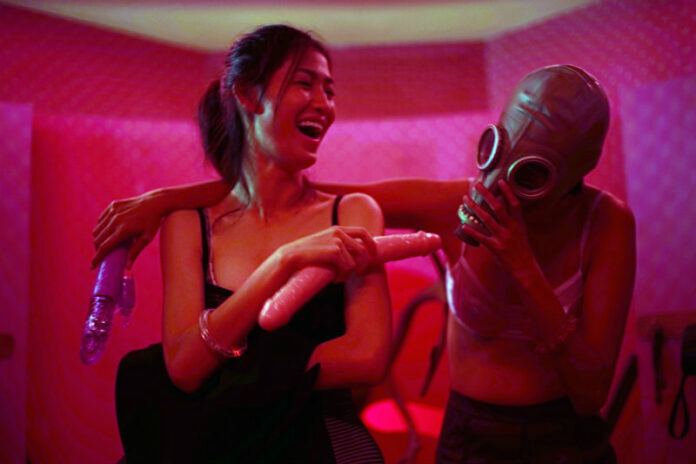 BANGKOK — A new art film was banned for sexually suggestive scenes one day before its Thursday release, this time not by government censors but the production studio that funded it.
Sci-fi noir "Motel Mist" had already been approved by the Ministry of Culture's censorship board as suitable for audiences 18+, but the studio that made it, TrueVisions Original Pictures, which refused to release its own film at the last minute.
Read: Misfit Movie Director Prabda Yoon Enters 'Motel Mist'
The decision was officially announced Wednesday night on the film's Facebook page by its first-time director and award-winning author, Prabda Yoon.
"The team apologizes that screenings of 'Motel Mist' starting Nov. 17 at all theatres have to be postponed on account of the film production company and the film crew have different opinions in the content," Prabda wrote.
TrueVisions Original Pictures has supported many independent films such as Kongdej Jaturanrasamee's 2015 "Snap" and "So Be It," and Nawapol Thamrongrattanarit's 2014 doc "The Master."
No specific reasons were cited for blocking the film, however those who attended its premiere Tuesday night suspected scenes of actresses waving around sex toys and other sexual references were its undoing. It's release also comes at a sensitive time following the death of His Majesty King Bhumibol, when many forms of entertainment have been dialed down.
Attempts to reach Auttapon Na-Bangchang, vice president of programming for TrueVisions, were unsuccessful.
"Motel Mist" is an otherworldly tale of four lives which intertwine at a love motel on the outskirts. One of the characters believes he can communicate with aliens while the others engage in sexual power games that spare no subtlety to crudely parallel Thai politics.
Although it's narrative is lacking, the film has a daring visual style and unique electronic music soundtrack.
Scenes of dildos, sexual violence and porn references went over the top and did little to move the story forward in the two-hour screening of "Motel Mist" Tuesday at Scala Theatre, where most of the 500 seats were filled by the press, critics, guests and fans. Feedback ranged from positive to loathing.
Prior to Tuesday, it had shown at various festivals including the renowned Rotterdam Film Festival in the Netherlands earlier this year.
It's not the first time self-censorship sank a Thai films. "Fatherland" a 2012 love story set in the Deep South's conflict by Yuthlert Sippapak was also blocked by its studio. A year later, Pen Ek Ratanaruang's controversial sociopolitical doc "Paradoxocracy (Prachathipa'Thai)" was effectively kept out of theaters when Major Cineplex didn't support it, with some theaters refusing to list it.
Correction: An earlier version of this story said that Major Cineplex refused to show 2013's Paradoxocracy. In fact the theater chain did show the film, but it did not promote it and in some cases theaters refused to list it among their showtimes.
Related stories: