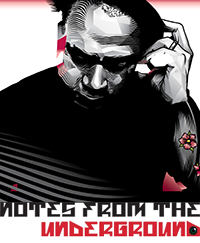 Peeralada Sukawat, or Pyra, has come a long way since her humble beginnings lending her voice in collabs with the likes of electro-funkmaster Gramaphone Children and Thai rap duo Jayrun & Akarin.
This month, 25-year-old Pyra takes the spotlight by dropping her latest single "White Lotus," but not before I had a chance to interview her about her career.
She calls her latest work "Solar Soul." Soundwise, it takes her music deeper into neo-soul territory, while lyrically she explores Taoist and Buddhist themes. Visually she ditches the cute girl image for sak yant hand tattoos and an Indian nose ring.
For the track, Pyra's sensual vocals are laced over ambient soundscapes, while melancholic melodies and a deep af bassline rattles subwoofers under lyrics like:
"Caught up by delusion of a,
Self-created illusion,
That In the depths of this water,
You can't breathe? Are you sure?"
The track was produced by Kitsch Kat label mates Gramaphone Children and producer Cyndi Seui.
The Bangkok-raised Pyra credits her strict Asian parents for pushing her academically as well as getting her started in extra-curricular, after-school music programs. This, she said, inspired her to write music.
At 9, she recorded her first collaboration with pop superstar Thongchai "Bird" Mcintyre and by 16 was learning music production.
Her first solo track, "Stray," was released to critical acclaim in 2016, making its way to the No. 1 spot on Thailand's Apple Music Hot Charts.
I had a chat with Pyra and talked to her about her new single "White Lotus" and the creative process of working with artists like Gramaphone Children and Cyndi Seui. Here's our lightly edited exchange.
Mongkorn Timkul: Soundwise, White Lotus sounds a lot edgier than your past releases. Was this the kind of vibe you've always wanted to do?
Peeralada Sukawat: I'm quite dark and introverted as a person. If I was a color, I would be dark purple with a hint of red tint. If you trace back to my first single, it's actually darker than "White Lotus." That one is called "Stay" featuring Twopee Southside. Back then I was quite afraid to release such a deep and dark tune because I don't think the crowd will comprehend it, but somehow I did after a year of finishing it.
MT: "White Lotus" is written in English. Do you feel more comfortable expressing yourself in English or Thai? You mentioned the track has a lot of Buddhist and Taoist references. What does the White Lotus represent? Something which came from mud can turn into something beautiful?
PS: I feel that I'm twice as comfortable at expressing myself in English. After all, I've grown up in an international school since first grade.
On the representation, Buddha compared humans to lotuses in 4 positions – the under-the-mud lotus, under-the-water lotus, boom lotus and the bloom lotus. And yes, as you mentioned, something from the mud can turn into something beautiful and vice-versa. The philosophy and teaching of Buddhism / Taoism is so beautiful and important, but these are the areas that people hardly mention today. The core principles of these religions are one of the best life guides you can find out there but what's being practiced and told everyday is the business side of things, which I find very unpleasant.
MT: What will the rest of the album be like?
PS: The pillar for Pyra's musical work will always be neo-soulful vocals built with a distinctive melodic style. If asked what's my genre, I'll say "Solar Soul." We "solar artists" make music with a greater purpose to tackle social impact issues, to disrupt the ugly system and to leave the world a better place before we perish. I believe that's the duty of someone with the ability to influence the masses. We should be able to contribute positively to the society. We give, we take. The secret is actually that the more you give, the more people will be willing to give back to you. So let's all start by creating values to those around you.
MT: You've collaborated with many great producers and musicians. What was it like working with Jaree [Gramaphone Children] and Cyndi Seui for this release?
PS: I'd seen so much of their work in such different genres and styles, and deep in my mind I knew I wanted them to produce for me, but I didn't really say it. Somehow I found my way into talking with the country manager of Believe Digital Group, my music distribution company, to convince Gramaphone Children for me.
I usually finish most of the tracks by myself alone at home in my bedroom studio then show it to the team and they work the magic to take my vision to the next level. They pick better sounds, design all these amazing soundscapes and advise me on my vocal design. For some other tracks, they throw and bounce me a guitar stem and let me create everything else around that.
MT: This is by far my favorite release from you. Artistically, do you think you've reached the point where you want to be, or can your fans expect a whole lot more in the future?
PS: I'd say song and image-wise, I'm very satisfied. It's very close to what I'm aiming for. But I'm a big dreamer. I will always set higher goals for myself and my creations. I don't know yet what I'm gonna create for my fourth EP, but I do have a slight idea for my third. But expect growth and maturity over time.
White Lotus drops on Jan. 26 and will be available on the Apple Store.