By Genevieve Glatsky
Nestled behind the congested stalls of Chatuchak Weekend Market is a vegetarian food hall with roughly a dozen booths selling classic Thai dishes at curiously low prices.
On weekends, the long tables are packed with patrons enjoying khao soi, spring rolls and fresh fruit. While a hotspot for vegetarian Buddhists, it remains a gem hidden to most foreigners. Despite being next to one of Bangkok's most popular tourist attractions, it draws only a few backpackers and food bloggers.
The lack of marketing could owe to the fact it's run by Santi Asoke, a hardline Buddhist sect dedicated to simplicity, anti-consumerism and self-sufficiency. "Asokians" often follow strict practices such as cutting their hair short, walking barefoot, eating a single daily meal – and keeping vegetarian.
"When we opened, we tried to spread the idea of being a good Buddhist – you should not eat meat. That's the goal; that's the point of view," said Darbboon Deeratana, one of the restaurant's managers. "See, most Thai Buddhists, they don't know about this. They eat meat a lot."
The official name of the restaurant is the Vegetarian Society of Thailand, but Chamlong's Asoke Vegetarian Restaurant has caught on – named after Chamlong Srimuang, the former politician, Yellowshirt leader and prominent Asokian who founded the place more than 30 years ago.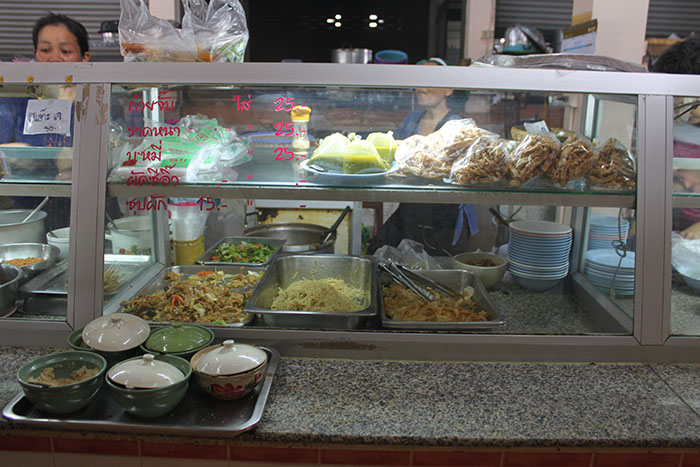 The vendors' low prices are due to Santi Asoke's principles of Bunniyom, which emphasizes selling goods below market value to earn merit rather than profit. The seasonal fruit and vegetables are sourced from Santi Asoke's network of organic farms, and volunteers also operate a small grocery store next to the cafeteria, selling organic snacks and seasonings.
While there's a lot of the fake meat that may be more popular with Thais than Westerners, the food is good enough to win return visits – especially the khao soi. It's also pretty much the only place around Chatuchak to find vegetarian food.
Phra Bodhirak, a television entertainer-turned-monk, founded the sect in 1975 after his headstrong views led to his defrocking. He and his followers faced legal trouble throughout the early '90s related to their political activities and the challenge they posed to mainstream Buddhism.
But for the last few decades the group has largely laid low, congregating in small self-sustaining communities in nine Thai provinces – Bangkok, Chiang Mai, Nakhon Pathom, Sisaket, Nakhon Sawan, Nakhon Ratchasima, Chumphon, Ubon Ratchathani and Chaiyaphum – all centered around organic agriculture.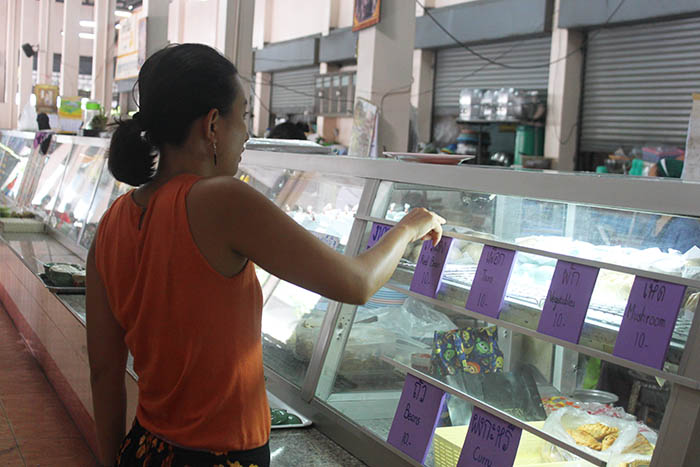 The "utopian" villages sell produce, herbal products and donated goods to support their own schools, healthcare systems and publishing centers to print informational materials and monthly magazines. Darbboon says they don't count members, but estimates about 10,000 adherents.
Each center also has its attendant restaurant to promote vegetarian values. In addition to the one at Chatuchak, Bangkok's Santi Asoke community in the eastern Khlong Kum neighborhood is marked by another nondescript vegetarian restaurant on Nawamin Road. Alongside it, a small alley of individual food vendors leads into an enclave filled with greenery complete with a large man-made waterfall and towering cement tree-shaped pillars.
Most Santi Asoke followers in Bangkok live in or around this area, including the volunteers and food vendors who wake up early to staff the Chatuchak restaurant.
Starting at 6am, patrons can exchange money for coupons used to purchase dishes for as little as 20 baht. Hundreds of customers circle through daily, and numbers soar on Buddhist holidays.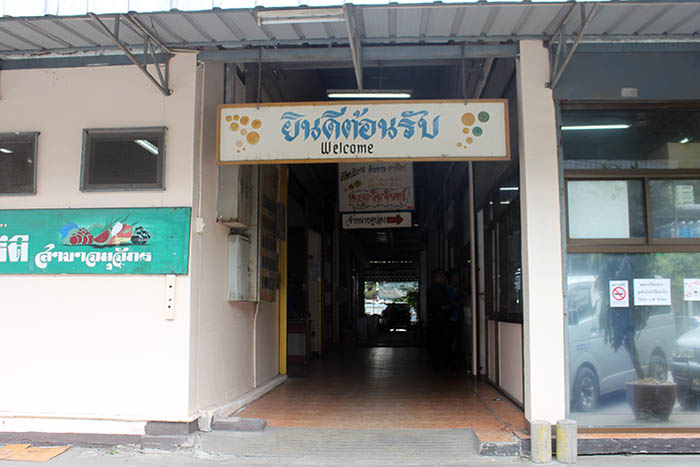 "I'm not sure why the vegetarian restaurant in Chatuchak doesn't have too many foreigners over there. Because we've been located in that area for 30 years already," Darbboon said.
Despite attracting only a fraction of the weekend market throngs, business continues to thrive as usual.
"We opened a vegetarian restaurant in that area, the Chatuchak Sunday market, because a lot of Thai people go over there on the weekend," says Darrboon. "And we want to spread that idea to Thai people."
The Vegetarian Society of Thailand is open 6am to 2pm daily. It's a short walk from MRT Kamphaeng Phet exit No. 1 or short ride from BTS Saphan Khwai.