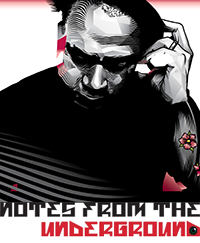 Long before cinematic universes became expanded, artists such as Kaws, Futura and Nigo were making boucoup baht in the '90s began inventing fictional worlds of weird characters that populated – and marketed – with limited-edition toys, shoes, clothing, prints and paintings.
Nigo's A Bathing Ape wasn't just a beanie and sweatshirt, but the brands iconic Planet of the apes logo and cute baby Milo character were must haves  for people who had to collect them all before they'd even heard of Pokemon.
And their weird, outsider toys remain highly prized today, with serious collectors forking out big bucks for what they can still find, unopened or second-hand.
The toy art scene never went away. If anything, lower production costs have opened it up to even more people to turn an idea, however weird, into something that can go on a shelf.
"Right now collecting designer toys is becoming popular among folks that grew up in the '90s. It's become a culture" says 29-year-old toy designer Treetana "Tar" Veeraprapan.
When it comes to designing and customizing his toys in his workshop, Tar is similar to doctor Frankenstein. His "Arcade Man" toys takes parts from discarded He-Man figurines which he  modifies by using molds and resin.
Read: Such Wonderful Toys: Imagination's The Limit For DIY Action Figures
"I've always liked toys when I was a kid, but I always thought I could modify them to how I liked so I used to paint over my army figurines and lego blocks"
On a commercial level, Thailand's toy scene produced prized collectables from artists such as Alex Face and the late Mamafaka; but in the underground, Tar and his TGUwarriors crew have been hard at work building a community online at Art Toys Thailand.
Started in 2012, Tar launched the community for budding artists and toy makers to exchange ideas and showcase their creations. This weekend the crew will come together for "Toynado 2: Never Alone in the Universe" at Goja Gallery in  the Phra Khanong district. There, 24 of the kingdom's best artists and designers will show off their DIY toys.
Among them will be Bangkok-based graphic artist TRK, who made his name designing for Thai skate brand Preduce, not to mention my own group, Dubway Sessions. While some artists create toys to see their characters come to life in 3D, TRK says it's the challenge and discipline of making custom toys that got him interested.
"Making toys is challenging because there are more details than just drawing on paper. You have to be able to see every angle, front, side and back," TRK said.
Meet the artists and hear Goja resident DJs when the event opens with a party at 7pm on Friday at Goja Gallery. Entry is free. The gallery is on Soi Pridi Banomyong 3 located near BTS Phra Khanong behind W District.
Toynado 2 also features three workshops for anyone interested in learning how to craft their own toys. They'll be conducted in Thai from 1pm to 6pm Sunday (Lin & Pang, 890 baht), June 11 (TGU and Tabun, 590 baht) and June 18 (Topz, suggested donation to go to autism foundation).
Until next time, dub be good to you.