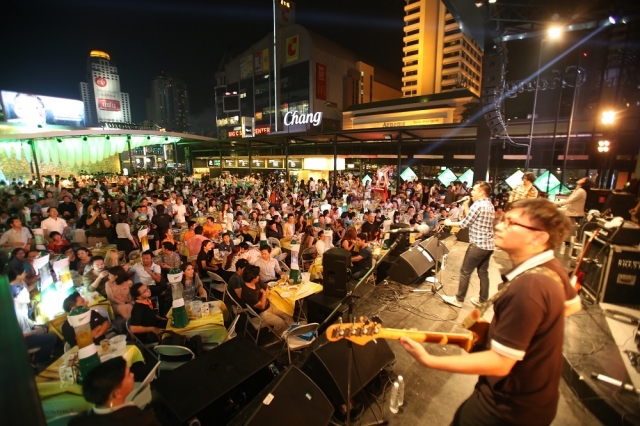 BANGKOK — Sit outside, sip refreshing draft beer and savor that rare cool breeze.
After being canceled last year in the wake of King Bhumibol's death, beer gardens will sprout up again all across town for the full month of December. Hallmark events will take place Dec. 1-31 at several Bangkok gathering spots including CentralWorld, Asiatique The Riverfront, The Street Ratchada and Mega Bangna.
The festive events could bring some year-end relief to the major brewers, who saw alcohol sales drop 8 percent so far this year to 1.8 billion baht.
Edmond Neo Kim Soon, executive vice president of ThaiBev, said his company will host a Chang Beer Garden and launch marketing campaigns to boost brand sales. Limited editions with shrink wrap and 1.5 litre champagne-style bottles will be available at the end of the year and early 2018, Kim said.
Parin Malakul Na Ayutthaya of Thai Asia Pacific Brewery, the authorized brewer and distributor of Heineken, Tiger and Cheer, said sales are expected to bubble up in closing two months of the year.
The brewers, along with Singha-maker Boon Rawd, will host a series of beer gardens at CentralWorld. Thai craft beer brewers are preparing to organize a craft beer event on Dec. 31 at Show DC in the Rama IX area.