Top: Loris Curtenaz poses May 7 in front of his 'favorite Bangkok temple,' Wat Hongrattanararm.
BANGKOK — A canalside temple tucked in a historic, western Bangkok community a temple has a treasure known only to a handful people.
It's a two-meter Buddha figure cast in gold, reportedly sculpted six centuries ago during the Sukhothai era. While a similar figure in Chinatown's Wat Traimitr draws fame – and endless visitors – the glimmering Lord Buddha at Wat Hongrattanararm meditates in silence within a deserted chapel. Not one worshiper, let alone tourist, is seen praying to the treasure.
One of the few who know this gem Loris Curtenaz. Curtenaz can enthusiastically explain each feature of the Buddha figure, noting the unique forehead that gives away its Sukhothai style.
The Frenchman is on nothing less than a mission to let people know about this and every other temple, or wat. And he's off to an impressive start, having visited more than 1,500 temples nationwide to catalog them on his website and Instagram, hoping visitors to Thailand will know more about them.
"Tourists only know about famous temples. They all go to the same places," Curtenaz said. "So I want to show what is out there."
Curtenaz is no tour guide. Nor is he an anthropology student or retiree looking for purpose. Though he's been asked to ordain, he's not a monk. The former journalist, who holds a Master's Degree in Asian Studies, is only 32.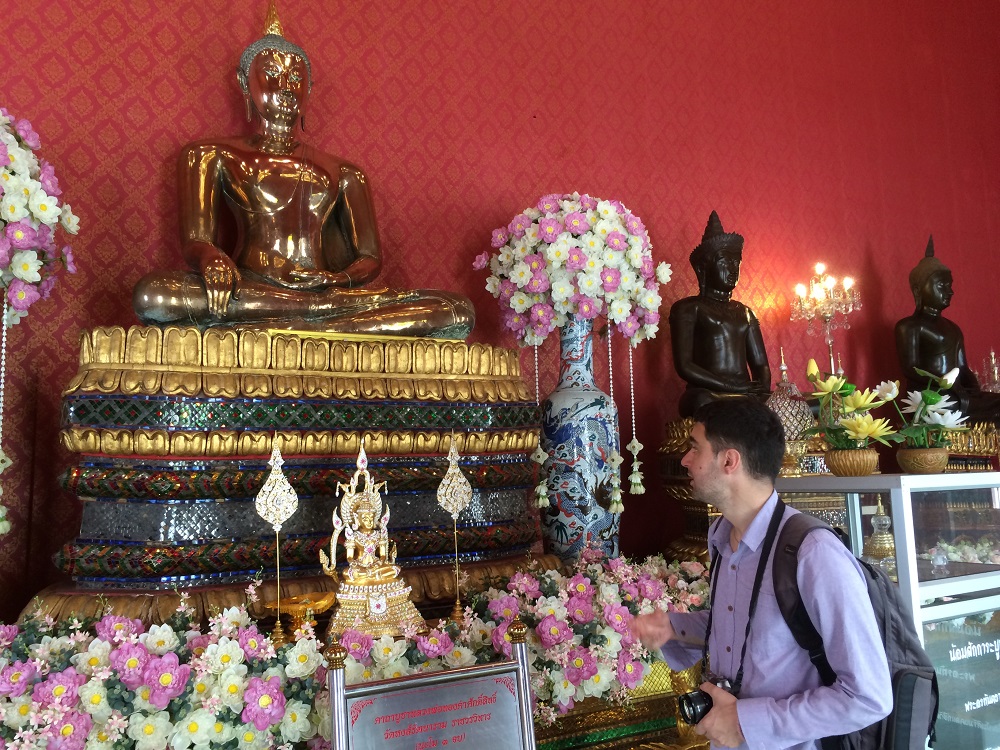 He's written 450 reviews so far. The website is in French, but he has posted some English excerpts on Instagram. Curtenaz said he has a massive backlog of temples that he need to put in writing and post them on his website.
His reviews range from a Shan-styled wooden temple perched on a mountain in Mae Hong Son province and a cave temple featuring a giant tiger maw in Suphan Buri to a stone temple built by the Khmer Empire in Sakon Nakhon.
"It's been almost two years of this crazy project. I stopped my career just to do this," Curtenaz said.
DIY Operation
Sitting at a pavilion just outside Wat Hongrattanararm, or Wat Hong, in the Bangkok Yai district, Curtenaz talked about how he began his "crazy project," his tale sometimes interrupted by the roar of longtail boats slicing through the canal.
The Frenchman, who studied and worked in Switzerland, came to Thailand two years ago as a tourist, expecting to stay several months.
After strolling through Chinese shrines in Chinatown piqued his interest, he started to visit Buddhist temples, impressed by their aesthetic and historical value. He soon sought out interesting temples to visit and stumbled on Wat Hong. Then, everything changed.
Built when Thonburi was the capital city, the temple housed not only the looming gold Buddha but also a small black Buddha figure Siamese troops plundered from Laos. It contained a pond of holy water in which King Taksin is said to have bathed. Large Bodhi trees shield much of the compound, which opens its gates to visitors all day.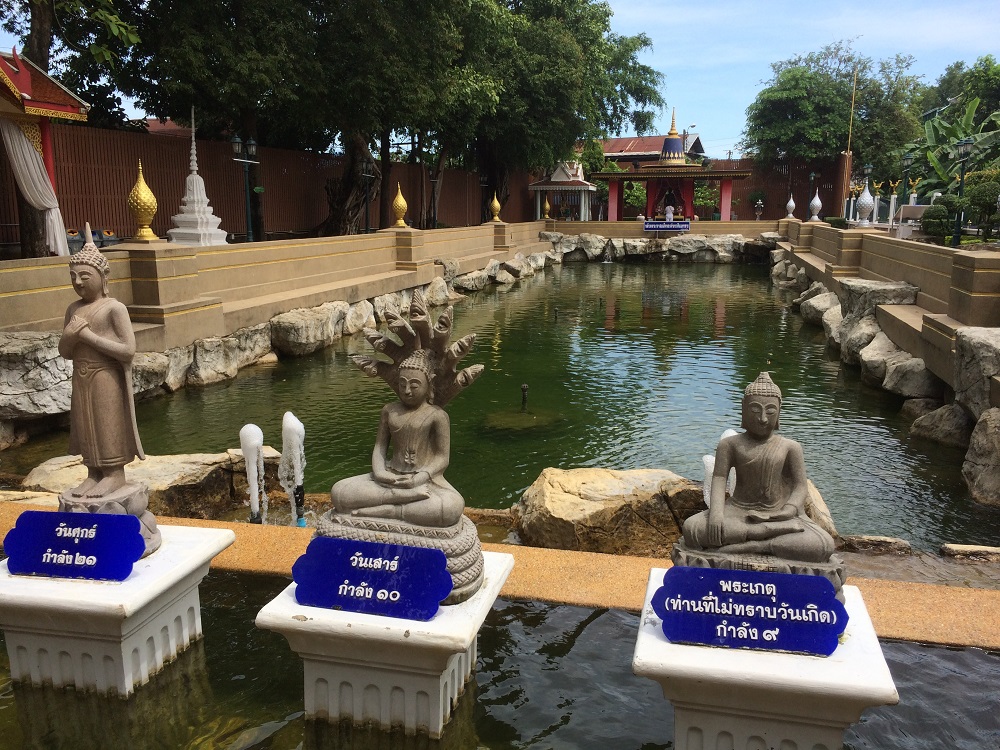 Curtenaz called it his favorite wat in Bangkok. Visiting it gave him the idea to tell foreigners about interesting temples.
"Suddenly I woke up one night, and I decided to do it," he said.
He quit his job as a reporter back home and started traveling the country atop a scooter, visiting temples in city centers and wat paa, or forest monasteries, in far-flung regions. Removing his shoes to enter a chapel at Wat Hong, his sunburned feet testified to his journeys under the sun.
"I fell off my motorcycle once. I almost died probably 10 times in remote places," Curtenaz said. "When I was traveling in the countryside, I had to be careful about buffaloes and snakes on the roads. I probably saw all types of snakes in Thailand."
The project is self-financed by his savings and family support, Curtenaz said. He's in Thailand on a tourist visa, having done border visa runs "that cost me a lot of money."
Thanks to classes "from a language center in Sukhumvit" and practice with local monks he met along the way, Curtenaz can hold a basic conversation in Thai, though he said he rarely told people at the temples he was documenting his visits, lest it offend their sensitivities.
"Buddhism is still a very sensitive issue," Curtenaz said. "And I'm a farang doing this alone. Some temples might not like what I do."
He's probably seen more temples than the majority of Thais, but that's only scratching at the surface: There are more than 41,000 temples dotting Thailand – and Curtenaz won't get to see all of them. The project will come to an end soon because he has to get back to work.
"I'm still doing it, but now I'm also looking for a job."
Fading Relevance?
For centuries, the wat served more than a spiritual purpose. In the old days, when the majority of people lived and died within a day's travel from their birthplace, temples were centers for knowledge, medical healing and communal activities.
Monks taught children how to read, dispensed herbal medicine and handed out amulets to men drafted to fight in Siam's wars with its neighbors. All major events – from weddings to funerals and Songkran festivities – took place in the cloistered sanctuaries. Nearly every man spent part of his life as a novice or monk.
Those days are long gone.
"Temples now have less relationships with communities, because the communities are no longer what they were in the past," Buddhism scholar Vichak Panich said in an interview. "They have become urbanized. They have become [part of] a modern society."
Adding that the "image of what we have about Buddhism and temples in Thailand are projections of the past."
Although Curtenaz said he felt temples still retain their importance in the rural north and northeast, he added that they have become increasingly irrelevant in urban areas. He also sensed an impending crisis for Buddhism in general.
"What I think is, Buddhism is in crisis. One reason is people getting older and there are not many new monks," Curtenaz said. "There is now a competition between temples. They try to attract people and money."
While Buddhist authorities report that the number of monks has been increasing, fewer novices have trained to enter the monkhood in the past decade. In 2005, there were about 76,000 novices throughout the country, according to the Office of National Buddhism. Last year, there were just shy of 60,000.
Despite having been encouraged to convert, Curtenaz said he has no plan to become a Buddhist.
"Many monks even tell me I should become a monk!" he said, laughing.
He paused and looked at an elderly monk making his way toward a chapel at Wat Hong before reflecting on his years-long quest.
"I have seen good things but also things that Lord Buddha would not approve, too. I cannot be a Buddhist," Curtenaz said. "I like the concept of Buddhism, but I cannot be a Buddhist."