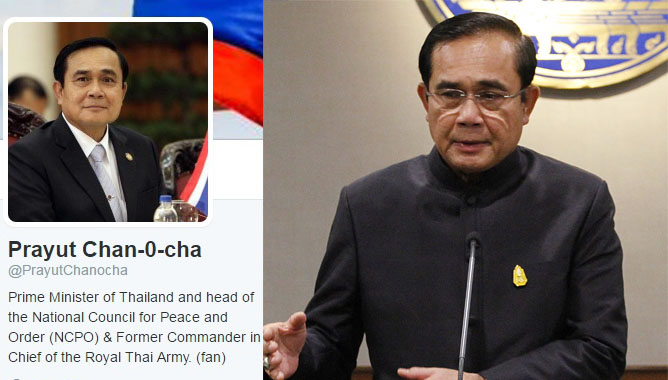 BANGKOK — Junta chairman Prayuth Chan-ocha reminded reporters Tuesday he has no presence on social media after someone tweeted unkind things about the Malaysian prime minister from a satirical account using his name.
Prayuth (the real one) urged the public to exercise judgment before believing anything attributed to him on the internet after @PrayutChanocha (the fake one) described Malaysian Prime Minister Najib Razak as a "1 billion dollar stealing piece of shit [sic]."
"As far as I know, there have been many cases of this," Gen. Prayuth said at Government House. "And it's the same in other countries … even in the United States' presidential election, similar things have happened, too. Does it mean this is a copycat case? I'm not sure."
Nope, it isn't. Prayuth's English-language Twitter impersonator preceded the U.S. election season by several months. "Prayut Chan-0-cha" has been lampooning the junta chairman daily since active since October 2015 with sarcastic political commentary.
The tweet that got Prayuth's attention appeared to be from Saturday, when the spoof account retweeted a Thai PBS photo of Razak paying respects to His Majesty the Late King at the Grand Palace.
"Get the fuck out of my country you 1 billion dollar stealing piece of shit," Prayuth Chan-0-cha wrote.
https://twitter.com/PrayutChanocha/status/789702205079027712
At Tuesday's news conference, Prayuth said he would never resort to that kind of language because he's actually a good friend of Razak.
"We are close friends," the general said. "We are fellow leaders of nations."
As of Wednesday, Prayut Chan-0-cha remained active, having tweeted in response to a photo of Gen. Prayuth with Hollywood actor Steven Seagal.
"Fuck yeah!" the tweet said.
https://twitter.com/PrayutChanocha/status/760876060808404992
https://twitter.com/PrayutChanocha/status/776650478016835584
https://twitter.com/PrayutChanocha/status/775196847425986560