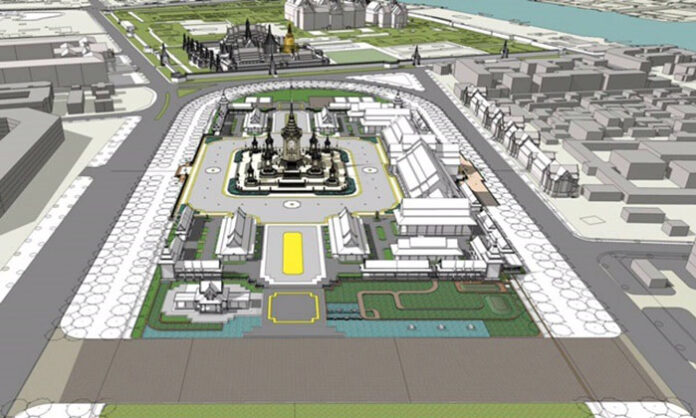 BANGKOK — The Late King's contributions to society will be reflected in the design of his royal funeral pyre, according to the most detailed plan yet released by the officials in charge of the project.
Four ponds, a rice field, a reservoir and water mill will be part of the features, according to landscape architect Porntham Thammawimol and the government Fine Arts Department, which unveiled images from a 3D model on Friday.
The design offers the best look yet at the center of what will be the grandest royal ritual in decades. The multi-million baht funeral pyre is expected to be completed by September, just before the anniversary of the death of King Bhumibol.
Department director Anan Chuchote said the complex of the pyre, known in Thai as meru, will cover a length of 80 meters on the northern side of the Royal Cremation Grounds, or Sanam Luang.
Boasting the most ambitious work mustered by Thai craftsmanship, the meru will feature elaborate figurines depicting magical creatures and deities from Hindu cosmology.
The cremation for King Bhumibol, who died at 88 on Oct. 13, is expected to take place about a year after his death.
Anan added that the department is still recruiting artists and craftsmen for the construction and decoration of the meru. Anyone interested in the project have until Feb. 3 to apply.
The cremation of King Bhumibol, who was the longest-reigning monarch of Thailand, will be the first ritual of its kind to take place in decades. His body is lying in state at the Grand Palace, where hundreds of thousands of people have visited in recent months to pay respect.
Officials have said a preliminary budget for the funeral pyre was set at 500 million baht and can be expanded as needed.