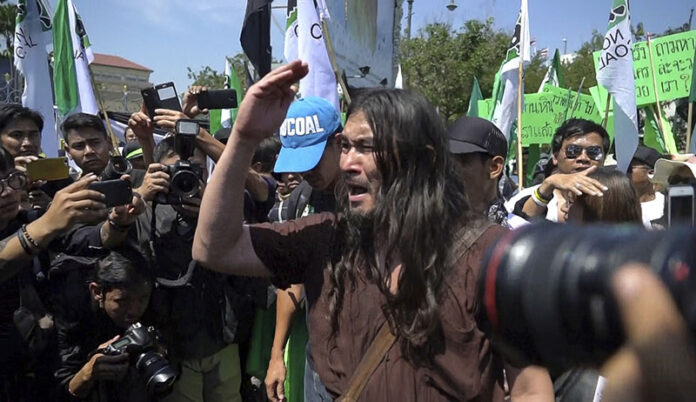 BANGKOK — Prime Minister Prayuth Chan-ocha said Tuesday the government will ensure that environmental and health impact studies for a coal power plant approved by its energy policy planning committee will be reconsidered, but made clear he expects the project to proceed.
Gen. Prayuth said plans for the 800-megawatt coal power plant in the southern province of Krabi would be reevaluated, as sought by protesters from the province, a popular seaside tourist destination. They said the existing assessments did not take into consideration their views about potential pollution and damage to the tourism industry.
Read: Anti-Coal Activists Return to Krabi Confident of Victory
Prayuth chaired the National Energy Policy Committee, which announced Friday the go-ahead for the long-stalled project. He said Tuesday the plant originally was expected to begin operating by 2022, but redoing the Environmental Impact Assessment and the Environmental Health Impact Assessment would push the opening back by a year or two.
He said the government would look at how to deal with such issues and then conduct the new assessments.
"So don't worry if you think the government is backing off, because this process has been in place since 2007, so don't raise it as an issue," he said.
Prayuth acknowledged the possibility that the project might not be carried out in its planned form – there have been suggestions of using mixed fuel sources – but warned that failure to go ahead could be costly, with no certainty that alternatives would be cheaper.
The Energy Ministry says southern Thailand's power grid falls hundreds of megawatts short during peak demand, requiring electrical backup from Malaysia or provinces further north. But environmentalists argued in a report submitted to the ministry last year that biomass, wind, or other renewable energy sources could make up the shortfall.
Protesters against the plant traveled from Krabi to demonstrate outside the prime minister's office when Friday's decision was announced, and their leaders and almost a dozen other people were detained when they continued their protest on Saturday.
They were released on Sunday and said they believed their view had prevailed because officials told them that new assessments would be made. However, it was not immediately clear whether they were satisfied with Tuesday's announcement.
Related stories:
Coal Plant Protest Leaders Arrested
Gov't Gives Green Light to Krabi Coal Plant, Activists Vow Resistance (Photos)