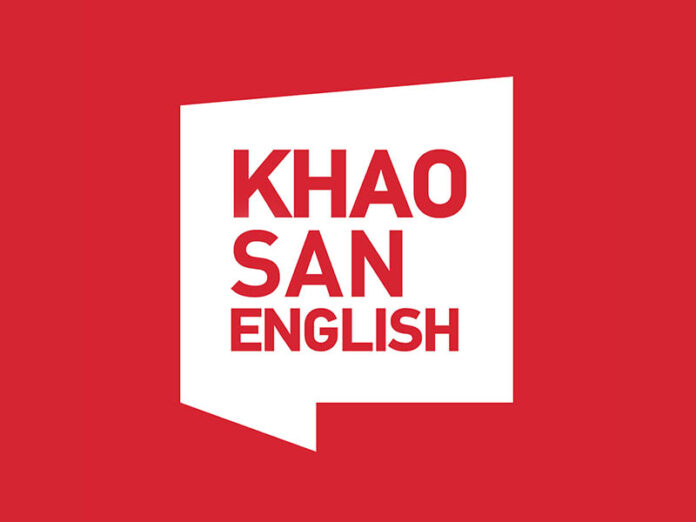 You might have noticed Khaosod English looks just a little different than it did just, well, a few hours ago.
Just recently, we used this space to explain some improvements to better serve our readers, along with a vow not to compromise the journalism that is our currency with you and the readers we serve.
All I can say is: What a difference three months make!
According to the reliable polling by our friends at Happy Thai Happier Numbers, our social media measurables from organic reach to Snapchat mentions are miserable with millennials. They're lower than the chance of successful corruption convictions.
Therefore we've just innovated – again!
"These changes are going to further define Khaoso- er Khaosan English as the first choice in news for Thailand 4.0, especially dek inter who went to Triam Udom, BCC or Mater Dei. Our transition from professional journalists to content farmers prostituting our talents for profitless attention only proves that what matters most is …" trailed off Editor Todd Ruiz, who then muttered "innovation" a few more times and circled "Synergy!" on a whiteboard before walking out.
Therefore we are excited to share some exciting changes effective immediately:
NEW NAME!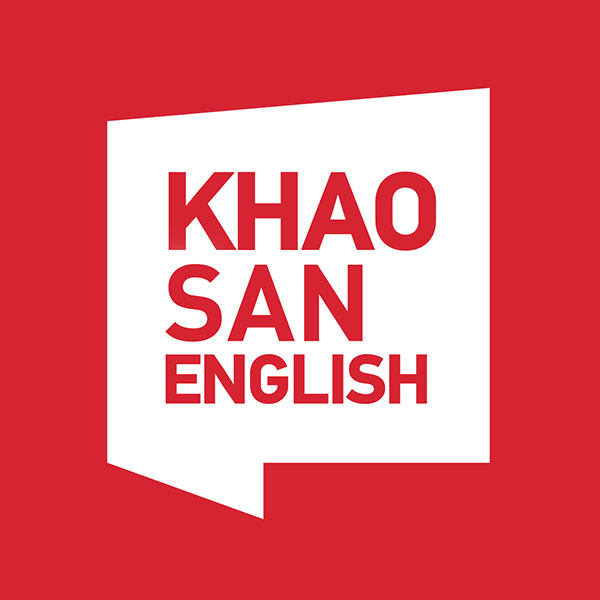 While about half of our readers know their khao (news) from their khao (rice), the non-Thai half can neither pronounce our name – nor remember it three seconds after closing the browser tab. "Kay-Should? Klaw-sad?!"
So we didn't have to reach far to find a new name with existing international brand-awareness and appeal to our guests from out of town. And for kindly agreeing to our use of the name, the Khaosan Road Business Association only asked for regular coverage of the AMAZEBALLS 120 baht vodka-Redbull bucket promotions and maybe not so many missing persons reports.
NEW HEADLINES!
Half of our readers struggle with basic English; the other half are native Thai speakers. To increase accessibility, our headlines will now appear in the lingua franca of Bangkok Facebook: Karaoke Thai. Perhaps we can peel off a few or few thousand readers from Pim Thai Mai Dai, after all.
Staff Writer Asaree 'Wan Phut' Thaitrakulpanich provides these examples: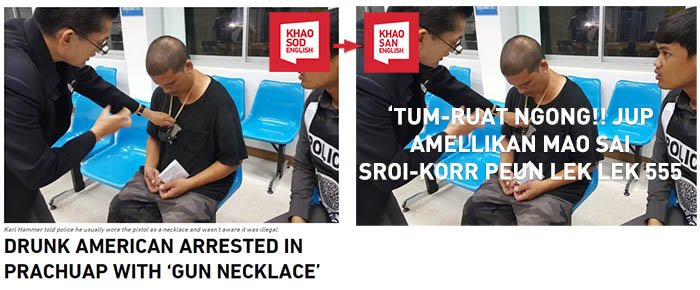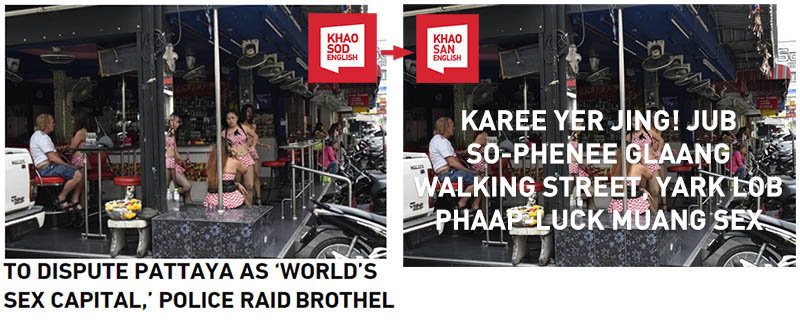 EASIER READING!

We're embracing the post-language future when human discourse consists of animal stickers and emoticons. Our multilingual Deputy Editor Lobsang Dundup Sherpa Subirana Etcetera Ad Nauseum has completed extensive training in Emojese and will be publishing alternate articles in our new "Learning With Lobsang" section.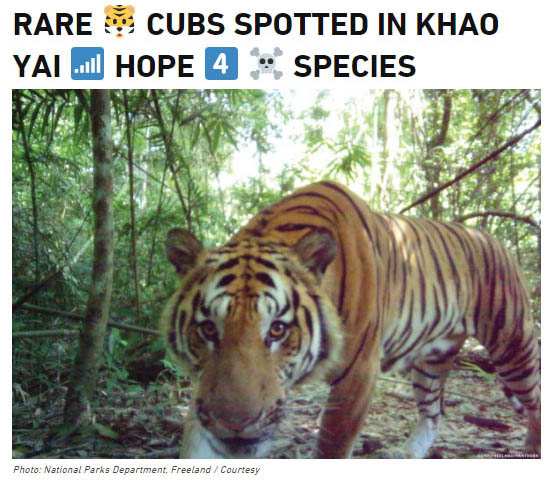 BANGKOK — The first 🎥 of 🇮🇳🇨🇳 🐯🐯 breeding in the wild is evidence the critically endangered species could be recovering, wildlife advocates said Wednesday.
Footage of 🇮🇳🇨🇳 🐯🐯 and their new cubs collected last year in Khao Yai National 🏞 was released Tuesday🌛, proving the few such 🐯🐯 left in the 🌎 may 📈 in number.
"This is incredibly exciting news. We're seeing evidence for the first time that 🇮🇳🇨🇳 🐯🐯 in 🇹🇭 are breeding," Josie Raine of anti-trafficking organization Freeland said Wednesday. "It's also the first-ever 📷 evidence of 🇮🇳🇨🇳 🐯🐯 in the wild."
The 📷📷, put in place in 2008, are operated and monitored collaboratively by the Department of National 🏞, Wildlife and 🌿 Conservation, Freeland and Panthera, a wild 🐱 conservation organization. The organizations had monitored the 🐯🐯 without 📷📷 starting in 1999.
FAKE NEWS!
On second thought … yeah, no.
In other fake news:
Maggie Choo's Hostesses Go Westworld, Rise Up Against Humans
Civil War Escalates: Anything Remotely Interesting Relocates to Thonburi Side
Vacant Streets Purged of Life Ranked No. 1 Attraction by Thieves, Cutpurses
90-Day Reporting to be Scrapped for Expats