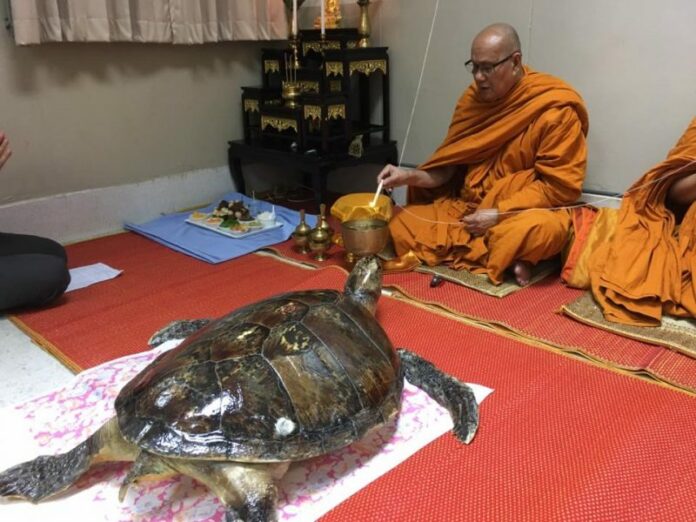 BANGKOK — A merit-making ceremony was held Wednesday for a sea turtle who became internationally famous in March after surviving a surgical procedure to remove almost 1,000 coins from her stomach but later died from complications.
Read: Piggy Bank, Giant Sea Turtle Who Ate Too Many Coins, 25
Monks from Wat Pathum Wanaram and faculty members of Chulalongkorn University's Veterinary Medical Aquatic Animal Research Center held a merit-making ceremony for Piggy Bank, a turtle who rose to fame in March for successfully undergoing surgery to remove 915 she had ingested. The turtle's body was stuffed for Wednesday's ceremony, as Buddhists believe it will allow the 25-year-old sea turtle to rest in peace and reincarnate.
"We all focused and prayed for Piggy Bank's soul to rest in peace and reincarnate in a better place," wrote Nantarika Chansue, Piggy Bank's vet on her Facebook page Wednesday.
"This sea turtle is going onto the shores of dharma," Facebook user Saowanee O'shaughnessy commented.
Female green sea turtle Ormsin, or Piggy Bank, gained international fame after an X-ray revealed a mass of coins she had swallowed from her time in a pond lodged in her gut. Although Piggy Bank survived the surgery – which removed coins of various denominations – the animal later died from surgery complications.
The turtle's death led vets to condemn the practice of throwing objects into ponds as a belief of good luck and to raise awareness about the harm this causes to animals living in them.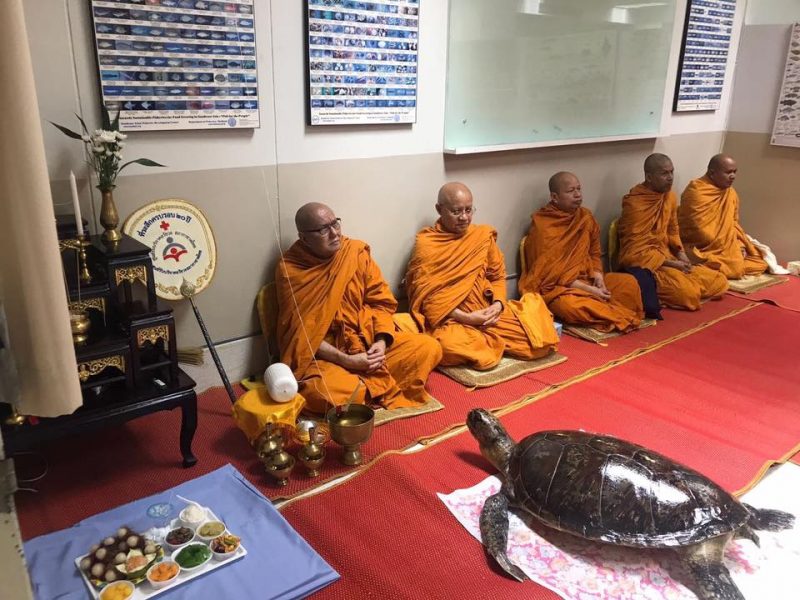 Related stories:
Turtley Crowded: Temple Promises More Space for Reptile Residents (Photos)
Turtle Watch: Coins Found Inside Two of Piggy Bank's Friends (Photos)
Piggy Bank's Turtle Friends to be Checked for Coins
Nation Mourns Piggy Bank, Takes Hard Look At Self
Piggy Bank, Giant Sea Turtle Who Ate Too Many Coins, 25
Now Empty of Coins, 'Piggy Bank' in Terminal Decline
Chula Vets Divest Turtle's Stomach of 915 Coins (Photos)
'Piggy Bank' Ate Too Many Coins. Now Chula Vets are Trying to Save Her