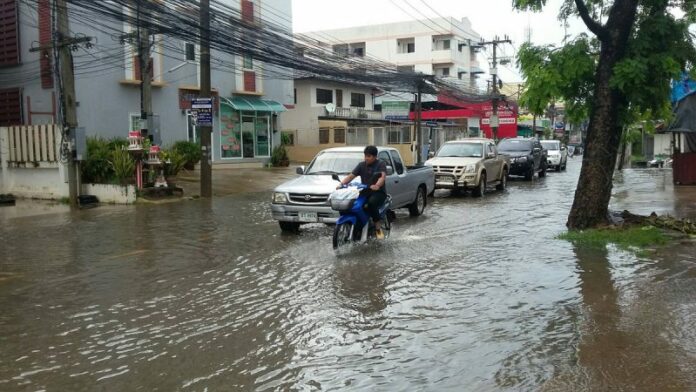 BANGKOK — The skies will darken again after a weeklong break with moderate to heavy rainfall expected into early next week.
There's a 50 percent chance those in the capital will need umbrellas today, with the heaviest rain expected Wednesday. Expect highs of 35C and lows of 25C.
The northern and northeastern regions, as well as along the Andaman Coast in the south, will see a 60 percent chance of rain due to a low-pressure system and southwestern monsoon.
Online, people already coping with the change in weather are sharing their experiences using #Rain.
ไม่รู้เหมือนกันว่าจะฟินอะไรกับฝนตกหนักหนา 😂😂 เย็นดีๆ #รีวิวเชียงใหม่ #reviewchiangmai #อากาศเชียงใหม่ #ฝนตก pic.twitter.com/sQgcVp4rEL

— อะหยัง (@Yawa_Dolphin) June 13, 2017
21.22 น.#ฝนตก ย่านถนนรามคำแหง /ถนนบรมราชชนนี pic.twitter.com/QAE8LM6NsS

— TRS 99.5 สายด่วน1255 (@TRS995radio) June 18, 2017
Related stories:
Bangkok to Take a Break From the Wet This Week
Wetpocalypse: Bangkok Floods Again (Photos)There's a Storm Rising Over Bangkok Tonight
Sunshine and … Just Kidding More Rain All Week
Monsoon Now: Prepare to Get Wet
Flooded Areas Across Bangkok After Last Night's Big Storm (Photos)
Monsoon Brings Spectacular but Dangerous Falls to National Park