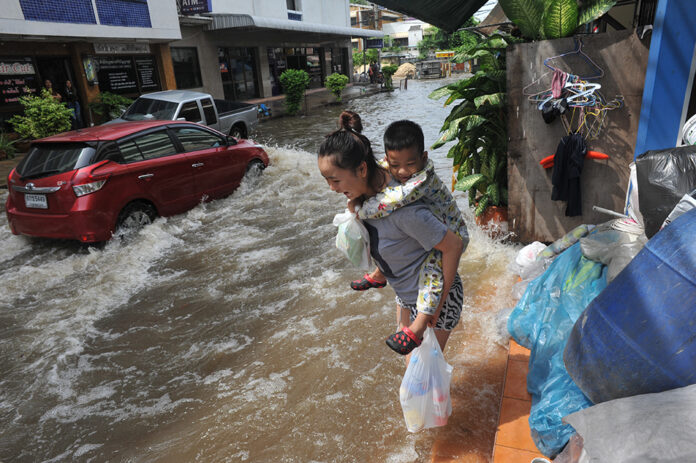 BANGKOK — A night of pounding rain left portions of the capital flooded Thursday morning, leading to a torrent of complaints from commuters.
Heavy rain struck Bangkok last night through the early hours of Thursday, leaving flood conditions in areas throughout the capital. As of the latest update this morning, commuters were still advised to avoid nearly two dozen areas including the Ratchada-Lat Phrao intersection, Chaeng Watthana Road near Prachachuen Road, Ngamwongwan Road at the Phong Phet Market, the Mo Chit 1 Bus Terminal and the Kamphaeng Phet intersection.
On Phahon Yothin Road, areas near the Amonphan Market and Anusawari Lak Si Circle were affected.
To the east, water was still clearing from Soi Ramkamhaeng 5, Srinagarindra Road near Wat Sri Iam, Phatthanakan Road and Sukhumvit Road near BTS Bearing.
Some conditions may have improved.
Several schools were closed today due to flood conditions, including Bodindecha (Sing Singhaseni), Ratwinit Bangkaeo and Pibool Uppatham schools. Ramkhamhaeng University students were being allowed to arrive late for scheduled exams.
Since early morning, reports and complaints surged on social media, making #flood the top-trending hashtag on Twitter.
น้ำรอระบาย รัชดา-ลาดพร้าว @js100radio pic.twitter.com/AIzQivFw0p

— Manachai (@manachai_pete) May 25, 2017
'Water waiting to be drained,' @Manachai_pete tweeted, mocking former Bangkok Gov. Sukhumbhand Paribatra's infamous definition of flooding.
ขอบคุณนะพากูเดินลุยน้ำขนาดนี้ เยี่ยมๆ #น้ำท่วม #งามวงศ์วาน pic.twitter.com/9mYk09pVb9

— ― ฮันน์ (@_IIBH96) May 25, 2017
"Thank you for making me walk through this flood #flood #Ngamwongwan," tweeted @Hanbinxofficial.
ถ้าคุณมาประเทศไทย คุณสามารถเจอทีมแอดเวนเจอร์ได้ในทุกๆที่ทั่วกทม. โดยจะพบสไปเดอร์แมนเยอะมากๆในช่วงน้ำท่วมสูง #น้ำท่วม pic.twitter.com/f2deY4ErbA

— (@pennokka) May 25, 2017
"If you come to Thailand, you can spot the Adventure Team anywhere in Bangkok, especially Spider-Man during the flood."
"Dogs enjoy the flood the most."