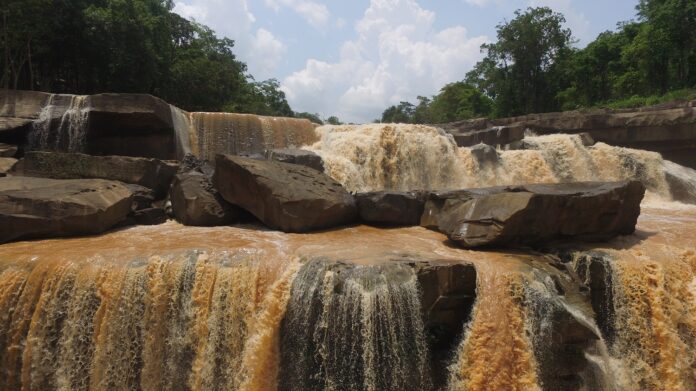 PHITSANULOK — Tourists can look – but not swim – at a famous series of cascading waterfalls in northern-central Thailand, national park officials said Thursday.
As rains lashed Thailand and rivers swelled, waterfalls such as the Kaeng Sopha and Poi Waterfalls in the Thung Salaeng National Park went from dry season trickle to full-on cascade.
Tourists, however, have been warned not to take a dip lest they be swept away.
"There's lots of water flowing over the three levels of waterfall right now, so they're very beautiful," said Thung Salaeng National Park head Thaksin Mongkolkamaratt. "It's the best time of the year to view the waterfalls."
Days of rain have turned the Khek's waters' copper-colored cascades into beautiful, yet dangerous spectacles. The park has set up security checkpoints around the river to make sure no one tries to take a dive.
"The waters are so fast, you could definitely drown," Thaksin said. "The best time to visit the waterfalls for swimming is in the hot season, from March to April."
Kaeng Sopha Waterfall is located two kilometers from the park entrance, and can be reached by car or foot.
Thung Salaeng National Park's entrance fee is 500 baht for foreign adults, 300 baht for foreign children, 40 baht for Thai adults and 20 baht for Thai children. The pricing was set by the Department of National Parks, Wildlife and Plant Conservation, said Thaksin.