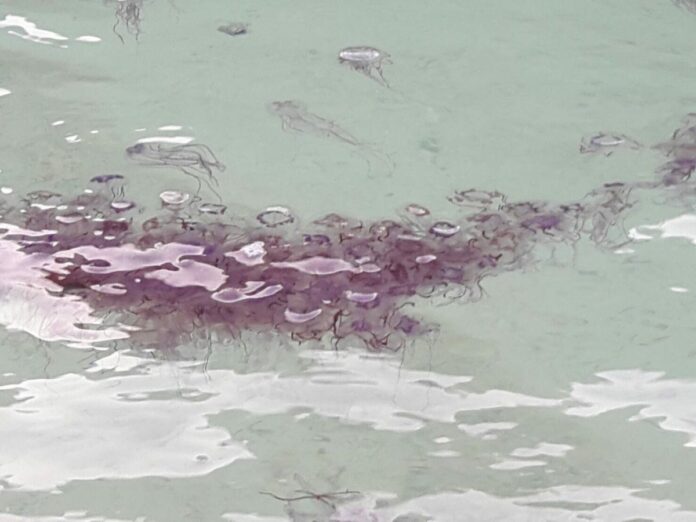 KRABI — Rangers warned tourists Wednesday not to swim at certain beaches on Koh Hong and surrounding islands after several Chinese tourists were stung by poisonous jellyfish.
The three tourists were stung Tuesday after clouds of poisonous purple jellyfish appeared just off the shores of Koh Hong and Koh Lao Lading in the Than Bok Khorani National Park in Phang Nga Bay. Rangers cleared the shorelines of as many jellyfish as they could.
"Our rangers have prepared first aid and vinegar," said Jampen Phomphakdi, ranger captain of the national park. "Many tourists have gotten stung before in the past. The jellyfish will probably float around Koh Lao Lading for at two days before swimming away."
Jampen said that any tourists who get stung should quickly exit the water and find a ranger who will administer first aid by pouring vinegar on the burn. If burns are too large, they will be sent to the hospital.
Tourists should refrain from swimming at beaches with yellow flags. Although there are no signs specifically warning of jellyfish, Jampen said his rangers inform tourists and tour guides about them face-to-face.
The islands around Koh Hong are popular tourist destinations, with Jampen estimating they receive at least 300 daily visitors – mostly from Chinese tour groups.
The jellyfish are purple Pelagia panopyra, or pink fire jellyfish, according to the Department of Marine and Coastal Resources. Although their toxins are not fatal, skin contact causes a burning sensation. Jellyfish appear seasonally on the shores of southern islands during the monsoon season.
The department recommends stings be treated by pouring vinegar over the affected area from 30 seconds to a minute. It advises against using water or rubbing the area with sand.