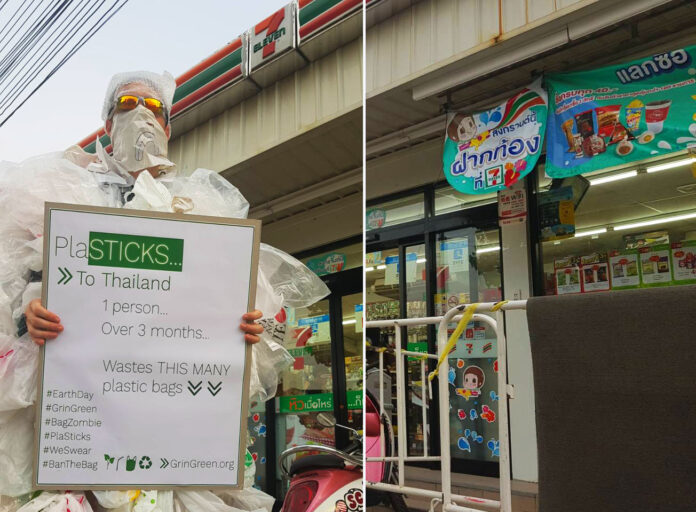 BANGKOK — High school students dressed their teacher in a plastic bag costume and sent him into 7-Elevens to call attention to plastic bag use in a video that went viral.
DG Yoon said Monday that he and his friends from Bangkok Christian International School planned the spectacle to raise awareness Sunday for Earth Day. They taped 600 plastic bags to their social studies teacher and took him around to convenience stores in the Asok area as well as near Asiatique and EmQuartier.
"A single person in Bangkok in three months uses 600 bags of plastic," Yoon, an 11th grade Korean student and spokesman of the group said, explaining the logic behind the stunt of his teacher dressing up as "Plasangelist," the Plastic Evangelist.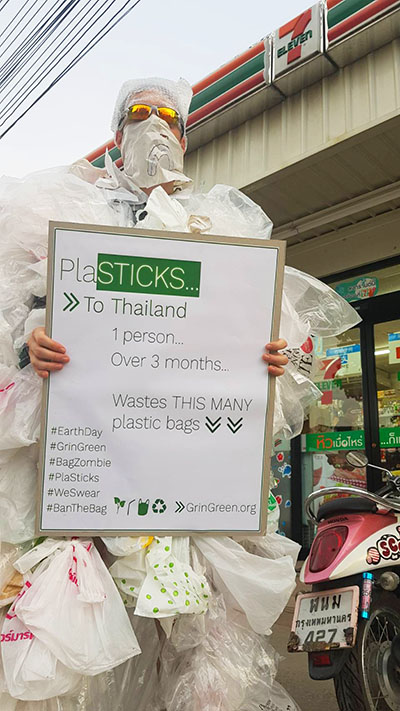 Although 7-Eleven has not contacted the group or prevented them from protesting, Yoon said a guard in front of EmQuartier asked the group to leave from the mall where they were holding signs since "we did not have permission."
The students are part of Grin Green International, an environmental group consisting of 12 Bangkok Christian International School students and their American social studies teacher, 34-year-old Geoff Baker.
The students in the group are Thai, Korean, Filipino, Malaysian, Nigerian, Chinese and Taiwanese.
Grin Green approached the Bangkok Foodies group to post the clip for them, which showed Baker walk into a 7-Eleven at Asiatique and shaking his head in silent judgment at the individually wrapped bananas.
"Our main purpose was to raise awareness for Thai people. But we noticed that a lot of Thai people do not really care; most of the reactions were from foreigners," Yoon said, noting that all their signs were in English.
However, when the students started approaching Thais, he said they got a good response.
"Next time, we will make Thai signs," he said.
The video gained almost 10,000 views in under 24 hours.
As part of their Earth Day plans – planned a week in advance – the group also had an Earth Day booth at Asiatique asking people to sign various petitions.
Yoon said he hopes one day that Thailand could limit and reduce plastic bag use to better protect the environment.
"Individually wrapped bananas are completely unnecessary, just like plastic bags of candy with individually wrapped candy inside," said 18-year-old Yoon.