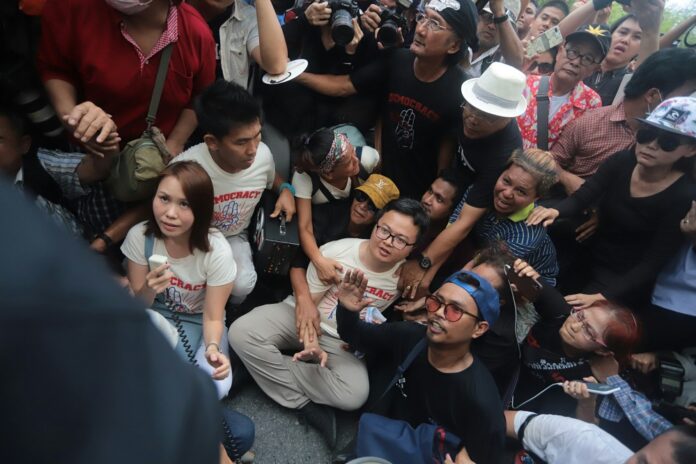 By Grittara Chanaman, Contributor
BANGKOK — Some observers were surprised when a splinter group of pro-democracy protesters succeeded in marching on the Government House – and nearly reaching it – Tuesday, the fourth anniversary of military rule.
But that morning, a plan was hatched by leaders of the Democracy Restoration Group when it became apparent thousands of police would block the main group from departing Thammasat University's Tha Prachan campus, according to a source close to one of the leaders.
"It was our plan. We wanted to challenge the government by trying to separate our supporters in two groups," the source said Thursday on condition of anonymity for discussing closely held plans. "We were discussing a while ago that if we could not get to the Government House, what we should do."
Read: Protest Called Off After Police Seize Leaders by Force
He explained that his friends told supporters in a secret social media group early Tuesday morning that anyone who could not make it onto the campus, where the main group camped Tuesday night, should join human rights lawyer and pro-democracy leader Arnon Nampha outside the rally.
He then led that group on to the Government House in the early afternoon.
It was not a large group. They moved from the campus by using the Ratchadamnoen Avenue until they were halted in front of the United Nations building by a hastily assembled barricade and thousands more police officers intent on blocking them from the junta leader's seat of power.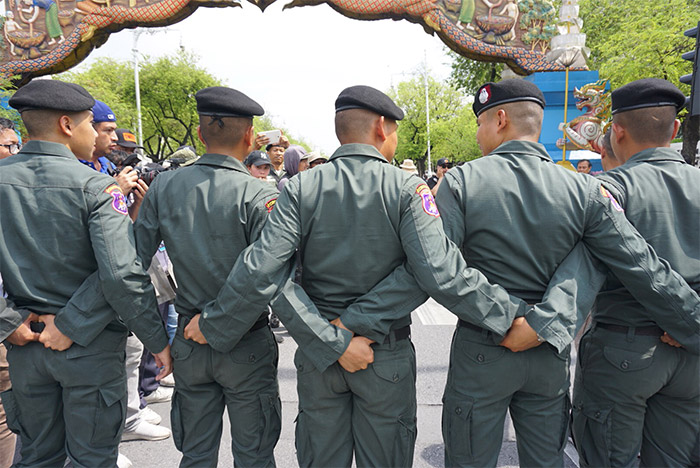 "We are trying to get as close to the Government House as we can," Arnon told the media Tuesday. "We already knew that the police would stop us. As you know, we are here, we are almost to the junta's house"
That was not long before he was arrested, when roughly 1,000 police swept in and violently seized them that afternoon. He said their use of blunt force was a moral victory for the pro-democracy cause.
"Now we have won because the government and police are playing with us. They were enormous, but we were tidy," said the source. "The image of the police trying to control the freedom of expression of the pro-democracy movement in the world's eyes can put pressure on the government to give the next election to Thais as soon as possible."
The authorities say they are enforcing a junta order in place since the coup that forbids political gatherings of more than four people. Amorn Wanichwiwatana, who helped write the new constitution, said Wednesday that it was written to make its guarantees of such liberties secondary to existing junta orders.
On Thursday, the 15 protesters and protest leaders were granted bail. Some had said they wanted to stay longer in jail to make a point, but finally decided as a group to ask the court for their release.
Related stories:
Reporter's Notebook: Peaceful Rally Falls Apart in a Heartbeat
Court Grants Bail to Pro-Election Activists
Tense 22 Hours of Tuesday's Thammasat Rally in 22 Photos
Former Police Chief Backs Jailed Activists as Arrests Slammed
Protest Called Off After Police Seize Leaders by Force