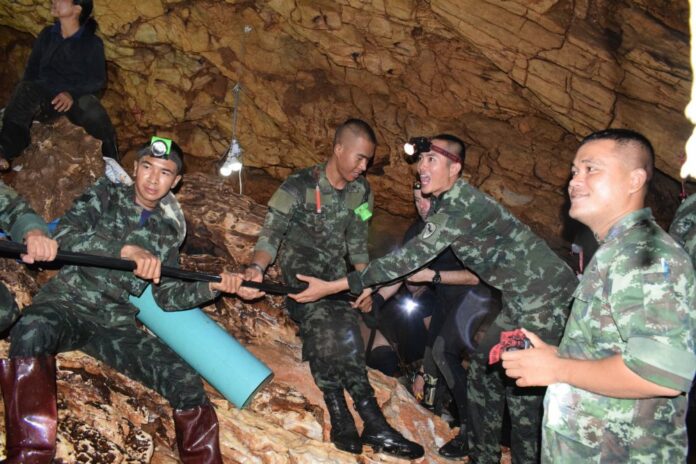 BANGKOK — Now that the missing Thai football team has been found, the next step is determining how to get the boys and coach safely out of the partly flooded cave in northern Thailand. Here's a look at the options and why extracting the 12 boys and man could take some time:
THE CAVE IS HUGE
Tham Luang Nang Non cave in Chiang Rai province stretches under a mountainside for up to 10 kilometers (6 miles), much of it a string of narrow passageways that lead to wide chambers and then back to narrow passageways. The rocky and muddy ground makes several changes in elevation along the way. The British Cave Rescue Council, which has members taking part in the operation, estimates the boys are around 2 kilometers (1.2 miles) into the cave and somewhere between 800 meters (half a mile) to 1 kilometer (0.6 miles) below the surface. Other estimates put the boys as far as 4 kilometers (2.5 miles) into the cave.
THE CAVE IS FLOODED
Finding the boys took more than nine days, partly because of how difficult it is to move around the cave. The cave floods during Thailand's rainy season and even elite Thai navy SEAL divers were finding it difficult to move through the muddy waters, currents and tight passageways.
SAFETY FIRST
Thai authorities say they are committed to "100 percent safety" when they consider how to extract the boys, who don't appear to be in urgent need of medical evacuation. Chiang Rai provincial Gov. Narongsak Osatanakorn said: "We worked so hard to find them and we will not lose them." According to Anmar Mirza, national coordinator of the National Cave Rescue Commission in the U.S. and editor of the book Manual of U.S. Cave Rescue Technique, the main decision is now whether to try to evacuate the boys or to supply them in place.
SUPPLYING THEM IN PLACE
This is possibly the safest option. It would involve bringing food and other supplies to the boys and waiting for water levels to drop, naturally or by pumping out water, or until rescuers can find or create another exit. This could take anywhere from days to weeks to even months as the rainy season typically lasts through October. The Thai navy is already doing this short-term, sending teams with high-protein liquid food to feed the boys, keep them company and explore the cave infrastructure where they are to ensure it is safe. The navy said medics will be sent to help and improve conditions in the cave.
THE DANGER OF STAYING PUT
More monsoon rains are on the way. After a break in the weather in recent days, the Thai Meteorological Department forecast for Chiang Rai calls for light rain through Friday followed by heavy rain starting Saturday and continuing through July 10. Such storms could raise water levels in the cave again and complicate the supply missions or any potential extrication, if one was needed.
CREATING ANOTHER ENTRANCE
Along with the search efforts inside the cave, rescuers have searched on the mountainside for possible ways into the caverns below. Authorities said those efforts will continue. Backhoes and drilling equipment were sent to the mountain, but creating a shaft large enough to extract the boys would be extremely complicated and could take a long time. The British Cave Rescue Council said the boys are "located in a relatively small space and this would make any potential drilling attempt as a means of rescue very difficult."
DIVING THEM OUT
Diving would be the fastest, but arguably most dangerous, extraction method. Mirza said, "trying to take non-divers through cave is one of the most dangerous situations possible, even if the dives are relatively easy." By all accounts, the dives into the cave have been a challenge. Experts in caving and diving needed days to reach the boys. Getting the boys out could go faster due to the installation of dive lines, extra oxygen tanks left along the way and glow sticks lighting the path. Still the British Cave Rescue Council said: "Any attempt to dive the boys and their coach out will not be taken lightly because there are significant technical challenges and risks to consider."