Rescue wildlife officers saved two wild elephants, mother and son, that fell into a 5-metre deep hole in the middle of the Forest Protection Conservation Unit Khao Borae, 2nd plot, Thong Pha Phum District, Kanchanaburi, Thailand, on Monday, February 27, 2023.
Residents of Moo 7, Bhan Chaey, Cha Lae sub-District, Thong Pha Phum District, Kanchanaburi reported to officials at the nearby Lam Khlong Ngu National Park at 4 p.m. on Sunday, February 26. Officials then prepared the rescue mission with elephant conservation volunteers and rescue workers.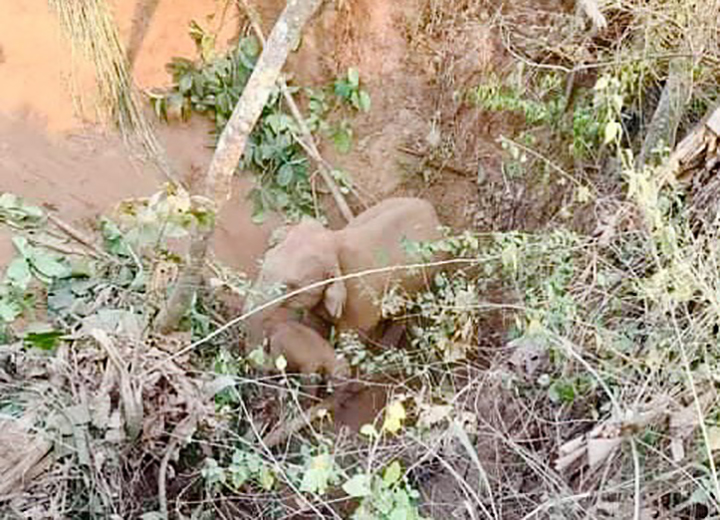 The incident in which the mother elephant and her 2-month-old son fell was a 5-metre sinkhole. Officials prohibited people from being near it because a herd of about 10 elephants was nearby trying to help the mother and son, which could pose a danger to people.
At around 6.30 p.m. on Sunday, both the mother and the son attempted to climb up. They managed to climb up 2 metres. However, they could not climb out of the hole under their own power. Around 11 pm, the mother elephant climbed to the edge of the hole to bring her son, who was still in the hole, something to eat.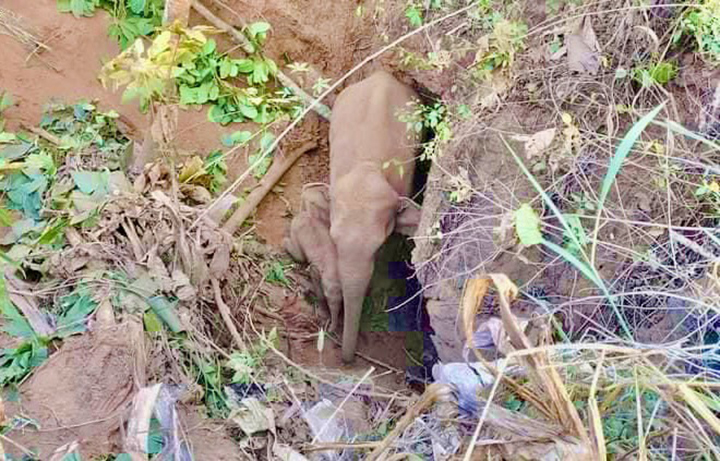 Varawut Silpa-archa, the Thai Minister of Natural Resources and Environment, urgently instructed Attapol Charoenchansa, the head of the Department of National Parks, Wildlife and Plant Conservation (DNP), to rescue the two elephants as soon as possible.
At 6.30 a.m. on Monday, officials from several departments, including the wildlife rescue team and the veterinary officer, worked together to help the two elephants.
They used an excavator to reduce the steepness of the hole so that the mother and son could walk out themselves. In the process, the mother elephant used her chest to push her son so that he could go out. Both elephants join the herd that was waiting for them at the edge of the forest.
Mana Permpool, Director of Wildlife Conservation, Conservation Area Administration Office 3 (Ban Pong), said the two elephants were now safe after the initial health check. Officials found no wounds or injuries. Officials have covered the hole to prevent further accidents.