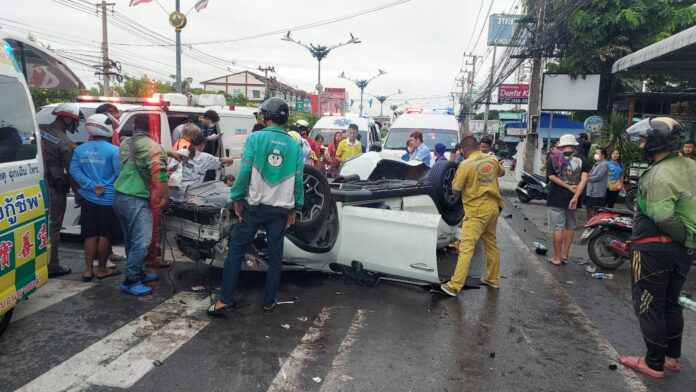 On 9 September at around 08:30, a serious multi-vehicle collision occurred near the community office in Baan Suan on Phraya Satcha Road, Ban Suan Subdistrict, Mueang District, Chonburi Province, Thailand. One of the vehicles involved was a white Subaru sedan with a Bangkok number plate. The driver, an Argentinian, lost consciousness before dying at the hospital.
The second vehicle involved was a white Isuzu Mu-7 with a Bangkok number plate. The driver, Col. Piyachat Yajinda, 60, sustained injuries to his face and a 4-year-old boy was also injured in the accident.
The third vehicle was a bronze Isuzu D-Max with a Lopburi registration plate, the front end of which was badly damaged.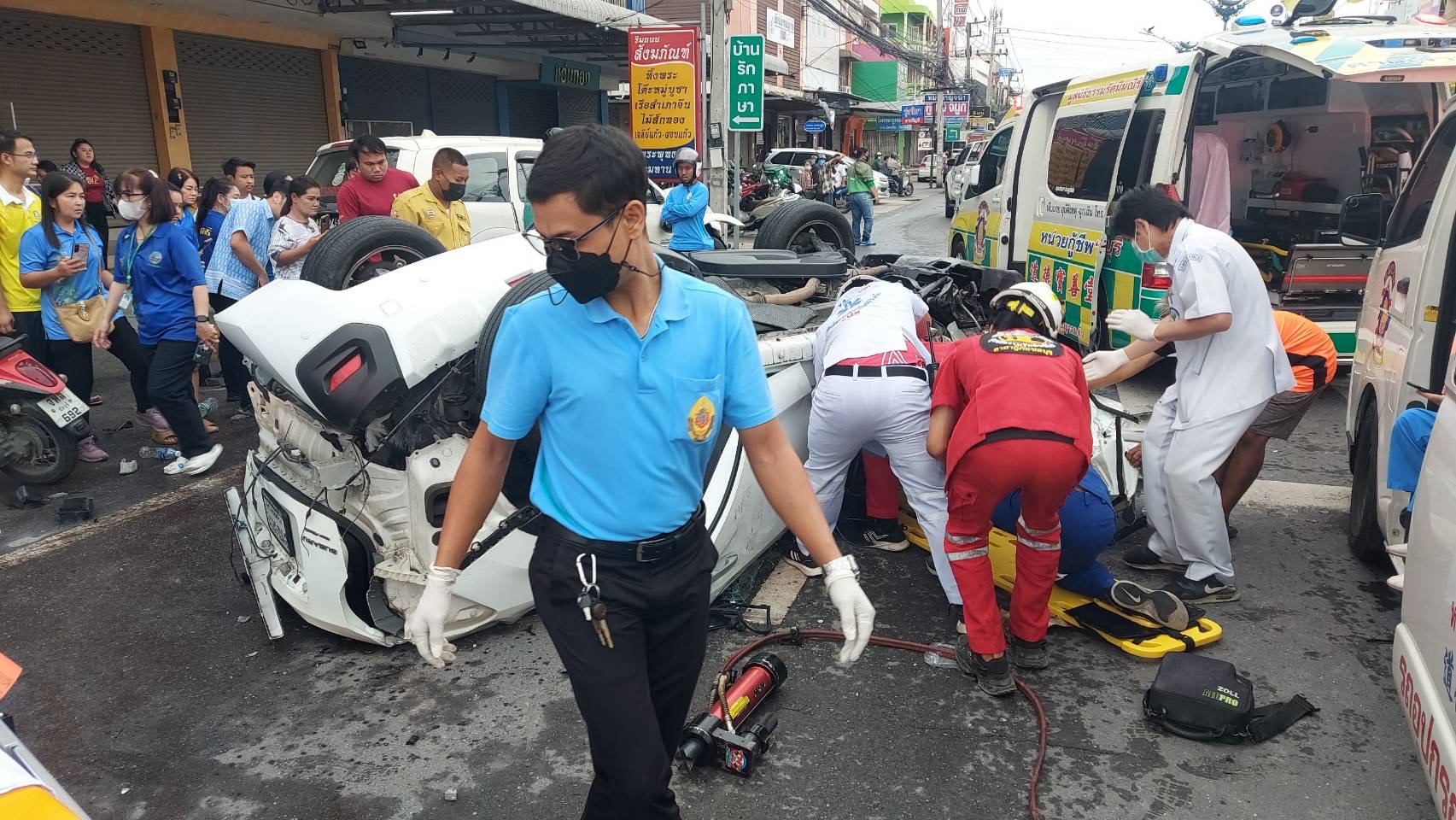 The fourth vehicle was a red Suzuki Swift sedan with a Bangkok license plate. The rear passenger door was badly damaged and the driver was rescued and taken to a hospital in Chonburi.
The fifth vehicle involved was a red and black Honda Scoopy motorcycle with a Chonburi license plate. The driver, Ms. Nattaya Nawinprasert, aged 67, suffered injuries throughout her body. She reported that as she approached the accident scene, she saw the vehicles colliding, and suddenly, another vehicle swerved and struck her motorcycle, causing her to fall.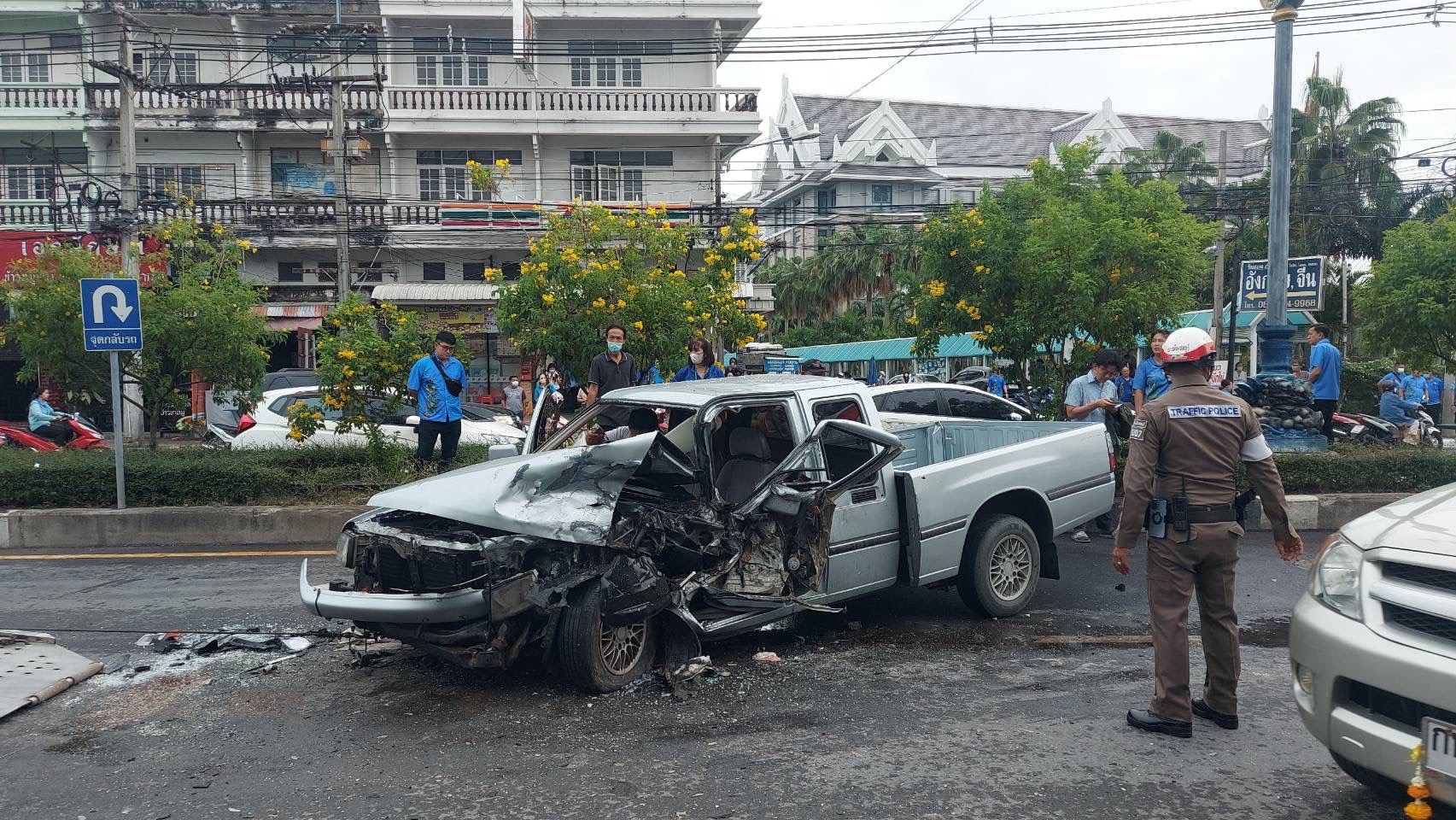 Col. Piyachat Yajinda, the driver of the Isuzu Mu-7, explained that he had parked his vehicle by the side of the road when he witnessed a foreigner's sedan trying to escape from a pickup truck that was pursuing it from behind. The pickup truck driver chased the foreigner's car, so the foreigner reversed his car and collided with another pickup truck and a sedan. Subsequently, the foreigner's car swerved towards Col. Piyachat's vehicle, leading to the collision.
Law enforcement officers will conduct further investigations and interview witnesses at the accident scene. They will also examine CCTV footage in more detail. Additionally, they plan to contact the Argentinian embassy to facilitate communication with the deceased's relatives.