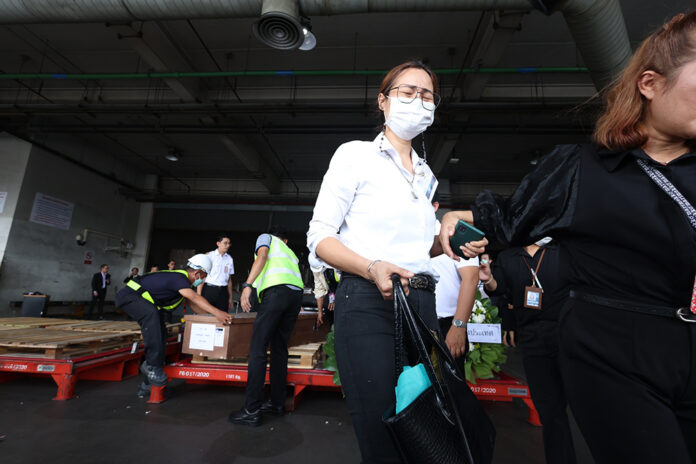 The bodies of eight Thai nationals who were killed in the Hamas attack on southern Israel arrived at the Suvarnabhumi airport, Thailand, on Friday, October 20, after the Israeli forensic medical institution confirmed their identities.
These are the first bodies to be returned from the 30 victims. The transfer was carried out by El Al Israel Airlines. The identification of the other victims has yet to be verified by Israel. They will be returned to Thailand in due course.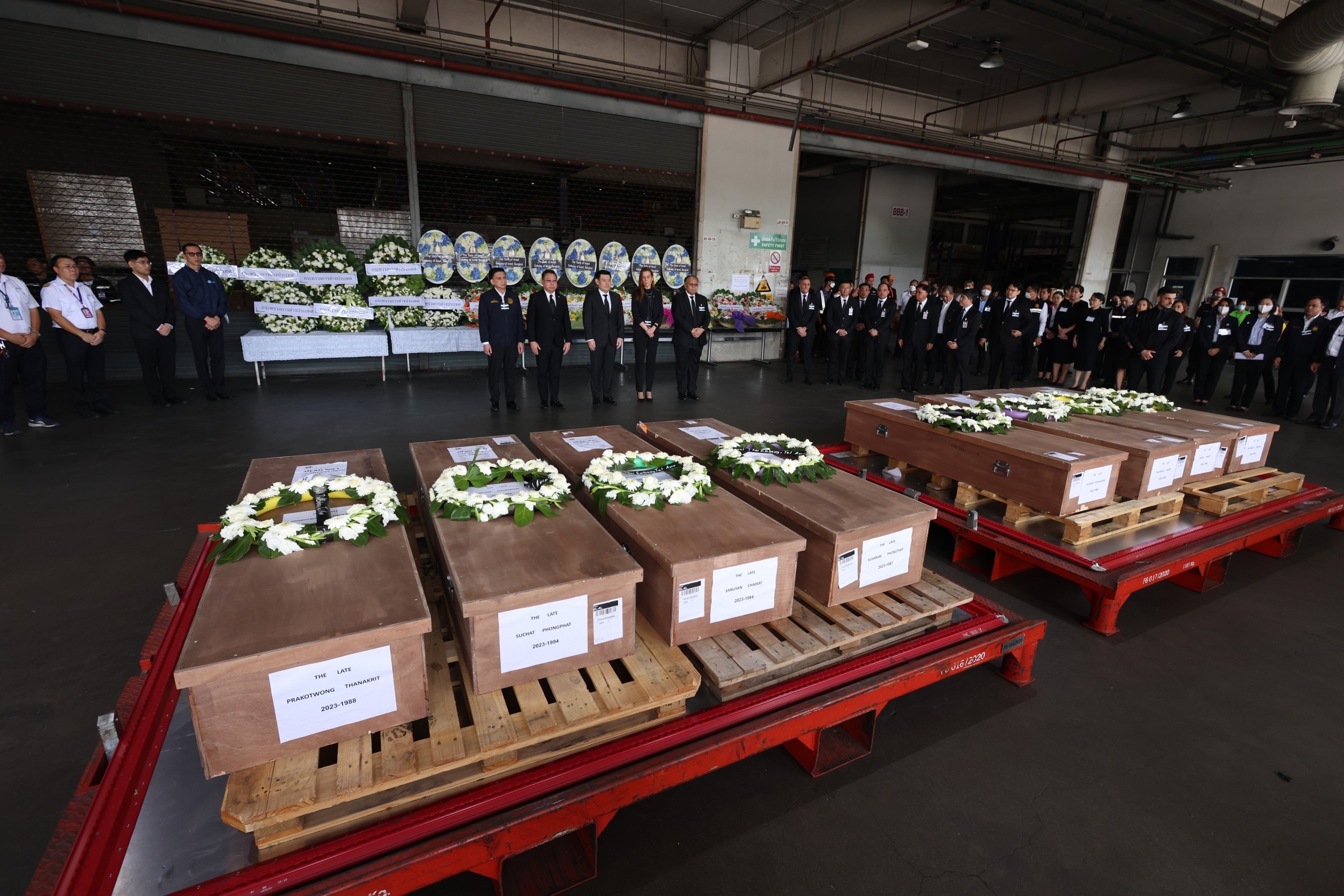 The 8 deceased workers were mainly from the northeastern provinces of Thailand, including 2 from Khon Kaen, 2 from Udon Thani, and 1 each from Nakhon Ratchasima, Chaiyaphum, Sisaket, and Sukhothai, located in central Thailand. They all died on the first day of the Hamas attack on Israel, which took place on October 7.
Miss Orna Sagiv, Israel's Ambassador to Thailand, also accompanied Thai authorities in paying tribute to the bodies of eight Thai labourers killed in Israel by Hamas. She wiped away tears during the ceremony.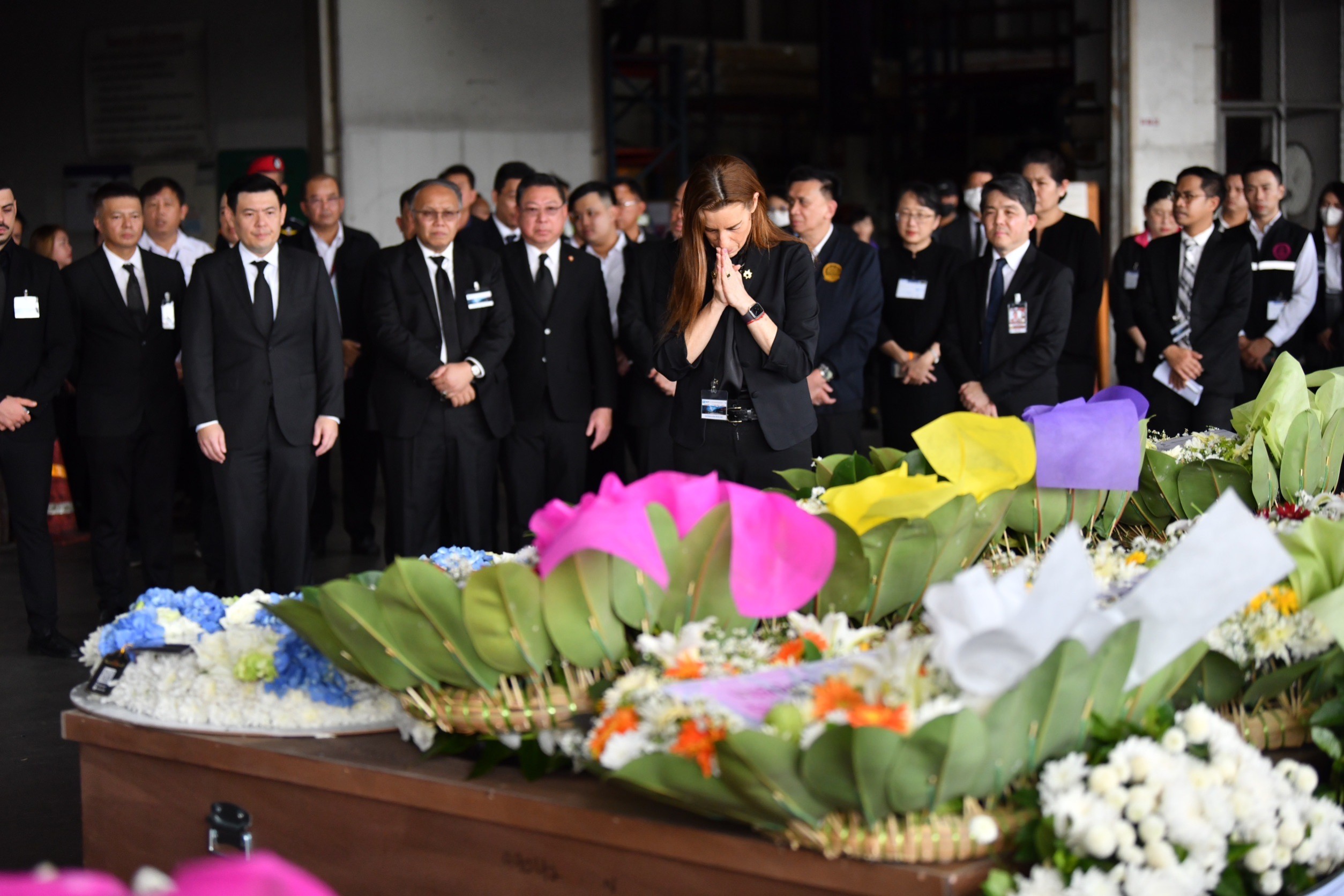 Ahead of the first repatriation of the Thai dead, Thai and Israeli officials laid wreaths at a small memorial ceremony on Thursday at Tel Aviv's airport. Thailand's Foreign Affairs Ministry said Thursday that 30 Thais are feared dead, while 16 are reportedly injured and 19 are believed to have been abducted.
Approximately 30,000 Thai labourers, predominantly agricultural workers, are in Israel, with approximately 5,000 working in the area attacked. On Friday, two evacuation aircraft returned more than 700 Thais to the country, with additional flights scheduled to come daily. According to officials, 8,345 Thais who remain in Israel have registered to return home.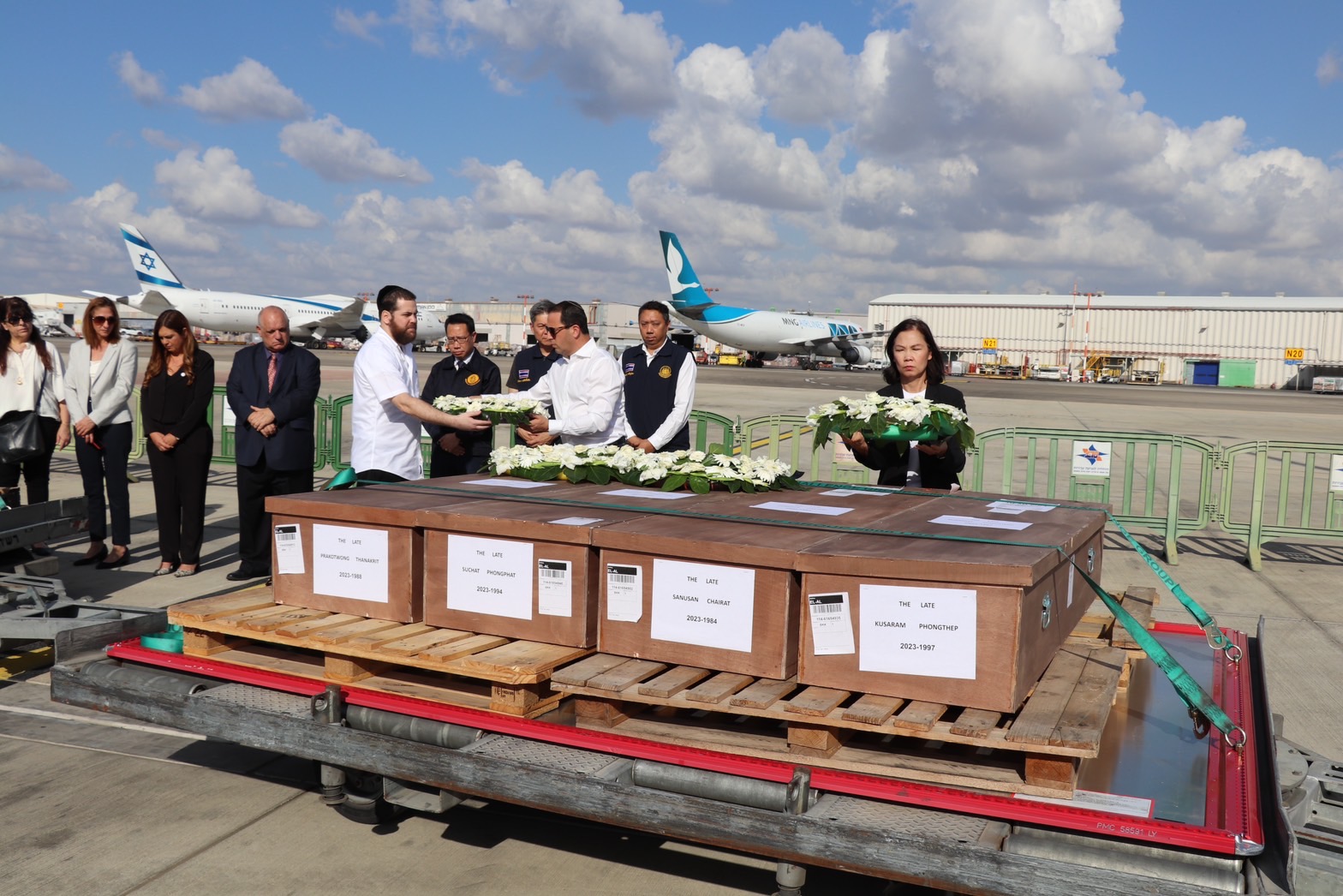 Wongduean Lamlert, the aunt of a deceased worker named Anan Phetkaew, said her nephew had gone to Israel like many other workers from Chaiyaphum. She said she did not know what the cause of death was.
"The war was inhuman. We had nothing to do with it. If they wanted to regain land or attack each other, they had to evacuate people, but they did not seem to care who was who. The value of a person is of great importance to our family. My nephew was the pillar of our family and the pride of our house. But today we have to receive his lifeless body," she said while showing the picture of her nephew.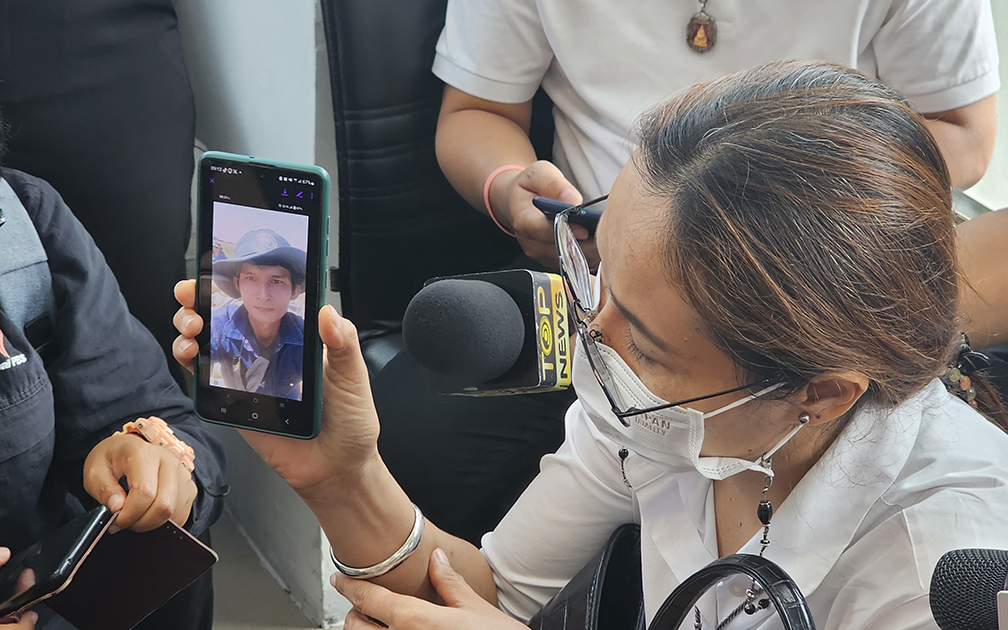 According to Associated Press, the war that was in its 14th day Friday is the deadliest of five Gaza wars for both sides. The Hamas-run Gaza Health Ministry said Thursday that 3,785 Palestinians have been killed and nearly 12,500 wounded.
More than 1,400 people in Israel have been killed, mostly in the initial attack October 7 when Hamas militants stormed into Israel. In addition, 203 people were believed captured by Hamas during the incursion and taken into Gaza, the Israeli military has said.
Another Thai family is still waiting for the remains of their loved one. Kwanchanok Chomchuen, a 29-year-old woman from Lampang province in the northern region, travelled to Khon Kaen, her husband's hometown, to help with funeral arrangements: Her husband, Apichat Kusaram, and her younger brother-in-law, Pongthep Kusaram, 26, went to Israel together to work and tragically lost their lives at the same time.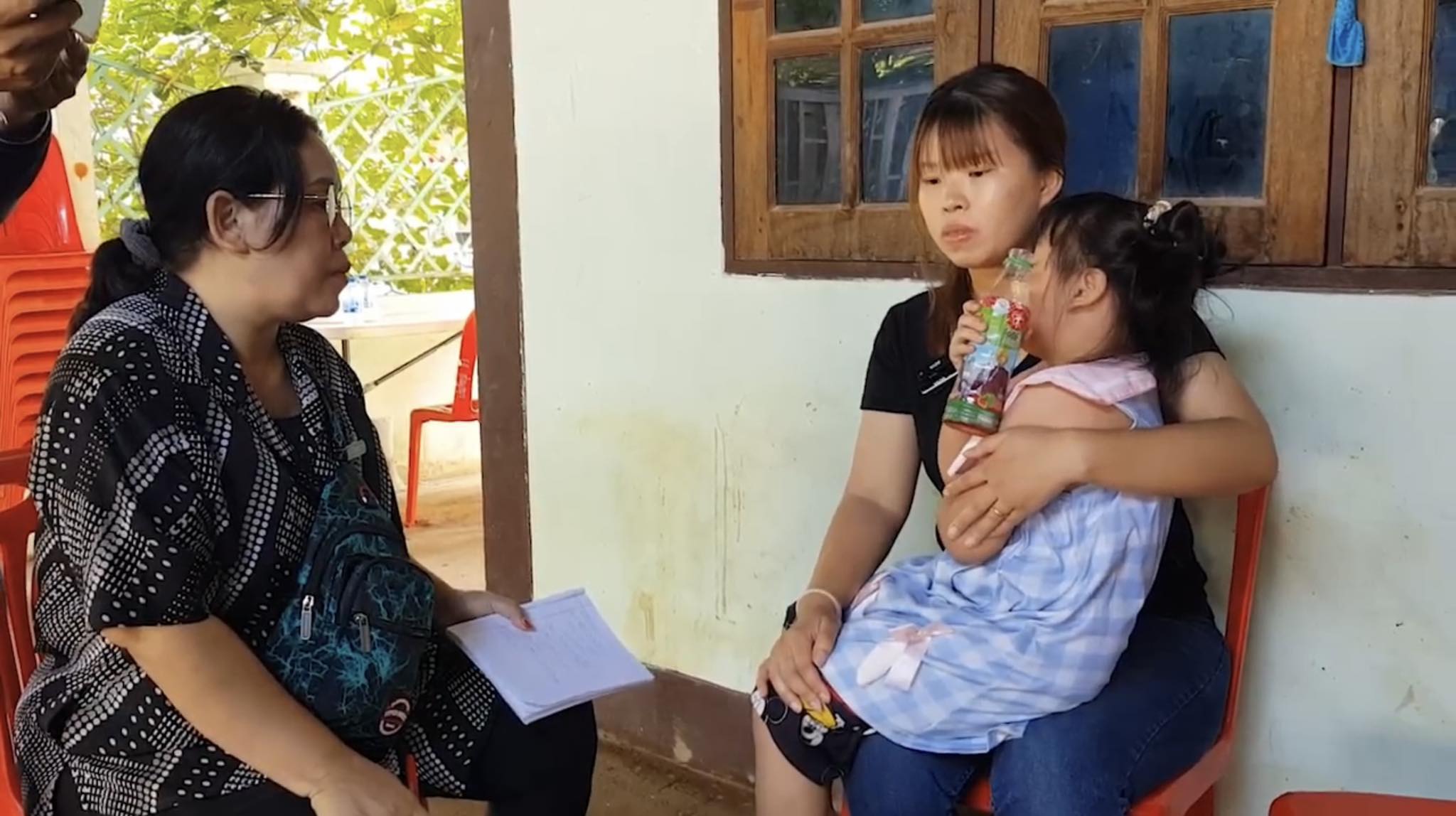 The body of Pongthep Kusaram is one of eight Thai bodies that arrived at the Suvarnabhumi airport on Friday, while the body of Apichat Kusaram is still in Israel to be examined.
"On the morning of 7 October, my husband sent me a message that there was fierce fighting in the area. Then he went silent. I could not reach him. Only on October 9 did I learn that my husband and his younger brother had been shot. I feel both sadness and compassion for my 4-year-old daughter. Since her father went silent, she has begged to be able to call him every day. All I could tell her was that her father had to work and could not call," Chomchuen recounted in a shaken voice.
______
Related articles: