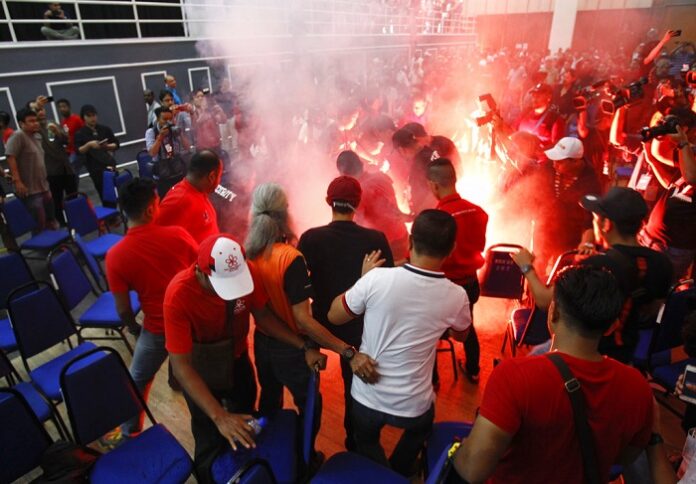 KUALA LUMPUR — A town hall meeting with former Malaysian Prime Minister Mahathir Mohamad, who now heads an opposition coalition, was marred by violence Sunday, with several people hurling flares, chairs and shoes at the stage.
The chaos erupted while the 92-year-old Mahathir was answering questions at the forum, which was hosted by the new political party he established to try to oust Prime Minister Najib Razak in elections due by mid-2018. Shoes, water bottles and chairs were flung at the stage before two flares were lit, filling the hall with smoke and turning it bright pink.
Mahathir was safely escorted out of the hall. Forum organizer Syed Saddiq Syed Abdul Rahman said several people were injured but couldn't give details on the exact number or their condition.
Police said three people, ranging in age from 17 to 19, were detained.
Syed Saddiq slammed the disruption as "sabotage," saying officials from Mahathir's Bersatu party had earlier noticed a group of youths wearing T-shirts with fake logos of Bersatu's youth wing.
Opposition lawmaker Azmin Ali said: "Najib is using gangsterism to shut Mahathir's mouth. It's a cowardly act."
Several government ministers denounced the violence and said it was irresponsible for Azmin to blame Najib.
"I have condemned what took place but wait for police to conclude investigations before you start pointing fingers," Sports Minister Khairy Jamaluddin tweeted.
Communications Minister Salleh Said Keruak said there was no evidence to show Najib was behind the fracas.
"Let's remember that gangsterism is not our political culture," he wrote on his blog.
While it was unclear who was behind the fracas, it highlights that Mahathir — Malaysia's prime minister for 22 years before stepping down in 2003 — is seen as a political threat.
Mahathir has been spearheading calls for Najib to resign over a multibillion-dollar scandal involving indebted state fund 1MDB, which is being investigated in several countries for money laundering. Najib has denied any wrongdoing.
Mahathir came out of retirement to set up Bersatu last year and was recently appointed chairman of a fractured opposition coalition.
Earlier at Sunday's forum, which was dubbed "Nothing to Hide" and attended by more than 1,000 people, Mahathir said Najib is unfit to be prime minister, calling him a "liar and a thief" over the 1MDB scandal.
Mahathir said the four-party coalition he heads has set aside differences to focus on ousting Najib. "We are united and our focus is clear: to oust Najib and set up a new government," he said.
Malaysia's government has said it found no criminal wrongdoing at 1MDB. But the fund has been at the center of investigations in the U.S. and other countries amid allegations of a global embezzlement and money-laundering scheme. Najib started the fund shortly after taking office in 2009 to promote economic development projects, but it accumulated billions of dollars in debt.