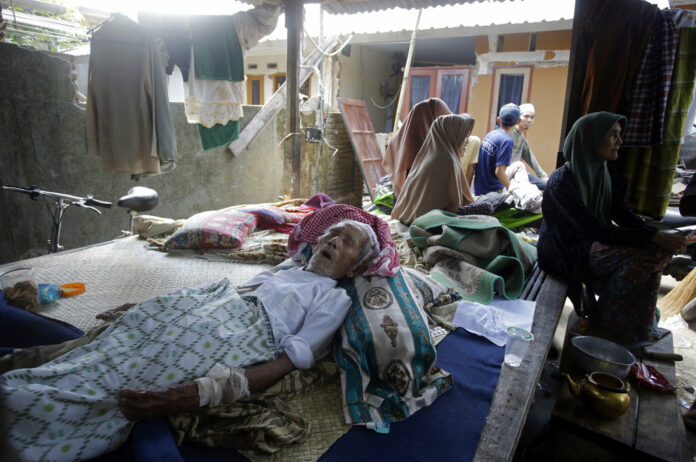 KEKAIT, Indonesia — Ever since Rafikah escaped her crumbling home when a massive earthquake struck the Indonesian island of Lombok, life in her lush rural village has come to a screeching halt.
No children are going to school. No adults are working. Nothing is open.
"This quake paralyzed everything," said the traumatized mother of two, who spoke under a large blue tent perched in a field where she and her family have slept since Sunday's 7.0 magnitude quake. "Our lives have just stopped."
The problem in impoverished places like Kekait, where most homes were either destroyed or cracked so badly they're unsafe, is that nobody knows when or even how they'll manage to rebuild.
In the meantime, "there's hardly anyone left in our village," said the 33-year-old mother who grew up there. "It's like a ghost town now."
Rafikah, who like many Indonesians uses only one name, is among at least 156,000 people the National Disaster Mitigation Agency has counted as displaced so far. Agency spokesman Sutopo Purwo Nugroho also said Wednesday the current death toll was 131 with nearly 1,500 severely wounded.
The government and private groups have been stepping up food and medical deliveries across Lombok as the extent of damage has become clearer. The military sent five planes from Jakarta carrying food, medicine, blankets, field tents and water tankers.
But for many of those affected by the crisis, the effort has fallen short.
In the remote village of Mekar Sari, reachable only on narrow dirt paths by motorcycle, residents said no aid had arrived at all.
Along main roads in Lombok, desperate survivors – some of them children – held open cardboard boxes begging for donations from passing drivers. Others held signs that said simply: "We are earthquake victims. Please help us. We need food."
In Kekait, which was home to several thousand people wedged in a palm-fringed valley between steep hills, displaced residents said state-run agencies had been handing out vital supplies including rice, eggs, dry noodles and water. Most said they needed much more, though, including blankets and basic necessities like toilets.
Dr. Mohammad Fikhan Zulkarnain, the only doctor in Kekait, said he had treated more than 300 people. The initial patients suffered mostly broken bones, fractures and cuts. But now people were coming mostly with respiratory infections and diarrhea, the result of living outside in dusty and unhygienic conditions.
Zulkarnain said he was running precariously low on supplies. He pointed to a blue table with antibiotics, acetaminophen, cough syrup and other medicines and said it would only last a day.
"I'm giving people sleeping pills, but nobody is sleeping well," he said, speaking under a blue tent while he monitored a man lying on a stretcher with a bandage wrapped around his forehead. "They're still traumatized, they're still in shock. They do not feel safe because they don't feel this is over."
The government has measured more than 300 aftershocks since Sunday's quake. The latest, on Wednesday morning, sent panicked residents of Kekait running into open areas for safety. No new injuries were reported.
While hundreds of residents huddled together under large tents in adjacent fields, most of the village's normally bustling streets were empty, littered with rubble and debris and doorways opened onto leveled homes without roofs.
Some people ventured into their destroyed dwellings for the first time, though, to retrieve valuables and mats and pillows to sleep on.
A handful had not left. Muhammad Muzaki, a 60-year-old construction worker, was one of them. But looking at the remains of his home, he was despondent.
"We will have to demolish it all to rebuild it," he said. "There is no other way. We can't live like this anymore."
Muzaki gestured to his elderly father-in-law, who lay sleeping on a bed. The old man had stitches on his forehead after being injured by falling concrete during the quake. The clinic where he was treated told him to leave because they were overwhelmed with other patients.
Rafikah and her husband, Mulfi Rusiana, returned to the ruins of their own home Tuesday, hoping to find valuables or even clothes to change out of the ones they had worn for four days.
They found little left. The quake destroyed their television, their fridge, their plates and glasses.
Asked when he would be able to rebuild their home, Rusiana said it was impossible to say. "We can't do it without government help. We don't have enough money."
Rafikah said that despite their losses, she was grateful they were all safe.
"You can buy new things and replace what you lost," said. "But you can't replace your family."
Story: Todd Pitman, Niniek Karmini