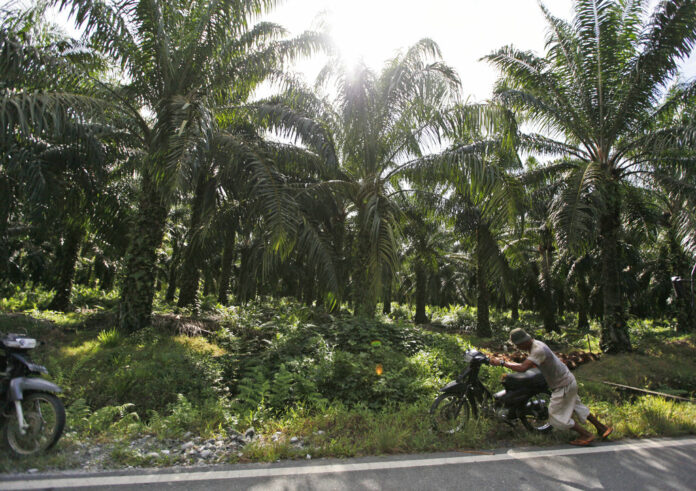 JAKARTA — Indonesia's president has signed a moratorium on new palm oil development and ordered a review of existing plantations, an official said Thursday, in a blow to an industry blamed for environmental destruction and worker exploitation.
Prabianto Mukti Wibowo, a deputy minister at the Coordinating Ministry for Economic Affairs, said the moratorium, first announced by president Joko Widodo after devastating fires in 2015, will last three years.
He told The Associated Press it's needed because many planned plantations are inside natural forests and also to clarify the legal rights of villagers and smallholders.
Palm oil, mainly produced in Malaysia and Indonesia, is used in a vast number of products globally from cosmetics to snacks and is a big export earner for both countries, though most of the profits go to a few conglomerates.
"In this presidential instruction, all central and provincial governments, including governors, mayors and district chiefs were ordered to re-evaluate permits," Wibowo said. "It also instructs (them) to delay the opening of new palm oil plantations to reduce conflict."
The palm oil industry is the target of a worldwide campaign by conservationists and human rights groups, who are pressuring consumer brands to drop producers involved in deforestation and rights abuses.
Clearance of rainforest for palm oil and pulp wood plantations is also behind a slide in the population of critically endangered orangutans, a great ape found only in Indonesia and Malaysia.
Amid a backlash against palm oil producers, the European Union has been considering a ban on the use of palm oil in biofuels.
But the influential International Union for Conservation of Nature earlier this year said bans are not a solution because other sources of plant oil require as much as nine times more land.
It said a ban would likely only displace forest and species destruction to other areas. Concerted action is needed to make the palm oil a responsible and sustainable industry, it said.