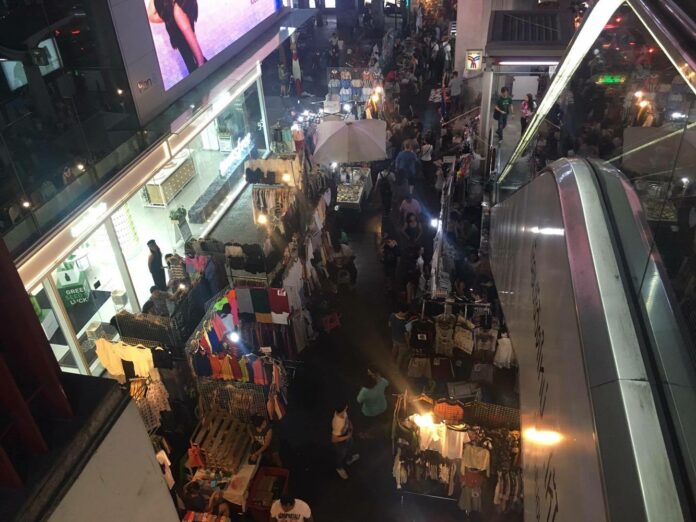 BANGKOK — The bark of City Hall's ultimatums have proven worse than their bite, with downtown street vendors in four locations granted extensions.
Despite insisting for months it would not reconsider its deadlines, the city's Vallop Suwandee announced Tuesday that City Hall would extend its Monday demand for street vendors to leave four major areas – Pratunam, Ratchadamri Road, Siam and Silom Night Market – to Aug. 15.
Tuesday's announcement was made a day after the Aug. 1 deadline came and went with no apparent effect. The four areas currently accommodate more than 2,500 vendors altogether, who are continuing to sell normally.
The Bangkok Metropolitan Administration says its campaign to remove street vendors from public sidewalks is aimed to improve traffic for both cars and pedestrians. Critics say it is trading away the capital's charms for the sake of cleanliness and order.
A fifth location, the Saphan Phut Night Market, had previously been served a July 17 eviction notice, but Vallop said its 350 vendors will be allowed to set the shop under along the riverfront Saphan Phut Road between the Memorial and Phra Pok Klao bridges until Sept. 12.
Next up, Vallop also, are vendors along the length of Sukhumvit Road, from its start at Soi 1 all the way out to Bang Na. He said stall owners were told to move out by Sept. 5.
Related stories:
Sidewalk Showdown: City Won't Budge on Ultimatum to Liberate Siam Footpaths
Say Goodbye to Night Market Vendors on Silom Road