BANGKOK — Walk down Yaowarat Road on a given night and find the area known as Chinatown alive with tourists clamoring for street food unaware of the forces transforming the neighborhood.
Change is afoot. On the streets, the vendors responsible for much activity and aroma are adjusting to new regulations on informal vendors. In the buildings, the working families that have kept it a living neighborhood are vulnerable to rising rents as new arrivals and a pending subway link bring the first wave of gentrification.
Since its construction a century ago, Yaowarat has remained a living Chinese community for trade, gold trade, finance and food. Some of the shophouses that housed big families are now empty, abandoned or converted into warehouses. Higher rents have driven people out to more affordable areas, while the youth prefer living downtown closer to their workplaces.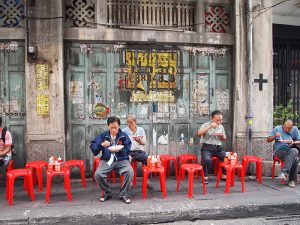 "Development is in progress, with skyscrapers encroaching on the area to build hotels or stores. It's endangering many historical sites which are part of Bangkok's unique and historical record," said Yongtanit Pimonsathean, an urban engineering professor at Thammasat University.
Something already driven to extinction? The shoemaking stores once frequented by king Rama VI, said Yongtanit, an expert on the history and development of the Charoen Krung community.
'Fading' Charm?
Before opening his traditional tea shop six years ago, Jongrak Kittiworakorn grew up in the area. He saw it rise and fall as a commercial center, and today says it is "fading."
That loss became apparent when the neighborhood's restaurants and street food stopped serving the community and instead aimed only for tourists.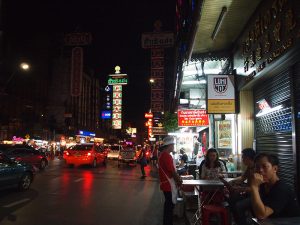 "The golden age of food in Yaowarat was during the '70s and '80s, when prices were graded according to quality," said the owner of retro teahouse Double Dogs Tea Room.
"Its richness is now gone," he continued. "They no longer aim at customers' happiness and their pride, now they only seek profit. That is why its charm is fading."
Another business owner, a third-generation local who wished to remain anonymous for fear of political repercussions, said the neighborhood's future is in the wrong hands.
"All the government's concerned with is orderliness. They never focus on the people," he said. "There's no master plan for the development. How will they retain Yaowarat's unique traits after the MRT extension is finished, and more tourists come?"
'Who's Going to Build That Again?'
Radiating out from Yaowarat Road, Chinatown extends along Mangkon, Song Wat, Chakkrawat and Charoen Krung roads.
It's on this fringe of Chinatown that a mix of priced-out, downtown-weary Thai and foreign creatives are bringing their cosmopolitan sensibilities.
Among the swanky bars and culturally woke venues on Soi Nana is Cho Why, a collaborative art space in a two-story, colonial-style shophouse.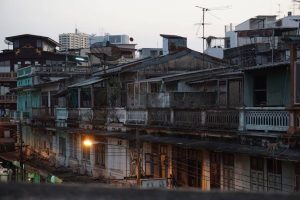 Somewhat ironically, the venue, despite being part of the change, has been hosting a photo exhibition on the endangered community called Bye Bye Chinatown. The photo exhibition features portraits of residents, images of local craftsmen and lots of stained, peeling paint. It ends June 29. On Saturday, people are invited to join a walking tour to explore the area.
Behind the exhibition is David Fernandez, Cho Why's project manager, who moved into the space three years ago.
"I want to display the charm of people and neighborhood and create memories of what it is now before everything is gone," he said.
From his observation during the past years, Fernandez found that there's no plan to keep the old city's heritage or the character of the district as he witnessed many rises of condominiums and locals moving out from their homes, leaving the buildings empty – or destroyed.
The sense of community that neighbors greet and talk to one another is what he holds precious. Now, their lives are under threat as they have to renew their real estate contracts each year, not knowing when the landowners will sell to developers.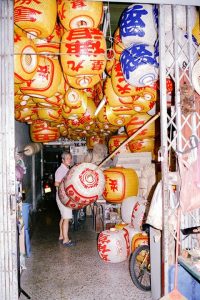 "Who's going to build that again?" he said. "They lose not only buildings and structures but people as well."
It's on Charoen Krung, the kingdom's first paved street, that the Thailand Creative and Design Centre, or TCDC, recently relocated to inside a historically significant structure after giving up its longtime home on Sukhumvit Road.
Along with the Thai Health Promotion Foundation, TCDC has launched Co-Create Charoenkrung, a project meant to involve and engage the existing community in its economic and cultural development.
The project is intended to promote the emergence of boutique hotels, bars, restaurants, galleries and art spaces such as TCDC and the riverside artspace of Duangrit Bunnag's Warehouse 30. Visitors will eventually be able to discover street art by artists from the Bukruk Urban Arts Festival and enjoy gallery-hopping events.
As with the people behind Cho Why, Speedy Grandma, Tep Bar and El Chiringuito, SoulBar owner Romain Dupuy rode in on the early wave. He said it was always his dream to open a business in what he calls "the only real district in Bangkok."
He realized his dreams three years ago with SoulBar in Talad Noi. Inside, customers are treated to a decor of repurposed car parts acquired from local shops and nightly live music. More than 75 percent of his customers are Thai, with about 10 percent coming from the neighborhood.
"It's necessary to know people and do something that's affordable for the locals," said the 40-year-old businessman, adding that it takes time for people in the community to visit his bar.
Bottom-Up Preservation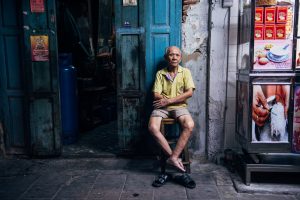 Plans to preserve the area began six years ago along with the MRT Blue Line extension project. Despite opposition, comments and research from both residents and experts, the project went on to bulldoze a number of historic buildings.
"There are more than 7,000 units of buildings with historical value in the Samphanthawong and Pom Prap Sattru Phai districts, and some of them were destroyed," said Yongtanit, the Thammasat professor.
Read: Celebrate Bangkok's 235th by Getting to Know All 50 Districts (Interactive)
Those buildings were neither registered as historic sites nor afforded any protected status, he said, though they deserved to be saved.
From his research, Yongtanit said Yaowarat is one of the first places where different groups, such as the Chinese, Portuguese, Arabs and Indians settled down and set roots for over two centuries. The variety of the community can still be detected in its architecture that blends Thai, Chinese and Western styles. Moreover, those buildings are where very first toilets and fire-proof construction materials were used in edifications to comply with the Bangkok Sanitation Act of 1899.
According to Yongtanit, the Committee on the Conservation of Rattanakosin and Old Towns is looking at extending the preservation areas and will submit a proposal to the cabinet by the end of the year. It could result in the improvement to the principal city plan and enactment of site-specific conservation laws.
He also supports a proposal that would encourage local landowners in historic areas to sell development rights so they can continue earning from their properties and continue living and flourishing in the area.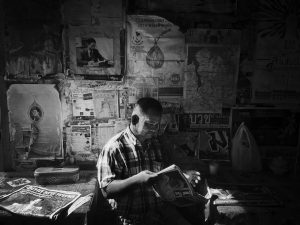 Still, he thinks the community must play a part in the transformation.
Some have tried and failed; others have succeeded.
All residents of Werng Nakhon Kasem, aka the Thieves Market, were evicted against their will last year after the land was sold to TCC Land, a development firm owned by ThaiBev founder Charoen Sirivadhanabhakdi.
But a block away to the south, residents of Soi Luean Rit, a traditionally Chinese and Indian textiles district, banded together to avoid a similar fate.
Residents of more than 200 buildings in the neighborhood negotiated with the Crown Property Bureau to renovate historic sites there themselves and will move back in to resume their lives and livelihoods when the work is finished.
Read: City Hall Denies Colluding With Developer to Demolish Saphan Lek
"The participation of local residents is very important, along with their pride in their dwellings, which will be beneficial in the long run, especially economic-wise" Yongtanit said.
What's lacking now, he added, is participation from those without a voice and who are unable to submit heritage buildings for conservation status.
"Foreigners see mystic charms in those resources, which can never be rebuilt or renewed once destroyed, while some Thais don't see their worth and turn them into lifeless storerooms," Yongtanit said. "We have to adjust ourselves, or we'll forever lose an economic opportunity."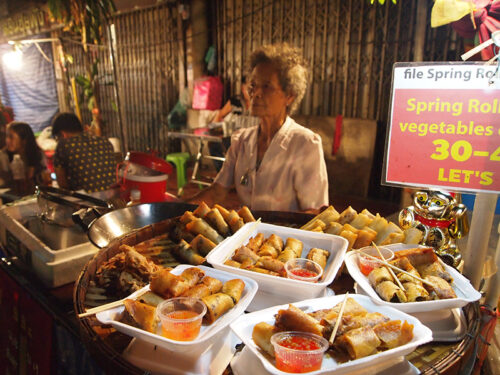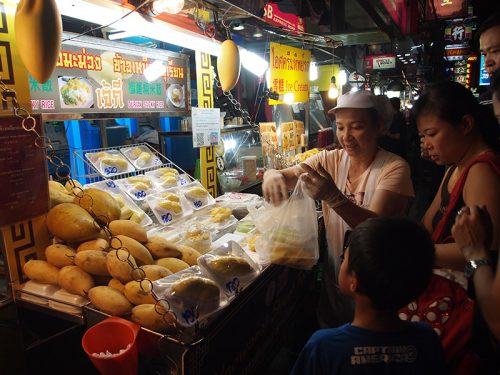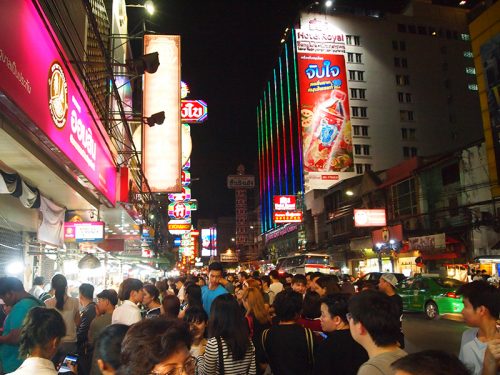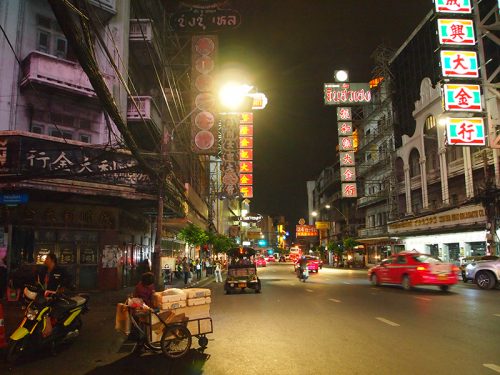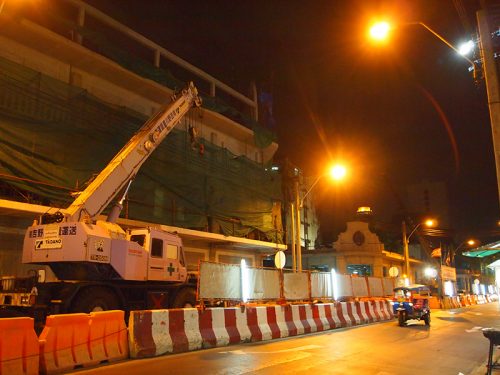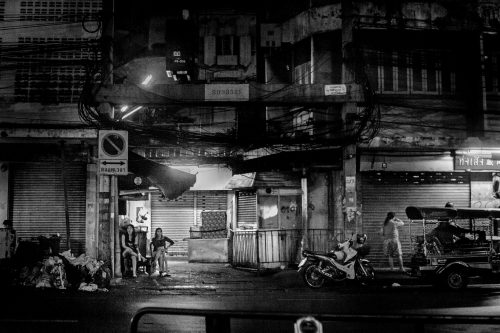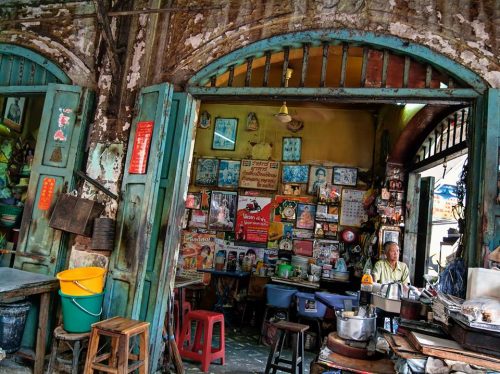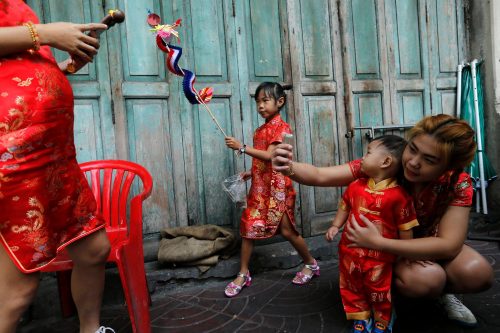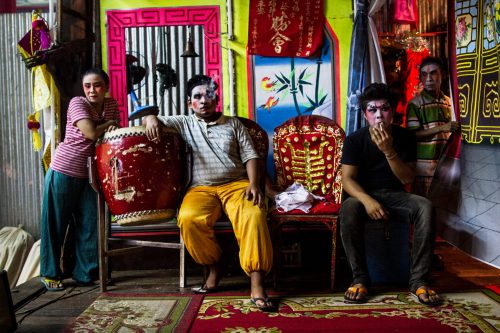 Related stories:
Heavy Regulation – Not Total Ban – for Street Food of Chinatown, Khaosan
Take a Deeper Taste of Bangkok's Chinatown
'Double Dogs' Doubles Down on Fine Tea in Bangkok's Chinatown