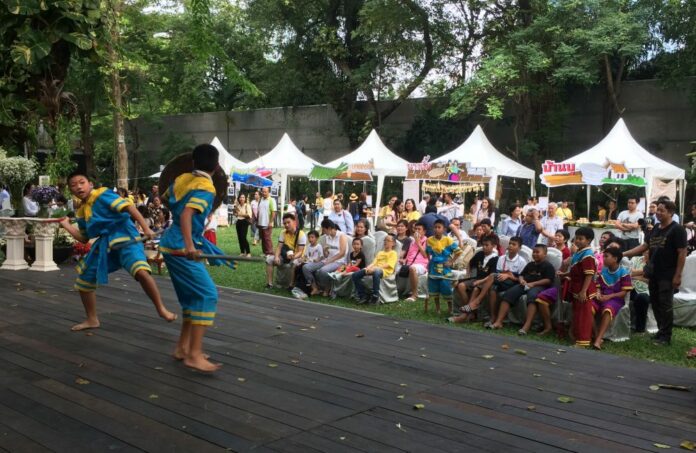 BANGKOK — It was as though six old neighborhoods around Bangkok were teleported to a hotel garden on a recent afternoon. At one corner, a man was hawking sets of glimmering bowls made from copper and bronze, a trade passed down in the Baan Bu community for centuries.
"There's only one engraver left alive," community leader Pichit Boonjin told a group of tourists. "No one else is taking up his job."
"What happens when he dies?" a tourist asked.
"I don't know! He's leaving the craft to his son, but he's not even a craftsman yet," Pichit said.
At another corner, Thais and foreigners line up to buy juice made from gac, a red colored fruit grown in the Koh Sarn Chao neighborhood. Not far off, descendants of ethnic Mon from the Bang Kadi community showed off handmade textiles to curious onlookers.
The marketing event was organized by a company that seeks to bring visitors to these old communities – some of which are even older than Bangkok itself. It's part of a community-based tourism trend that's fast replacing the old tradition of bus-hopping and snapping photos at familiar landmarks.
The six communities on display were Banglamphu, Hua Takhe, Baan Bu, Nang Loeng, Bang Kadi and Koh Sarn Chao. The company co-founder, Achiraya Thamparipattra, said she started the business after seeing old neighborhoods like Saphan Lek and Mahakan Fort torn down.
"I don't want Bangkok to be without a soul," Achiraya said.
The trend is fast catching up. There are now several companies offering tours to Bangkok's traditional neighborhoods, like Hivesters and Local Alike.
Even Airbnb, a global accommodation service, launched what they called "Experiences" earlier this year, which allow tourists to join activities such as cooking classes and bicycle trips with locals.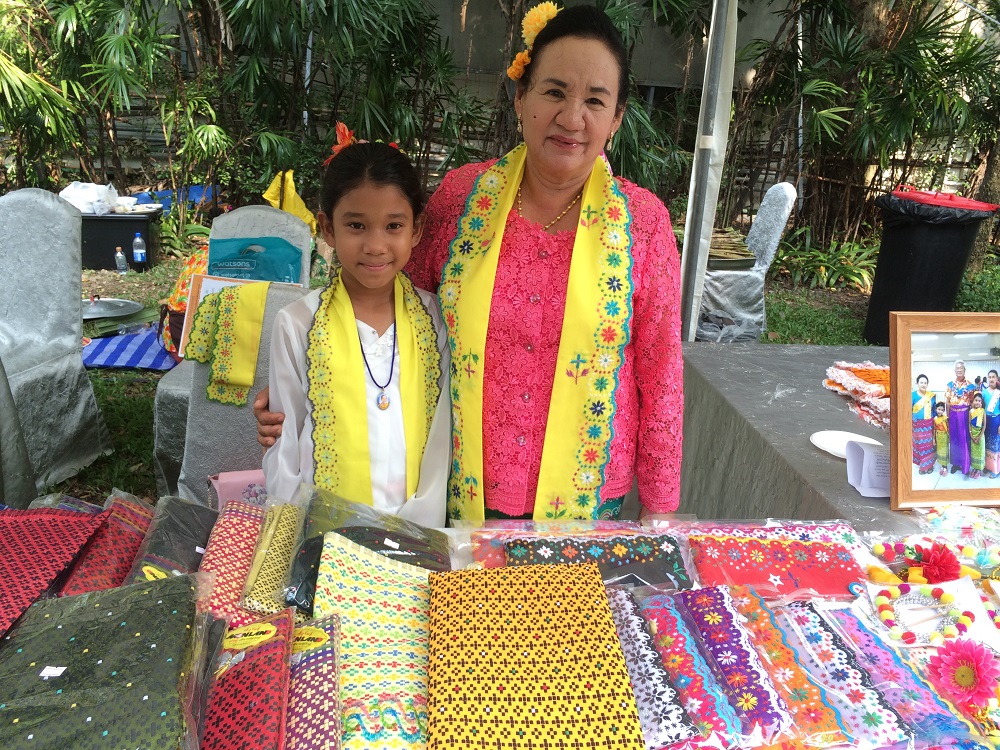 Tourism is expected to generate an income of 2.71 trillion baht by this year's end. With 32.6 million foreign tourists visiting Thailand last year, there's been an attempt to shift the focus from mass tourism to a more refined experience.
In fact, the agency in charge of promoting Thailand's attractions, the Tourism Authority of Thailand, featured community-based tourism in its annual parade on Nov. 15.
"It's something that has been gaining popularity for a while now," bureau director Yuthasak Supasorn said. "It helps tourists stay longer and spend more … For example, tourists used to go to famous places like Pattaya and Phuket, and they just stayed on the beaches. But they could now experience the way of lives of local people."
Fear of Vanishing
The event on Nov. 18, held by Hivesters took place at the garden of the Sukhotai Hotel, a luxury hotel in Bangkok's financial district of Silom. The venue seemed paradoxical for a fair that wanted to recreate the down-to-earth atmosphere of these communities.
The fair drew a mixed crowd of Thais, hotel guests and expats. One vendor said she never imagined selling her food here in the enclave of Bangkok's richest.
The mixture of luxury and the common is intentional. Each of the six communities is paired in a business partnership with high-end hotels in Bangkok, company head Achiraya said. For example, Koh Sarn Chao farmers sell soaps, candles and juice made from their local fruit to Sukhothai Hotel, while Nang Loeng vendors supply desserts to Sukosol Hotel.
"In this age, experience is a luxury," said Achiraya, who holds a master's degree in luxury branding from Paris. "Because you can't find these things on Google."
But the main drive behind her business, she said, is the phenomenon of a vanishing Bangkok; the eviction of old neighborhoods in recent years. Citing the need to clear traffic flow, the iconic Flower Market was moved to an indoor building in 2016. A crackdown on once-bustling street food scene in the name of orderliness is also ongoing.
"We should preserve the charm of Bangkok," Achiraya said. "We should regulate and preserve it, instead of wiping it all out. There should a be balance."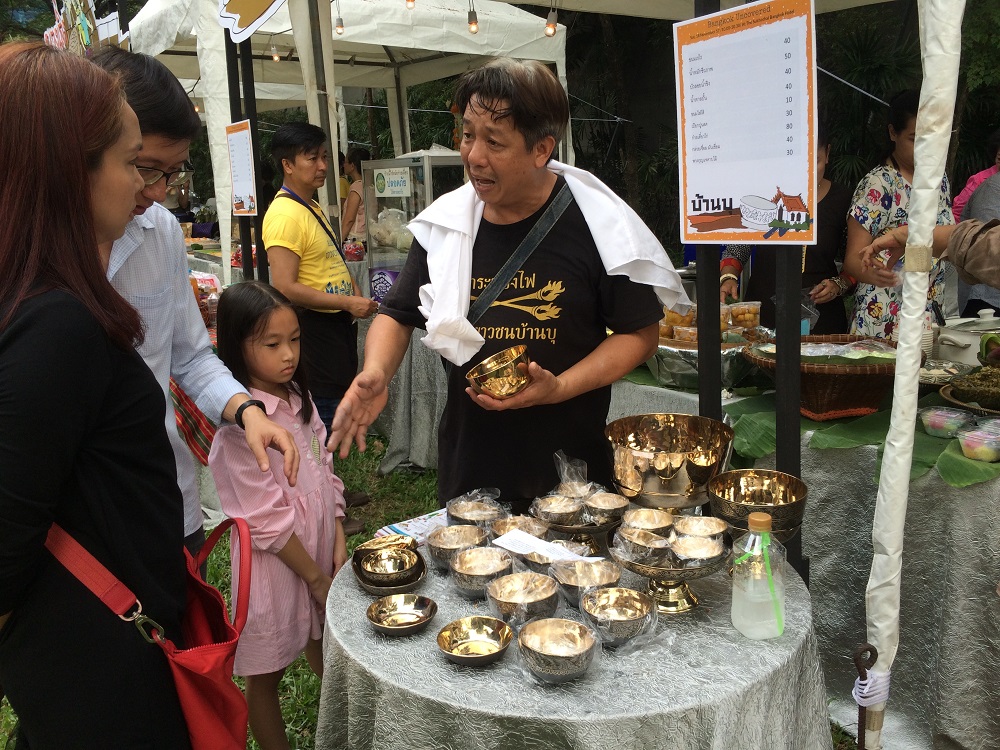 A French expat who gave her name as Alain said at the fair that she was interested in the program to tour old neighborhoods because of the recent trend of eviction and reorganization.
"Bangkok is now full of skyscrapers and where people used to live," she said.
"I don't understand BMA politics," said her friend, Julie, referring to the Bangkok Metropolitan Administration. "It's so sad to see them destroying the old buildings."
Nang Loeng community leader Suwana Walploy-ngam said she knows the fate of her century-old market district is at the whim of the city government. She added she had a friend in Mahakan Fort area who was forced to relocate when city officials tore down houses there in March.
"I am not afraid but I know it's very hard to fight," said Suwanna, who's in her 50s. "We don't get to participate whenever there are changes. We have no money and no power to negotiate. Information and news are also limited."
Her community is clustered around the famous Nang Loeng Market. It boasts what's widely described as the last theatre of Chatri traditional dance ("The dancer there started when she was 7. Now she's over 70," Suwanna said). It's also home to many desserts and the now-ubiquitous deep fried bananas sold in paper packets.
"They care more about GDP than cultural values," Suwana said of the city administration. "Hey don't understand spiritual value, so it disappears with the old world. But we are still strong, generation after generation."
Revival Tourism
Achiraya said the six communities showcased at the fair were selected because they met three criteria set by the company: they must have unique culture and craft; their community is at risk of disappearing; and they are willing to take visitors.
Hivesters developed tour itineraries and provided interpreters, but the guides and activities are all local. The company also works with Bangkok's tourism bureau to promote the attractions.
"It's a long-term, win-win business for both sides," Achiraya said. "We don't just go in there to paint some school building then leave."
Some state agencies are also catching up with this new trend of community based tourism.
Wasana Kungsawat, a 55-year-old native of Hua Takhe neighborhood, said the lush canals there used to be full of boat trips carrying foreign tourists. She fondly remembers jumping naked into the canal when she was little and plucking lotus roots for her family to cook.
Tourism boom ended when Suvarnabhumi Airport was built nearby, changing the landscape.
But government agencies are now sponsoring local activities, Wasana said, including an event launched in September to promote tourism to Hua Takhe. An event showcasing graffitis in the community is also taking place on Saturday and Sunday.
Tamnu Alengkayan, 60, is a halal food vendor in a Muslim quarter of Banglamphu neighborhood, a melting pot of Buddhist temples, Sino-Thai shops, Muslim residents and backpackers party scene.
He said he wishes more tour companies, especially from Muslim nations like Malaysia and Indonesia, would visit Banglamphu so he can show them the multicultural aspect of Bangkok.
"We live peacefully together. People like to generalize that all Muslims are like in the Deep South," Tamnu said with a laugh.