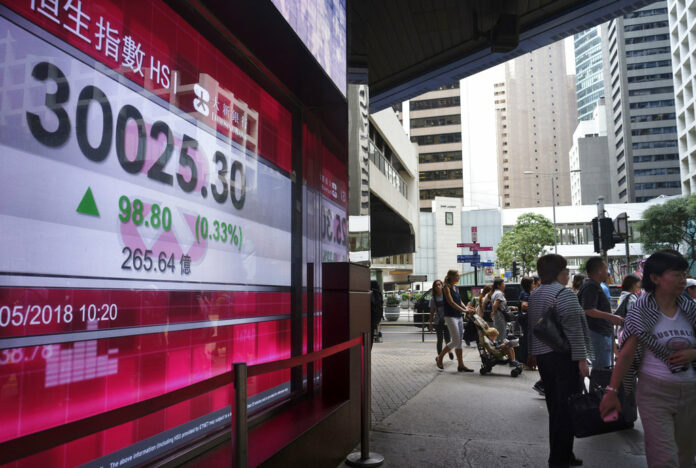 HONG KONG — Asian shares were mostly higher Monday following strong gains on Wall Street after the U.S. jobless rate hit an 18-year low, helping investors overlook unresolved trade tensions between Washington and Beijing.
Keeping Score: The Stock Exchange of Thailand, or SET, traded at 1787.19 on Monday morning. Japan's benchmark Nikkei 225 index slid 0.5 percent to 22,372.14 but Hong Kong's Hang Seng index rose 0.6 percent to 30,111.41. The Shanghai Composite index in mainland China advanced 1.1 percent to 3,123.47 and Australia's S&P/ASX 200 climbed 0.6 percent to 6,097.20. Taiwan's benchmark rose and Southeast Asian indexes were mostly higher. South Korean markets were closed for a holiday.
US Job Market: The latest monthly jobs report showed that U.S. hiring continued at a solid clip and wages grew modestly, showing the world's biggest economy remains resilient despite concerns about a possible trade war with China. U.S. government figures showed that employers added 164,000 jobs in April, making it the 91st straight month of hiring growth, and the unemployment rate fell to 3.9 percent, the lowest level since December 2000.
Trade Demands: Tensions over the U.S.-China trade persist after talks in Beijing ended Friday without any agreement. The Trump administration asked China to cut its trade deficit by USD$200 billion by the end of 2020, stop providing subsidies to key industries and end some of policies related to technology transfers, a main source of tension underlying the dispute.
Quoteworthy: The jobs data shows "the U.S. economy remains in the agreeable Goldilocks region," said Stephen Innes, head of Asian trading at OANDA. Equity investors' favorable reaction is "outweighing the negatives from strained trade talks between the U.S. and China."
Week Ahead: Investors are watching for a raft of potentially market-moving economic data and political events, including Chinese trade figures on Tuesday, Malaysia's national election on Wednesday and U.S. inflation on Thursday.
Wall Street: The S&P 500 index climbed 1.3 percent to close at 2,663.42 on Friday. The Dow Jones industrial average rose 1.4 percent to 24,262.51. The Nasdaq composite jumped 1.7 percent to 7,209.62.
Energy: Oil futures advanced to their highest since November 2014. Benchmark U.S. crude rose 77 cents to $70.49 a barrel in electronic trading on the New York Mercantile Exchange. The contract rose 1.9 percent to settle at $69.72 per barrel on Friday. Brent crude, the international standard, gained 88 cents to $75.74 per barrel in London.
Currencies: The dollar weakened to 108.97 yen from 109.73 yen. The euro rose to $1.1978 from $1.1960.
Story: Kelvin Chan