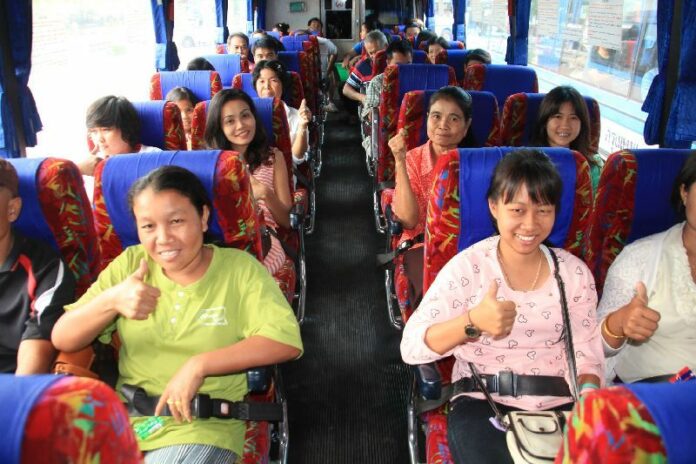 (16 October) The government′s decision for 5-days off during New Year season has alerted officials to prepare for large numbers of tourists during the long vacation.
The Cabinet announced the decision to make 30 December an official holiday, topping days off during New Year festival to 5 days in total, said Sunisa Lertphakawat, deputy spokeswoman of the Office of the Prime Minister.
It is believed that the long holiday should stimulate the country's economy, particularly in tourism and transport sector.
Apart from native tourists, officials also plan to welcome more foreign tourists, especially from China, after a recent report revealed the growing numbers of tourists the world's fastest growing economy.
However, the recent change in Chinese tourism law which curbs on travel agencies forcing tourists to buy extra services during their stays in Thailand might decrease the number of arriving Chinese in the next 3 months, according to the Ministry of Tourism.
However, in transport sectors, both coach and rail services providers, the Transport Co.Ltd, and State Railway of Thailand (SRT), expressed confience that the demand for transport during New Year's is under their control.
Deputy Minister of Transport, Mr. Phong Cheewanant, said that the Transport Co.Ltd., a state enterprise, had prepared enough coaches for its passengers? demand during the season. The Deputy Minister also said that the maintenance team was ordered to make every coach ready, and drivers were ordered to take enough sleep.
"Having insufficient coaches is less problematic than providing unsafe service" said the deputy Minister, "we are working closely with other related authorities; Police, Department of Land Transport, to clear up loopholes in our plan for New Year".
"Our officers will also be informing every passenger to fasten their seatbelts" said Mr. Pong, referring to the announcement of Ministry of Transport and the Transport Co.Ltd. to restrict every interprovincial Transport Co.Ltd. coach to be equipped with seatbelts from 15 October onward.
He added, "Safety is non-negotiable".
Meanwhile, Mr. Wutthichat Kanlayanamitr, Managing Director of the Transport Company, said that the demand for coach travel in this year should remain as much as last year 1 million passengers. However, the company had provided 700 coaches for the substitution.
"We believed that no passengers would be left to wait at the terminal" Mr. Wutthichart assured.
State Railway of Thailand (SRT) deputy director, Mr. Thanongsak Phongprasert, said that the SRT's marketing team is analysing last year demands, and calculating the this year's supply figure.
"SRT had prepared extra carriage to be used during New Year's festival, and ordered maintenance team to fix more carriages" said Mr. Thanongsak, "last year we added extra carriages to 10 main routes, particularly on the north and northeastern routes."
"In total we ran 34 trains a day, and we planned to add a lot more to this year schedules and believed there will not be insufficient transport problem." Mr. Thanonsak said.
The cabinet also wishes to launch another 7 tourism courts by New Year's Day. The government has reportedly allocated an estimated budget of THB 17 million for the Ministry of Justice, to establish and develop the tourism court in 7 districts, including Chiang Mai district court, Phuket provincial court, Sa Mui provincial court, Krabi provincial court and Bangkok's Dusit and Pathumwan district Courts.
"We should establish a fast and just legal service for the tourists to create confident in our tourism sector, particularly as we are becoming ASEAN Economic Community in 2015" added Sunisa, the deputy spokeswoman of the Office of the Prime Minister.
Related Story: Finally, Mandatory Seatbelts For Inter-provincial Buses