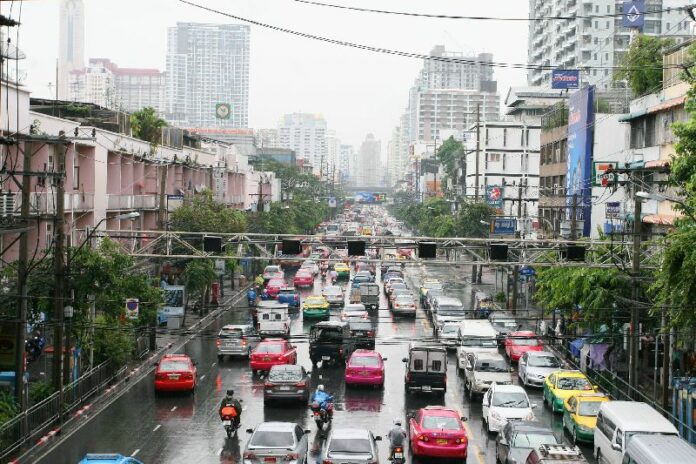 (16 October) A combination of heavy rains, flooding, and accidents – which included a leaked underground water pipe – has resulted in a particularly chaotic day for Bangkok commuters.
Bangkok Governor Office had been receiving numerous complaints after heavy rains hit the nation's capital city since last night. A broken water pipe in the heart of the city also paralysed traffic in main commercial area and left many houses without water supply.
Meanwhile, floods are said to have occurred in many areas across the capital city, including Sukhumvit, Nharmwongwan, Bang-kapi, Meenburi, Lad Krabang, and Lad Praow.
This morning, the busy Plern-Chit Road was blocked after a tree fell on the road, causing much chaos in the vicinity during the rush hour. Officials later arrived at the scene and lifted the tree off the road, permitting the clogged traffic to resume.
In Bang-Kho-Laem district, a caved-in Rama III Road had caused severe traffic jams. The incident is believed to have been caused by the construction of underground utilities lines by the Metropolitan Electricity Authority (MEA) in the area.
Another accident also occurred on an MEA-contracted development site at the intersection between Ratchaprarop and Sri Ayudhya roads, as a 3-metre wide water pipe had been punctured, flooding the nearby roads with its torrents of water.
Mr. Weerapong Srinualkul, Managing director of Datum Thai Construction Co.,Ltdm, who is responsible for the construction, attributed the incident to human error. He claimed that that the workers misunderstood the map of underground pipelines, and dig right into the water pipe instead of an empty space.
The director said his company is willing to take all responsibility for the damage.
The incident took place during rush hour, causing disastrous traffic jams on many roads including Ratchaprarop, Ratchadamri, Petchaburi, Wiphawadee – Rangsit, Din Daeng and Rama IX. Many officials were ordered to help families living nearby move their items on the top floor after the water flooded into their houses.
A number of officials were also appointed to stand by at the water drainage pipe to make sure no one fell into the large hole.
Metropolitan Waterworks Authority (MWA) later closed the valve of the broken pipe. Houses in nearby area will have to live without water supplies until the pipe is fixed. The repair is expected to finish by the end of the day.
For comments, or corrections to this article please contact: [email protected]
You can also find Khaosod English on Twitter and Facebook
http://twitter.com/KhaosodEnglish
http://www.facebook.com/KhaosodEnglish