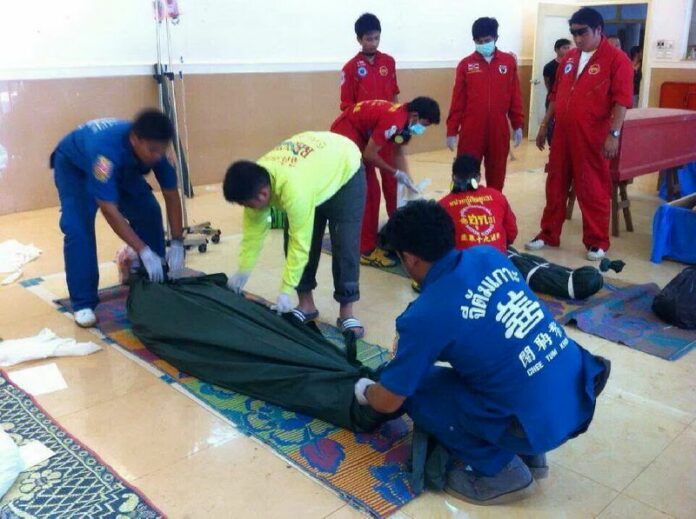 (17 October) Five Thai nationals were said to be on the plane operated by Lao Airline as it plunged down into Mekong River yesterday.
The plane believed to have crashed at around 16.00 on Wednesday near the borders of Thailand and Laos, only 3 km away from Pakse's airport in Laos. Bad weather might have been the main factor for the crash, as Typhoon Nari was hitting the region on Tuesday.
All 49 people on board are feared dead.
As off 15.00 today, Thai authorities had sent 50 rescue workers – 30 frogmen and 20 inland supporters – to the scene to retrieve bodies. The searching process is estimated to take at least 1-2 days.
So far, 7 bodies have been retrieved, but the authorities could not verify their identification. The crash is believed to have killed people from at least 10 nation, including 5 Thais identified as Mr. Khanueng Chatkasemchai, 47, Mr. Niphon Chaichanakuldee, 27, Mr. Phakkhawat Athinarattanachai, 50, Mr. Wikit Butsarawuthanusorn, 38, Mr. Banyong Aphanant, 29.
Mr. Pongsak Raktapongpaisan, Minister of Energy, said that there is possibility that two engineers and one contractor employed by PTT Public Company, the petroleum corporation partially owned by the Thai state, was on board, but he refused to comment any further as no reports have confirmed their deaths.
However, the Minister added that PTT is willing to compensate the victims? families in the fullest terms as they were performing duties for the company at the time of the accident.
ompensation is to be made for the crash victims' families, as they were performing duties for the company.
At the Ministry of Foreign Affairs, Mr. Sek Wannamathee, Director General of Public Relations Department, said that the Foreign Minister, Mr. Surapong Tovichakchaikul, had been in contact with Laos' Deputy Prime Minister and Foreign Minister, Mr. Thonglun Sisoulith.
In a statement, the Thai government expressed its sympathy for the loss, and offers to facilitate the Laotian officials in the searching operation.
Sapsithiprasong Hospital director, Mr. Chalit Thongprayoon, also offered helps for post-mortem investigation, and stated that its forensic sciences department is adequately equipped for the tasks.
Lao Airlines started its operation since 1976, and has long been the Laotian flag carrier providing domestic and international routes within East Asian Region.
For comments, or corrections to this article please contact: [email protected]
You can also find Khaosod English on Twitter and Facebook
http://twitter.com/KhaosodEnglish
http://www.facebook.com /KhaosodEnglish