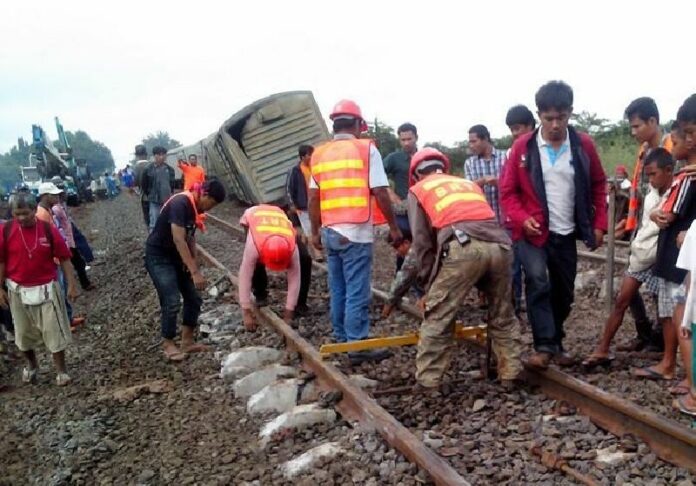 (18 October) Another train derailment in Nakhon Ratchasima province has disrupted the Northeastern rail service just as a number of Cabinet members are converging in a nearby province to promote the plan to construct the high-speed railway across the country.
The train, which ran from Bangkok toward Nong Khai province, derailed in Non Sung district, causing the entire Northeastern region rail to halt their services.
No injury or death has been reported. Nevertheless, the incident – merely the latest in the long series of derailments this year – could pose doubts about the safety of the government′s future investments in the kingdom′s railway.
Transport Minister, Mr. Chatchart Sittipan, who is in the neighbouring Ubon Ratchathani province to attend an exhibition touting the promised benefits of the planned high-speed rail service, wrote on his Facebook that "I feel lucky for not taking the train [here], because I just heard about yet another train derailment in Non Sung".
Mr. Chatchart took an interprovincial coach from Bangkok.
The "Thailand Future: 2020" showcase exhibition is being held at OTOP Centre in Mueang district, Ubon Ratchathani province, and has so far received much attention from local residents.
The exhibition is aimed to win the support for the government′s package of massive infrastructure overhaul, including the high-speed rail construction, which would cost the country 2.2 trillion baht.
Mr. Kittarat Na Ranong, Minister of Finance also joined Mr. Chatchart as the hosts of the exhibition. Both ministers were planned to give speeches on the topics of "Moving forward for Economy, Trade and Investment" and "Connecting Regions-Lives and the Integration for Urbanisation", respectively.
At the showcase, a simulator train model is also available for event attendees to experience a slice of the planned high-speed project and has attracted many visitors, our correspondent said. Police expected that there will be at least 20,000 visitors a day, and urged officers to be on lookout for pickpockets thieves.
The event also featured many famous stars from Channel 7 including New Wongsakorn, Kelly Thanapat, Namwan Kanhaphon, and singers from R-Siam – Kratae and Kratai.
For comments, or corrections to this article please contact: [email protected]
You can also find Khaosod English on Twitter and Facebook
http://twitter.com/KhaosodEnglish
http://www.facebook.com/KhaosodEnglish