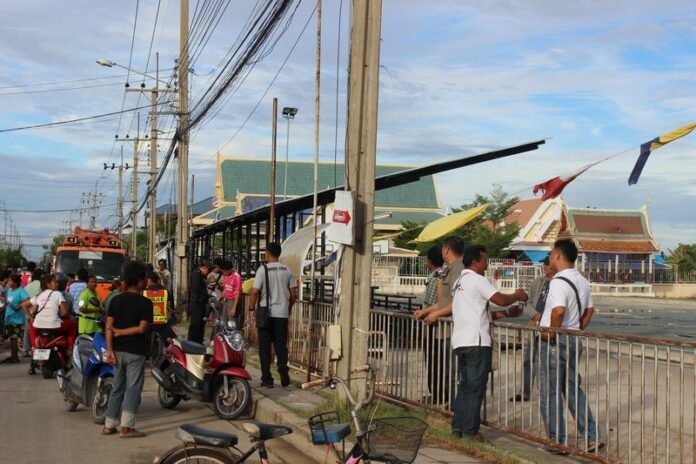 SAMUT PRAKARN — Police are investigating the case of a 14-year-old student who was electrocuted and killed by an electricity leakage underneath a bleacher at a temple in Samut Prakarn province.
Another student was also seriously injured by the leaked electricity, which police say was caused by a cable that passed through the bleacher and was illegally tapping electricity from a state utility pole.
Witnesses say the two students were taking shelter under sports stand inside Eiam Prachamit Temple during the heavy downpour yesterday afternoon. A school teacher said he noticed that something was amiss when he walked past the temple and saw the two students' hands gripping a pole of the sports stand in strange manner.
When he touched one of the students, the teacher said, he felt a sudden shock of electricity. The teacher then reportedly used a wooden stick to free the two boys, after which he sent them to hospital. One of the boys died at hospital, while the other remains in critical condition.
Police say an initial investigation reveals that the temple illegally tapped electricity from a nearby utility pole and that the power may have leaked out from the cable as it passed through the sports stand.
The police added that they are working to identify whoever is responsible for the illegal power tapping.
Narong Singsiri, director of Wat Laem Fa Pha School, where the victims were enrolled, said the school and temple were not aware of the tapping and would fully cooperate with the police to locate those responsible.
Mr. Narong also said that electricians are scouring the area to look for other possible electricity leakages to prevent further tragedies.
For comments, or corrections to this article please contact: [email protected]
You can also find Khaosod English on Twitter and Facebook
http://twitter.com/KhaosodEnglish
http://www.facebook.com/KhaosodEnglish