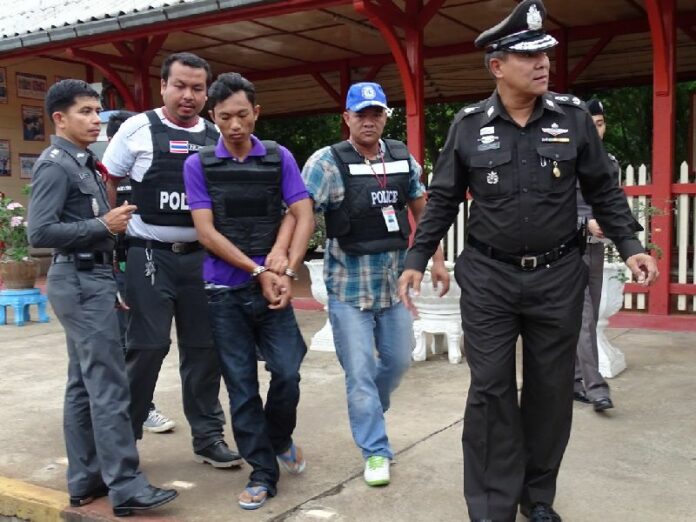 BANGKOK — A video of a police officer smacking a rape and murder suspect during his interrogation has highlighted divisions in Thai society over how rape crimes should be punished.
In the four-second video, which first surfaced on social media on 9 July, a police officer can be seen assaulting Wanchai Saengkhao, the State Railway of Thailand (SRT) employee who police say confessed to raping and murdering a 13-year-old girl on a night train on 6 July.
Many commentators on social media have applauded the action depicted in the video, arguing that Mr. Wanchai deserves much more than a smack or two for his alleged crime.
"I am so tired of these beautiful-world and human rights people who defend this animal from hell," one commentator wrote. "If the person who was raped were your relative, will you really do nothing? Even though I am not her relative, I want to stamp this fucking monster to death under my feet."
Outrage over the rape and death of the 13-year-old girl has recently ignited an online campaign for punishing convicted rapists with the death penalty. Under current Thai laws, those convicted of rape can face 5-20 years in prison.
However, the video has also raised concerns among some that Mr. Wanchai's confession may have obtained under duress; Thai police have a history of coercing suspects to confess during interrogation.
"We have to respect laws," wrote another commentator. "Don't use our affection or disaffection to judge. A police officer hurting a suspect [like this] could be considered a criminal case as well."
Mr. Wanchai is currently being detained at Prachuap Kiri Khan Provincial Prison. Prison officials said Mr. Wanchai will be under special watch to prevent him from committing suicide or being assaulted by other inmates after a rape suspect was beaten to death in prison yesterday.
Police have charged Mr. Wanchai with murder, sexual assault, theft, and drug abuse.
Meanwhile, the case also took a supernatural turn, with mother of the victim reportedly claiming that she was visited in her dreams by her dead daughter.
According to a report on Matichon, the victim's mother said her daughter has informed her that Mr. Wanchai wasn't the only suspect, and that "there were many people" who killed her.
The victim also claimed to continue to haunt the train where she was murdered, her mother said.
Read more:
Rape-Murder Suspect Exposes State Railway's Shortcomings
Editorial: Death Penalty Is Not The Solution To Rape
For comments, or corrections to this article please contact: [email protected]
You can also find Khaosod English on Twitter and Facebook
http://twitter.com/KhaosodEnglish
http://www.facebook.com/KhaosodEnglish