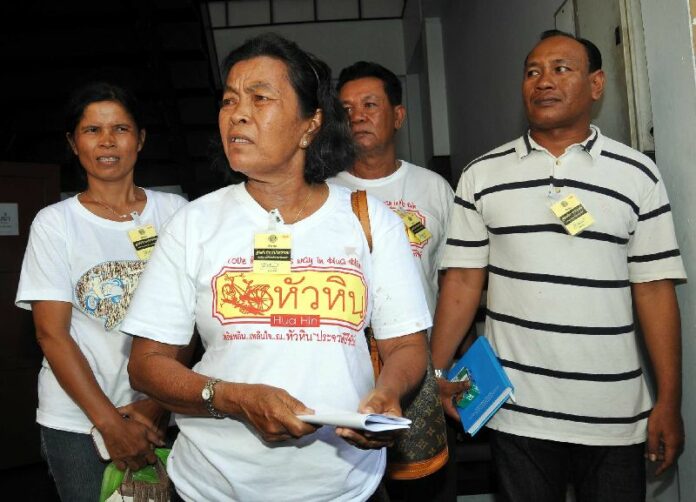 PRACHUAP KIRI KHAN — Beach vendors in the popular seaside town of Hua Hin are defending their "overpriced" food and encroachment on public land.
Thirteen representatives of more than 160 stalls along Hua Hin beach arrived at the Government House in Bangkok today to submit a petition to the chairman of Thailand's military junta, requesting he spare them from local authorities who have vowed to take action against the vendors.
The controversy arose after a number of tourists reported paying as much as 7,000 baht for meals from food stalls in Hua Hin over the recent holiday weekend.
According to photos of the bills posted on social media, many staple Thai dishes, like som tum and pork fried rice, cost as much as 150 to 400 baht each. The standard market price of those dishes ranges from 30 to 40 baht.
Following a number of complaints, local administrative officials in Hua Hin threatened to regulate the price of food served at these beach stalls and evict any vendors operating on public land.
The petition submitted to Gen. Prayuth Chan-ocha today argued that an imminent eviction will severely affect the livelihood of the local vendors, many of whom have been selling goods on the beach for over 30 years.
"It will really affect us," Hua Hin vendor Chongkolnee Rittirong said. "But the authorities won't take action against private businesses that build residences and restaurants encroaching on the sea area."
"I would like the NCPO to give fairness to beach vendors," Ms. Chongkolnee said, using the acronym for the junta's National Council for Peace and Order.
She also defended the high prices of food sold at the beachside stalls, explaining that the prices were clearly shown on menus and do not greatly differ from vendors in other popular tourist destinations like Phuket and Pattaya.
"Previously, the vendors tried proposing a central price that the entire beach would agree on, but the state did not respond to our proposal at all," Ms. Chongkolnee said. "I would like those who say our food price is too high to check their facts before posting stories about it [on social media]."
Hua Hin's mayor Noppon Wutthikul said yesterday that he has received many comments from tourists requesting a measure to control the high prices.
He also insisted that the authorities will have to evict the vendors from the beach to stop their encroachment.
"There cannot be stalls on the beach," Mr. Noppon said.
The NCPO has not yet commented on the matter. However, after seizing power in a coup d'etat on 22 May, the junta dispatched troops to crack down on vendors and beach chair renters on public beaches in Phuket, a top destination for foreign tourists. The campaign also rooted out illegal taxi stands on the island and arrested almost 100 people in connection with an underground taxi mafia.