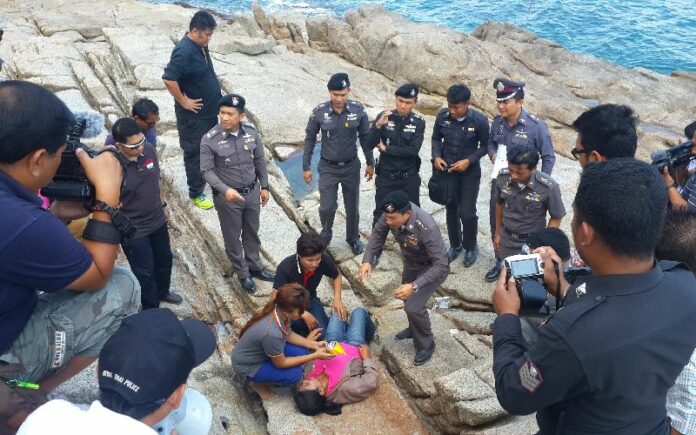 SURAT THANI — Three Burmese workers were arrested on suspicion of murdering a 22-year-old Burmese woman on the southern island of Koh Samui on Sunday night.
The victim's half-naked body was found on rocky beach in Bo Put district by a foreign tourist on the morning of 23 February. Police later identified the deceased as a 22-year-old Burmese woman named Sor Ngae Ngae.

Police collect evidence at the crime scene on Koh Samui, 23 Feb 2015.
Today police announced the arrests of two Burmese women and one Burmese man in connection with the killing. The suspects were identified as Saw Nay Way, 22, Tan Tan Sow, 31, and Fiew Min Tui, 25.
Police say Saw confessed to orchestrating the murder because she was angry at Sor for flirting with her brother.
"Ms. Saw believed that the deceased had a history of bad behavior, so she didn't want the deceased to flirt with her brother. She had warned her before, but the deceased would not listen," said Pol.Gen. Apichat Boonsriroj, commander of Surat Thani Police.
She reportedly paid her colleagues, Tan and Fiew, 30,000 baht to help her with the murder, police say.
According to police, Saw and Tan lured Sor to the secluded beach on the night of 22 February and then phoned Fiew, who was waiting nearby. Fiew then reportedly knocked Sor unconcious.
"They later dragged the body to the rocks and tied her mouth and nose with tape, until Ms. Sor Ngae Ngae suffocated to death," Pol.Gen. Apichat said at the press conference. "Afterward, Saw and Tan tried to hide their crime by taking off the victim's shirt and shorts to make it look like she was raped and murdered."
Police say they identified the three suspects through evidence left at the crime scene, such as gloves and duct tape that suspects allegedly bought from a nearby convenience store.
Saw, Tan, and Fiew have been charged with premeditated murder, which carries death sentence as the maximum penalty.
Police also escorted the suspects to re-enact their murder at the crime scene today.