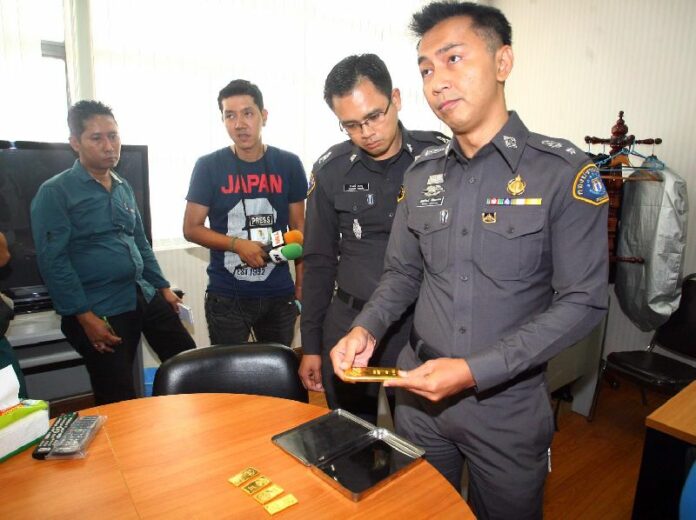 BANGKOK — The military has located 2 million baht worth of gold reportedly hidden by a brother of former princess Srirasmi Suwadee who has been accused of racketeering and falsely claiming support from the Royal Family.
Soldiers found the gold during a raid of a hotel in Nakhon Pathom province, said Pol.Lt.Col. Thammawat Hiranyalekha, deputy commander of the Crime Suppression Division. Under martial law, the military does not need a warrant to conduct raids.

The gold allegedly purchased by Narong Suwadee, 13 March 2015.
Pol.Lt.Col. Thammawat said the gold belongs to Narong Suwadee, 41, the younger brother of former princess Srirasmi. Narong is currently being held at Klong Prem Prison in Bangkok for numerous charges, including extortion, possession of firearms without a permit, and illegal detention. He has also been charged with insulting the monarchy, a crime known as lese majeste, because he allegedly cited his ties to Srirasmi and the Thai Royal Family to carry out his criminal acts.
Narong's sister, Srirasmi, is a former royal consort to the Crown Prince. The pair married in 2003, but Srirasmi relinquished her royal title in December 2014 after several of her relatives, including Narong, were arrested on charges of lese majeste and running a massive crime ring.
Narong reportedly confessed to buying the gold with money acquired through extortion, Pol.Lt.Col. Thammawat said. He also reportedly said he left the gold in the care of his friend, Udom Pongprae, whose wife owned the hotel where the gold was found.
"The military has transferred the gold to the Crime Suppression Division as evidence for prosecution," the officer told reporters.
The discovery came a day after a 28-year-old man was sentenced to five years in prison for allegedly claiming his ties to princess Srirasmi to collect bribes in 2008.
According to the prosecutor, Ekkachai Ployhin told a suspected drug dealer that he could use his royal connections to dissolve all charges against the man in exchange for 1.3 million baht. Ekkachai is thought to be a member of the crime syndicate run by Srirasmi's uncle Pol.Lt.Gen. Pongpat Chayaphan, the former director of Thailand's Central Investigation Bureau.
Ekkachai was also charged with illegal possession of one shotgun, one rifle, and three handguns in his residence.
The Criminal Court found him guilty of all charges and sentenced him to 10 years in prison. The jail term was later halved to five because he confessed.