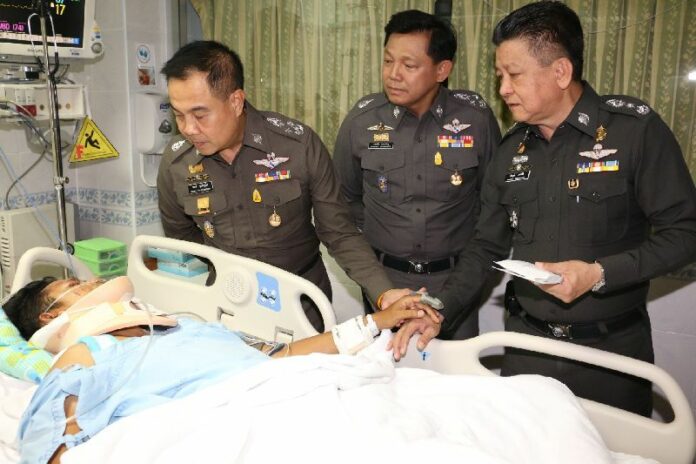 BANGKOK – A taxi driver is under arrest for crashing his car into a police officer, stealing his gun, and using the firearm to murder two people in Bangkok suburb on 17 April.
Anupong Ruengsawat, 29, surrendered himself to police at around 7 am this morning at Talingchan Police Station after two days on the run.
Anupong identified himself as the man who crashed his taxi into Pol.Sen.Sgt. Chakri Palasin, a traffic police officer who was directing traffic in front of Soi Wat Phra Ngern on 17 April.
The officer was severely injured by the crash. Anupong then stole Chakri's handgun and drove to his apartment, where he shot and killed the apartment building owner and his wife, before fleeing the scene.
The deceased were identified as Somchai Tanchanta, 52, and Sangwal Tanchanta, 50.
Police officers soon surrounded the area but the Anupong managed to slip away. Anupong said he ran to his taxi and drove toward Ayutthaya province, where he has family.
Anupong said he evaded police checkpoints by listening to taxi radio during his escape.
Anupong told reporters today that he later decided to surrender himself because he was afraid that police officers might kill him, as he was considered armed and dangerous.
Pol.Lt.Col. Sihadet Sakobkaew, deputy commander of Talingchan Police Station, said Anupong confessed to murdering the two victims because they often scolded him for playing loud music in his apartment room.
The two victims also bullied him by searching his room without permission, Anupong alleged. Pol.Lt.Col. Sihadet said Anupong alerted the police many times, but police never took any action against the apartment owner, so he plotted to murder the victims out of anger.
Pol.Lt.Col. Sihadet added that police have recovered the firearm used that Anupong reportedly discarded after the murder. Anupong will be transferred for formal prosecution at Bang Mae Nang Police Station.
Pol.Sen.Sgt. Chakri, the injured police officer, is in stable condition and gradually improving, medical workers say. Commander of Royal Thai Police Pol.Gen. Somyot Pumpanmuang visited the wounded policeman in hospital yesterday.
For comments, or corrections to this article please contact: [email protected]
You can also find Khaosod English on Twitter and Facebook
http://twitter.com/KhaosodEnglish
http://www.facebook.com/KhaosodEnglish