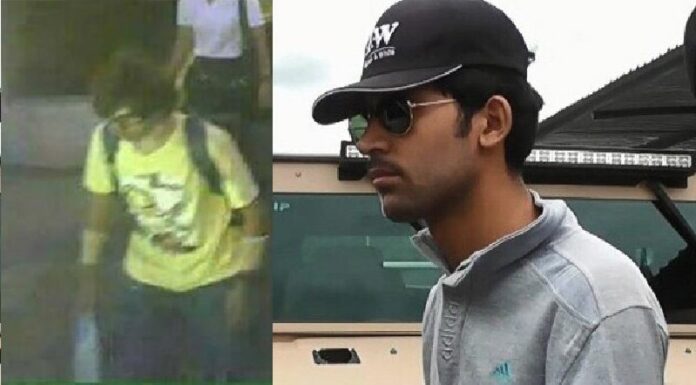 BANGKOK — A man taken into custody in eastern Thailand today "matches the appearance" of the yellow-shirted man seen in CCTV footage leaving a backpack at the Erawan Shrine minutes before a bomb detonated there, killing 20 people.
The suspect was flown to Bangkok by helicopter at 4pm today and is being interrogated at a military facility under the junta's special authority granted under Article 44 of the interim charter, police spokesman Lt. Gen. Prawuth Thawornsiri said at a news conference this evening.
"Please wait for witnesses to identify him first," Prawuth said in response to a reporter's question whether the suspect is the top suspect in the 17 Aug. shrine attack. "But his face and appearance look very much like the composite sketch."
Photograph of the suspect taken today after he was taken into the custody of Thai authorities.
Thawornsiri said the man has been communicating in English but did not confirm his nationality or name. Before he could state unequivocally the man arrested today is indeed their chief suspect in the bombing, Prawuth said they will wait for a match from witnesses and forensic evidence.
"He will be charged with illegal entry into and departure from the kingdom," he said. "Right now we don't have his name. We don't know his nationality. He has not been charged yet. He is being detained by the military under Article 44."
---
Partial Transcript of Police Annoucement of Bombing Suspect Arrest
---
He did however express confidence the man was an associate of the only other suspect to be arrested so far, a man taken into custody Saturday in a Nong Chok district raid.
A composite sketch of the prime suspect in the shrine bombing released two days after the attack.
Despite a media report the man was arrested inside Cambodia over the weekend, Thai military officials insist the suspect was taken into custody at a checkpoint manned by soldiers and police at around 11 am near Baan Rai village, 500 meters away from Thai-Cambodian border.
"The route he was using is not an ordinary route, so soldiers detained him and asked him for details, but the man was uncooperative, so they alerted police from Aranyaprathet Police Station for further inspection." said Maj. Gen. Srisak Poonprasit, commander of the 2nd Infantry Division, aka the Eastern Army.
Srisak said the man, a foreigner, was observed behaving suspiciously, wearing a backpack, grey shirt, creme-color pants, cap and sunglasses. Police later determined he was a suspect in the Bangkok bombing case, he added, though he did not mention whether the man was indeed the so-called "yellow shirt" suspect.
Several media accounts, including one from the Bangkok Post, have cited "reliable sources" claiming the man was in fact captured inside of Cambodia and subsequently rendered to Thai authorities.
Srisak rejected that as untrue.
"I can insist that it was Thai security officers who arrested him," he said. "That checkpoint is one of the additional checkpoints that we set up after the bombing."
Images of the man were released by the military government this afternoon. Thai authorities reportedly took the man into custody in Sa Kaeo province near the border with Cambodia.
Another photo of the suspect after being taken into custody.
In one message, Wassana said the arrest happened in Sa Kaeo province near the border with Cambodia, citing Prayuth as her direct source.
Meanwhile police spokesman Prawuth Thawornsiri, who was expected to give a public address this afternoon, has reportedly played down reports he is that man.
More Warrants
At this evening's news conference, Prawuth said the man arrested today was not among a fresh batch of arrest warrants issued this afternoon.
Those warrants were for three more male suspects and indicated their nationality as Turkish. Their names are Ali Jolan (transcribed from Thai), Ahmet Bozoglan and a third unidentified man. All three are charged with illegal possession of explosives.
Earlier this afternoon a military source released an image of a passport they said the suspect was carrying. The passport is Chinese and identified the man's birthplace as in Xinjiang province. Xinjiang province is the home of a Turkic ethnic group that some have speculated might have been involved in the attack.
Prawuth this evening denied having his passport.
"It's just a photo that you shared on social media," he said. "We don't have that."
A passport provided by a military source purportedly of the man arrested today. Khaosod English have censored identifying details pending confirmation.
Today's arrest comes after a series of rapid developments in an investigation that one week ago seemed to all but peter out.
The first real break was a raid Saturday in eastern Bangkok which netted a suspect and stockpile of bomb-making materials. The lead for that reportedly came from a painstaking review of telephone traffic around the shrine at the time of the attack.
Warrants for two more suspects were issued yesterday, including one for the first suspect to be identified by name – a Thai woman named Wanna Suansan. Wanna is reportedly in Turkey and denies she was involved.
Several rooms were rented in her name at a building in the Min Buri district where a man targeted by the other warrant was said to have been staying. A large trove of bomb-making materials were found there.
Prawuth said the man arrested today was believed to be a confederate of suspects identified or arrested so far.
"He is connected to the whole network," he said. "I am confident he is a major person in the network."
Two previous warrants had been issued for the yellow-shirted Erawan bombing suspect and the blue-shirted man who left a bomb in a waterway near Sathorn Pier.
No one has claimed responsibility for the attack, the worst such incident of its type to hit Bangkok.
Speculation from authorities has swung between opponents of the military government, domestic political strife, foreign terrorists and most recently: personal vengeance by underground criminal elements.
In recent days, the narrative coming from the official mouthpieces have sought to play down strenuously avoided mentioning Turkey by name.
However some theories paint the attack as revenge for Thailand's decision to deportat more than 100 Uighur refugees back to China in July, which provoked Turkish nationalists to storm the Thai consulate in Istanbul.
Related stories:
Junta Claims More Arrests Made, Urges Public to Report 'Suspicious' People
Warrants Out for Thai Woman, Foreign Man
Police Search for More Suspects After Arrest
Floundering Bomb Investigation Deepens Doubts About Competency
No Longer Whole, a Family Buries its Dead and Waits for Answers
City Officials Bridle at Claims of Broken CCTVs
Bangkok Bombing Dragnet Yields 142 Unrelated Arrests
Bangkok Bomber May Have Fled Thailand: Police
Man Dropped Bag into Water Night Before Sathorn Pier Blast
Seen Often on Sathorn 10, Suspect Thought to Use Fake Turkish Passport
Leaked Police Report Tracks Lead Suspect Before, After Bombing
1M Baht Bounty for Bangkok Bomb Suspect
Police Widen Hunt for Bombing 'Network'
Bangkok Shrine Bombing: Those Who Died
Day in Photos: Expressions of Grief, Unity After Terror Attacks
Briton Dies in Bangkok Shrine Bombing
Despite Lack of Evidence, Thai Media Points Blame at Uighurs
Tourists Narrowly Escape Second Bangkok Bombing in 24 Hours
Bangkok Shrine Bombing: Police Hunt Backpack Man
Tourists Among 19 Killed by Bomb at Bangkok's Erawan Shrine
To reach us about this article or another matter, please contact us by e-mail at: [email protected].