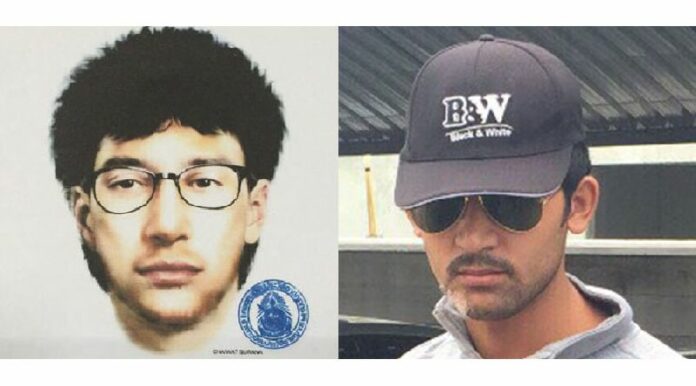 BANGKOK — It was the likeness of a man captured yesterday near the border with Cambodia to a composite sketch of the Erawan Shrine bomber, authorities said, that led to him being whisked to the capital by helicopter.
Tests today would seek to confirm whether the suspect, now being interrogated at a military facility, is the same man seen placing a backpack in the shrine minutes before a bomb exploded there last month, according to the public face of the investigation.
"Today we will check DNA and fingerprint and bring witnesses to ID him," Lt. Gen Prawuth Thawornsiri, police spokesman, said today in a televised interview. "We will be able to say how he was involved. We won't just wait for his confession."
Later this afternoon, Prawuth said they made a fingerprint match between the suspect and bomb-making materials seized at the Poon Anan Mansion in the eastern outskirts of Bangkok.
Prawuth said the man had been staying there, where their first arrest was made Saturday after being discovered in a room stockpiled with bomb-making materials.
There also remain conflicting accounts of where and how the man arrested Tuesday ended up in Thai custody. Thai officials insist military personnel spotted him walking in woods near the border with Cambodia in Sa Kaeo province.
But according to unnamed sources on both side of the border in reports from the Phnom Penh Post and Bangkok Post, he was arrested at the Cambodian capital's airport where he was about to fly to Turkey.
An unnamed Cambodian source quoted in the Phnom Penh Post said "the arrest had been kept secret because the suspect was believed to be 'wanted' by China."
UPDATE: This story has been updated with information about the reported fingerprint match.
Related stories:
Arrested Man 'Matches' Yellow-Shirted Bangkok Bomber
Junta Claims More Arrests Made, Urges Public to Report 'Suspicious' People
Warrants Out for Thai Woman, Foreign Man
Police Search for More Suspects After Arrest
Floundering Bomb Investigation Deepens Doubts About Competency
No Longer Whole, a Family Buries its Dead and Waits for Answers
City Officials Bridle at Claims of Broken CCTVs
Bangkok Bombing Dragnet Yields 142 Unrelated Arrests
Bangkok Bomber May Have Fled Thailand: Police
Man Dropped Bag into Water Night Before Sathorn Pier Blast
Seen Often on Sathorn 10, Suspect Thought to Use Fake Turkish Passport
Leaked Police Report Tracks Lead Suspect Before, After Bombing
1M Baht Bounty for Bangkok Bomb Suspect
Police Widen Hunt for Bombing 'Network'
Bangkok Shrine Bombing: Those Who Died
Day in Photos: Expressions of Grief, Unity After Terror Attacks
Briton Dies in Bangkok Shrine Bombing
Despite Lack of Evidence, Thai Media Points Blame at Uighurs
Tourists Narrowly Escape Second Bangkok Bombing in 24 Hours
Bangkok Shrine Bombing: Police Hunt Backpack Man
Tourists Among 19 Killed by Bomb at Bangkok's Erawan Shrine
To reach us about this article or another matter, please contact us by e-mail at: [email protected].