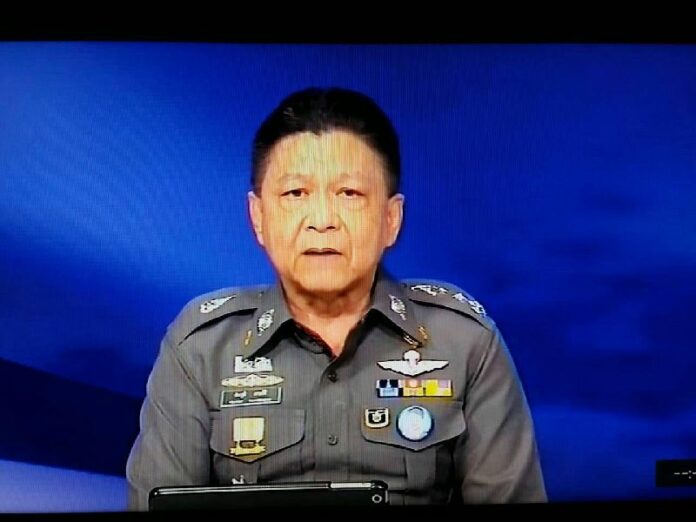 BANGKOK — Police spokesman Lt. Gen. Prawuth Thawornsiri spoke just after 5pm today at a police news conference regarding the arrest of a suspect in connection with last month's bombing of the Erawan Shrine. Here's a partial translation of his comments.
PT: We are checking his DNA and matching photos. We are confident he is a major suspect.
Q: Is he the yellow shirt man?
PT: We want witnesses to identify him first, and we need his DNA result first. He was trying to cross the country illegally, passing border without proper permit.
---
READ: Arrested Man 'Matches' Yellow-Shirted Bangkok Bomber
---
Q: Do you think he is the yellow shirt man?
PT: Please wait for witnesses to ID him first. But his face and appearance look very much like composite sketch.
Q: Has he been charged with anything now?
PT: He will charged with illegal entry into and departure from the Kingdom. Right now we don't have his name. We don't know his nationality. He has not been charged yet. He is being detained by the military under Article 44. At an army base.
Q: Was he arrested in Thailand?
PT: Yes. Thai side of the border. Near one of the natural borders.
Q: Did he have any evidence in his backpack?
PT: No evidence so far. But please give us some time [to investigate]. He was just landed around 4pm.
Q: Is his passport fake?
PT: I don't know. I haven't seen that. Let me inspect it first.
Q: Was he among the three new arrest warrants?
PT: He is not.
Q: How confident are you that he is the yellow shirt man?
PT: The time has been too short to say for certain. I want to be sure first before I say it. I don't want to say it without being sure. But I can tell you he is a major suspect. We will have witnesses identify him, both before and after the bombing. We also have biological evidence.
Q: What language does he speak?
PT: We communicate with him in English. We are checking his nationality and language. We will also check his fingerprints and DNA with those found at crime scenes.
Q: So is his passport fake?
PT: We don't have the passport. It's just a photo that you shared on social media. We don't have that.
Q: Is he connected to the other suspects in Min Buri and Nong Chok?
PT: He is, definitely. He is connected to the whole network. I am confident he is a major person in the network.
Q: Has Wanna said she's willing to surrender?
PT: No she hasn't contacted us directly. That's through her family.
Q: How is Wanna related?
PT: She is the person who rented the second room. The one at Maimuna Apartment. Not at the other place. What's it called again? Yes, Poon Anan. But the man who was in Wanna's room also traveled between there and the room at Poon Anan. This network traveled to see each other.
Related stories:
Arrested Man 'Matches' Yellow-Shirted Bangkok Bomber
Junta Claims More Arrests Made, Urges Public to Report 'Suspicious' People
Warrants Out for Thai Woman, Foreign Man
Police Search for More Suspects After Arrest
Floundering Bomb Investigation Deepens Doubts About Competency
No Longer Whole, a Family Buries its Dead and Waits for Answers
City Officials Bridle at Claims of Broken CCTVs
Bangkok Bombing Dragnet Yields 142 Unrelated Arrests
Bangkok Bomber May Have Fled Thailand: Police
Man Dropped Bag into Water Night Before Sathorn Pier Blast
Seen Often on Sathorn 10, Suspect Thought to Use Fake Turkish Passport
Leaked Police Report Tracks Lead Suspect Before, After Bombing
1M Baht Bounty for Bangkok Bomb Suspect
Police Widen Hunt for Bombing 'Network'
Bangkok Shrine Bombing: Those Who Died
Day in Photos: Expressions of Grief, Unity After Terror Attacks
Briton Dies in Bangkok Shrine Bombing
Despite Lack of Evidence, Thai Media Points Blame at Uighurs
Tourists Narrowly Escape Second Bangkok Bombing in 24 Hours
Bangkok Shrine Bombing: Police Hunt Backpack Man
Tourists Among 19 Killed by Bomb at Bangkok's Erawan Shrine
To reach us about this article or another matter, please contact us by e-mail at: [email protected].